Amoi Big V N820 Update To Android Jelly Bean 4.1!
---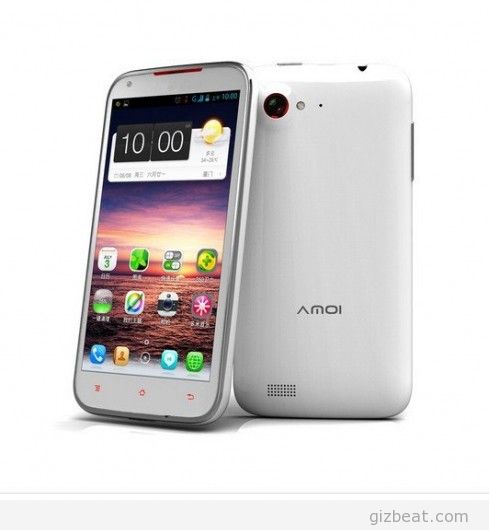 NOTE: A reader wrote in with news that this JB build may not be completely stable. I followed up on the message and found that this is unfortunately indeed the case. There is some buggy behavior happening with some users who are installing this build. Keep in mind this is the first public release, so this isn't exactly unexpected. If you still wish to give it a go, please make sure to make a NAND ROM backup with Titanium backup before you update in case you need/want to switch back. This is ROM is released by Amoi. However, REMEMBER that you update at your own risk.
In my previous post I gave news of the Amoi Big V N821 release with IPS and Android Jelly Bean 4.1. While current Amoi Big V N820 users obviously can't upgrade their LCD to IPS, they can download and install the Jelly Bean ROM.
Remember you will lose everything when you update, so make sure to backup your contacts and any apps you want to save the data from. A couple of programs you can do this with are Go Backup Pro, Backup Wonder Machine or Titanium Backup.
It appears that some Big V N821 weren't released with Jelly Bean. If that's the case , you can skip download #1 and commence with #2 to get to Jelly Bean goodness.
For Big V N820, you must first install the latest v6.0 Big V build before upgrading to Android Jelly Bean 4.1
360 CN Drive Sign-up and Upgrade Tutorial
Amoi Big V N820 Update To Android Jelly Bean 4.1!

https://www.gizbeat.com/1099/amoi-big-v-n820-update-to-android-jelly-bean-4-1/

https://www.gizbeat.com/wp-content/uploads/2012/11/amoi-big-v-n820-n821-MTK6577-myk6588-mtk6589-450x487.jpg

https://www.gizbeat.com/wp-content/uploads/2012/11/amoi-big-v-n820-n821-MTK6577-myk6588-mtk6589-150x150.jpg

Amoi

Brands

NOTE: A reader wrote in with news that this JB build may not be completely stable. I followed up on the message and found that this is unfortunately indeed the case. There is some buggy behavior happening with some users who are installing this build. Keep in mind this...

<a title="Amoi Big V / N821 Released With Android 4.1 Jelly Bean!" href="http://gizbeat.com/1092/amoi-big-v-n821-released-with-android-4-1-jelly-bean/"><img class="aligncenter size-full wp-image-1100" title="amoi-big-v-n820-n821-MTK6577-myk6588-mtk6589" src="http://gizbeat.com/wp-content/uploads/2012/11/amoi-big-v-n820-n821-MTK6577-myk6588-mtk6589.jpg" alt="" width="489" height="530" /></a> NOTE: A reader wrote in with news that this JB build may not be completely stable. I followed up on the message and found that this is unfortunately indeed the case. There is some buggy behavior happening with some users who are installing this build. Keep in mind this is the first public release, so this isn't exactly unexpected. If you still wish to give it a go, please make sure to make a NAND ROM backup with Titanium backup before you update in case you need/want to switch back. This is ROM is released by Amoi. However, REMEMBER that you update at your own risk. <a title="Amoi Big V / N821 Released With Android 4.1 Jelly Bean!" href="http://gizbeat.com/1092/amoi-big-v-n821-released-with-android-4-1-jelly-bean/">In my previous post</a> I gave news of the Amoi Big V N821 release with IPS and Android Jelly Bean 4.1. While current Amoi Big V N820 users obviously can't upgrade their LCD to IPS, <span id="more-1099"></span>they can download and install the Jelly Bean ROM. Remember you will lose everything when you update, so make sure to backup your contacts and any apps you want to save the data from. A couple of programs you can do this with are Go Backup Pro, Backup Wonder Machine or Titanium Backup. It appears that some Big V N821 weren't released with Jelly Bean. If that's the case , you can skip download #1 and commence with #2 to get to Jelly Bean goodness. For Big V N820, you must first install the latest v6.0 Big V build before upgrading to Android Jelly Bean 4.1 <a title="How to get a China 360 Drive Account! (aka Amoi Big V Android Jelly Bean 4.1 Upgrade)" href="http://gizbeat.com/1135/how-to-get-a-china-360-drive-account-aka-amoi-big-v-android-jelly-bean-4-1-upgrade/"><em>360 CN Drive Sign-up and Upgrade Tutorial</em></a>

Damian Parsons

https://plus.google.com/107879368390224447304

admin@gizbeat.com

Administrator

Hi, I'm Damian Parsons. I've been working with Android phones since the first Droid came out. I'm fascinated by computers and technology. My first BBS were ran on an old Apple IIc and Commodore 64. I work hard to bring the latest updates to you every day - without all the boring fluff. Please subscribe to keep up on the newest China tech. See our forum -> www.chinaphonearena.com

GizBeat
---
---