The $48 1GHz Mogu M0 Smartphone Coming Our Way!
---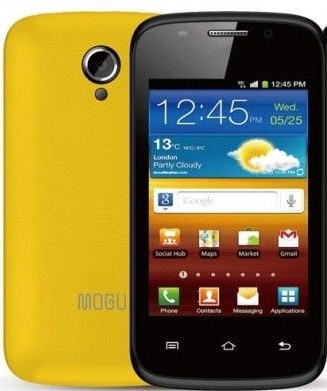 Just when you thought it couldn't get any cheaper than the $57 Callbar, Mogu announces a $47 phone.
 The Mogu m0 will feature a 1GHz  Spreadtrum SC6820 with MALI 300 GPU, 256M RAM / 512M, LCD 3.5″ 480 * 320, support for multi-touch, and 1280 mA battery. The Mogu M0 will run Android 2.3. Will have an acceleration and gravity sensor, but does no 3G network. Dimensions – 118.5 * 63 * 11.6 mm.
Not bad for <$50 and actually looks pretty good. Obviously most of us won't be running out to grab a Mogu M0 for ourselves, but it could make a decent gift for the kids.
No release date set yet.
The $48 1GHz Mogu M0 Smartphone Coming Our Way!

https://www.gizbeat.com/1188/the-48-1ghz-mogu-m0-smartphone-coming-our-way/

https://www.gizbeat.com/wp-content/uploads/2012/11/mtk6577-mtk6588-mogu-m0.jpg

https://www.gizbeat.com/wp-content/uploads/2012/11/mtk6577-mtk6588-mogu-m0-150x150.jpg

Brands

Noteworthy

Just when you thought it couldn't get any cheaper than the $57 Callbar, Mogu announces a $47 phone.  The Mogu m0 will feature a 1GHz  Spreadtrum SC6820 with MALI 300 GPU, 256M RAM / 512M, LCD 3.5' 480 * 320, support for multi-touch, and 1280 mA battery. The Mogu M0 will run...

<img class="aligncenter size-full wp-image-1189" title="mtk6577-mtk6588-mogu-m0" src="http://gizbeat.com/wp-content/uploads/2012/11/mtk6577-mtk6588-mogu-m0.jpg" alt="" width="327" height="391" />Just when you thought it couldn't get any cheaper than the <a title="Callbar! The $57 1GHz Android smartphone!" href="http://gizbeat.com/1103/callbar-the-57-1ghz-android-smartphone/">$57 Callbar</a>, Mogu announces a $47 phone.<span id="more-1188"></span> <span> The Mogu m0 will feature a 1GHz  Spreadtrum SC6820 with MALI 300 GPU, 256M RAM / 512M, LCD </span><span>3.5" 480 * 320, support for multi-touch, and </span><span>1280 mA battery. The Mogu M0 will run Android 2.3. Will have an </span><span>acceleration and gravity sensor, but does no 3G network. Dimensions - </span><span>118.5 * 63 * 11.6 mm.</span> Not bad for <$50 and actually looks pretty good. Obviously most of us won't be running out to grab a Mogu M0 for ourselves, but it could make a decent gift for the kids. No release date set yet.

Damian Parsons

https://plus.google.com/107879368390224447304

admin@gizbeat.com

Administrator

Hi, I'm Damian Parsons. I've been working with Android phones since the first Droid came out. I'm fascinated by computers and technology. My first BBS were ran on an old Apple IIc and Commodore 64. I work hard to bring the latest updates to you every day - without all the boring fluff. Please subscribe to keep up on the newest China tech. See our forum -> www.chinaphonearena.com

GizBeat
---
---