Breaking! Neo N003 MT6588 / MTK6589 Smartphone Announced!
---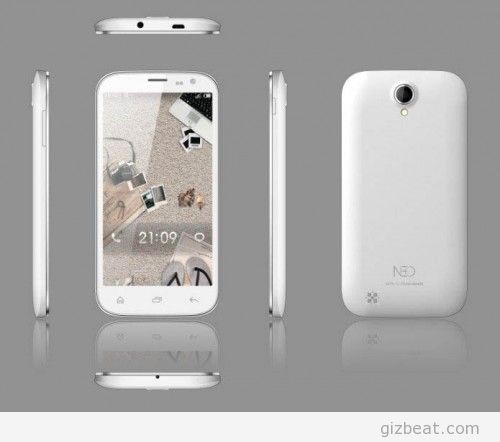 Though in reality it's only been a few months, with the seesawing back and forth regarding a release of an MTK MT6589 / MTK6589 smartphone, it feels like a lot longer.
The Neo N003 will feature the quad-core MTK MT6589 / MTK6589 CPU@1.3GHz, 1GB RAM, 8GB ROM, 1280*720 IPS, 12MP CMOS camera and 1080p decoding/encoding and a whopping 3000mA battery.
All around it looks like some stunning specifications. No word on release date, but will have more on the recent Neo budget release coming up shortly.
Breaking! Neo N003 MT6588 / MTK6589 Smartphone Announced!

https://www.gizbeat.com/1250/breaking-neo-n003-mt6588-mtk6589-smartphone-announced/

https://www.gizbeat.com/wp-content/uploads/2012/11/neo-n003-mtk6588-mtk65891-450x397.jpg

https://www.gizbeat.com/wp-content/uploads/2012/11/neo-n003-mtk6588-mtk65891-150x150.jpg

Neo

Though in reality it's only been a few months, with the seesawing back and forth regarding a release of an MTK MT6589 / MTK6589 smartphone, it feels like a lot longer. The Neo N003 will feature the quad-core MTK MT6589 / MTK6589 CPU@1.3GHz, 1GB RAM, 8GB ROM, 1280*720 IPS, 12MP...

<img class="aligncenter size-full wp-image-1252" title="neo-n003-mtk6588-mtk6589" src="http://gizbeat.com/wp-content/uploads/2012/11/neo-n003-mtk6588-mtk65891.jpg" alt="" width="500" height="442" />Though in reality it's only been a few months, with the seesawing back and forth regarding a release of an MTK MT6589 / MTK6589 smartphone, it feels like a lot longer.<span id="more-1250"></span> The Neo N003 will feature the quad-core MTK MT6589 / MTK6589 CPU@1.3GHz, 1GB RAM, 8GB ROM, 1280*720 IPS, 12MP CMOS camera and 1080p decoding/encoding and a whopping 3000mA battery. All around it looks like some stunning specifications. No word on release date, but will have more on the recent Neo budget release coming up shortly.

Damian Parsons

https://plus.google.com/107879368390224447304

admin@gizbeat.com

Administrator

Hi, I'm Damian Parsons. I've been working with Android phones since the first Droid came out. I'm fascinated by computers and technology. My first BBS were ran on an old Apple IIc and Commodore 64. I work hard to bring the latest updates to you every day - without all the boring fluff. Please subscribe to keep up on the newest China tech. See our forum -> www.chinaphonearena.com

GizBeat
---
---