Neo N02-M! Top-Pick China Phone With Hot Specs!
---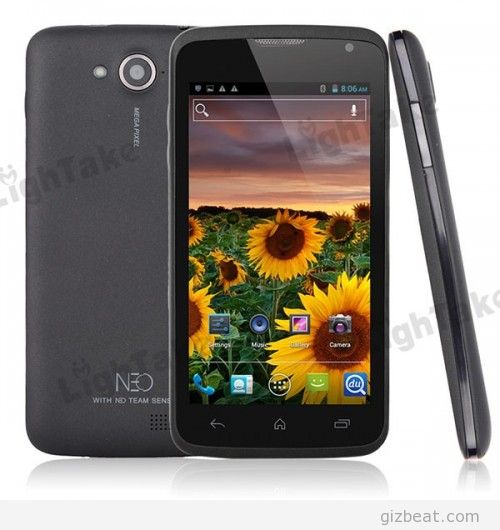 This phone is on 10% sale now at Lightake for $161. Includes free standard shipping and cheap DHL / EMS options. This is marked down from $180 at Lightake, and many shops are selling the Neo N02-M for $190.
I suggest readers considering an MTK MT6577 / MTK6577 smartphone in this price range take a good look. It's got excellent specs for the retail price, let alone the current sale price.
Let's take a closer look at the Neo N02-M specs / specifications.
[table "" not found /]
I'll make a couple of notes. What stands out for the price is the 2MP front camera and 1GB ROM. In comparison, the Amoi Big V N820 / N821 with similar specs which I put as a top pick phone is selling for $220 at many shops.
Also, the Neo N02-M has proven to be rootable and PDAnet ADB driver compatible, so no need to hunt down the ADB drivers. Already this hot phone has a big following, so hopefully we'll see some Jelly Bean action.
The announced MTK MT6589 / MTK6589 Neo N03 should bring a lot of attention to this line as well which should see the Neo N02-M gaining even more popularity and support.
The Neo N02-M is a very nice looking phone as well. At least as good looking the Amoi N821 if not slicker
I have dealt with Lightake before, and they are a big and very serious company. Always answering my emails even regarding small item purchases. They accept PayPal so you know you're ass is covered.
Get the Neo N02-M while it's on hot sale
Neo N02-M! Top-Pick China Phone With Hot Specs!

https://www.gizbeat.com/1289/neo-n02-m-top-pick-budget-phone-with-hot-specs/

https://www.gizbeat.com/wp-content/uploads/2012/11/neo-n02-m-mtk6577-450x477.jpg

https://www.gizbeat.com/wp-content/uploads/2012/11/neo-n02-m-mtk6577-150x150.jpg

Brands

Neo

Noteworthy

This phone is on 10% sale now at Lightake for $161. Includes free standard shipping and cheap DHL / EMS options. This is marked down from $180 at Lightake, and many shops are selling the Neo N02-M for $190. I suggest readers considering an MTK MT6577 / MTK6577 smartphone in...

<img class="aligncenter size-full wp-image-1290" title="neo-n02-m-mtk6577" src="http://gizbeat.com/wp-content/uploads/2012/11/neo-n02-m-mtk6577.jpg" alt="" width="500" height="530" />This phone is on <a href="http://www.lightake.com/detail.do/sku.59343~C.J/YI111762012HBJMBV" target="_blank">10% sale now at Lightake for $161</a>. Includes free standard shipping and cheap DHL / EMS options. This is marked down from $180 at Lightake, and many shops are selling the Neo N02-M for $190.<span id="more-1289"></span> I suggest readers considering an MTK MT6577 / MTK6577 smartphone in this price range take a good look. It's got excellent specs for the retail price, let alone the current sale price. Let's take a closer look at the Neo N02-M specs / specifications. I'll make a couple of notes. What stands out for the price is the 2MP front camera and 1GB ROM. In comparison, the Amoi Big V N820 / N821 with similar specs which I put as a <a title="The GizBeat Top 4 Shortlist of Phones You Can Buy TODAY For $185-225!" href="http://gizbeat.com/1207/the-gizbeat-top-4-shortlist-of-phones-you-can-buy-today-for-185-225/" target="_blank">top pick phone</a> is selling for $220 at many shops. Also, the <a href="http://www.lightake.com/detail.do/sku.59343~C.J/YI111762012HBJMBV" target="_blank">Neo N02-M</a> has proven to be rootable and <a title="PDAnet ADB Auto-Driver For Windows!" href="http://gizbeat.com/1273/pdanet-adb-auto-driver-for-windows/" target="_blank">PDAnet ADB driver compatible</a>, so no need to hunt down the ADB drivers. Already this hot phone has a big following, so hopefully we'll see some Jelly Bean action. The announced MTK MT6589 / MTK6589 Neo N03 should bring a lot of attention to this line as well which should see the Neo N02-M gaining even more popularity and support. The Neo N02-M is a very nice looking phone as well. At least as good looking the Amoi N821 if not slicker I have dealt with Lightake before, and they are a big and very serious company. Always answering my emails even regarding small item purchases. They accept PayPal so you know you're ass is covered. <em><a href="http://www.lightake.com/detail.do/sku.59343~C.J/YI111762012HBJMBV" target="_blank">Get the Neo N02-M while it's on hot sale</a></em>

Damian Parsons

https://plus.google.com/107879368390224447304

admin@gizbeat.com

Administrator

Hi, I'm Damian Parsons. I've been working with Android phones since the first Droid came out. I'm fascinated by computers and technology. My first BBS were ran on an old Apple IIc and Commodore 64. I work hard to bring the latest updates to you every day - without all the boring fluff. Please subscribe to keep up on the newest China tech. See our forum -> www.chinaphonearena.com

GizBeat
---
---