UMi X2 Official Leaked Images and Possible Specs / Specifications
---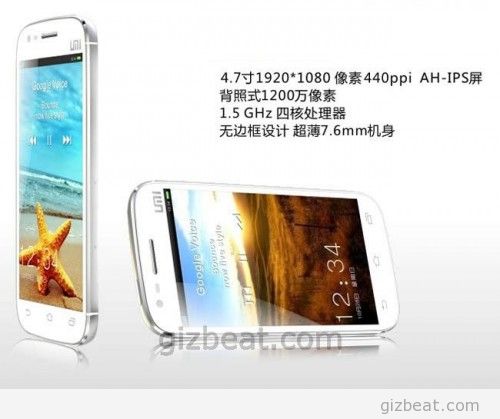 The UMi X1 is still a very hot phone, only becoming widely available about a month ago. Already UMi is working on the UMi X2 which boasts some impressive possible specifications. Keep in mind the UMi X2 is in the very beginning stages and far from any sort of prototype, so take this image and specs with a big grain of salt.
[table "" not found /]
Well, it all looks entirely possible except for the projector bit in a 7.6mm smartphone. The borderless design is questionable as well as the leaked image clearly shows a border. In fact, the image looks very much like Samsung i9300 / Galaxy SIII. If the image is genuine and the planned look for the phone, I have to say I'd prefer the looks of the UMi X1 to the X2. The very rounded corners are not to GizBeat's tastes.
Still, the specs are impressive and I think in line with what we'll see the next generation of popular, mid-range China phones coming out with. Let's wait and see just how in line these potential specs are.
UMi X2 Official Leaked Images and Possible Specs / Specifications

https://www.gizbeat.com/1298/umi-x2-official-leaked-images-and-possible-specs-specifications/

https://www.gizbeat.com/wp-content/uploads/2012/11/mtk6589-mtk6588-umi-x1-umi-x2-quad-core-android-450x377.jpg

https://www.gizbeat.com/wp-content/uploads/2012/11/mtk6589-mtk6588-umi-x1-umi-x2-quad-core-android-150x150.jpg

Brands

UMi

The UMi X1 is still a very hot phone, only becoming widely available about a month ago. Already UMi is working on the UMi X2 which boasts some impressive possible specifications. Keep in mind the UMi X2 is in the very beginning stages and far from any sort of...

<img class="aligncenter size-full wp-image-1299" title="mtk6589-mtk6588-umi-x1-umi-x2-quad-core-android" src="http://gizbeat.com/wp-content/uploads/2012/11/mtk6589-mtk6588-umi-x1-umi-x2-quad-core-android.jpg" alt="" width="500" height="419" />The UMi X1 is still a very hot phone, only becoming widely available about a month ago. Already UMi is working on the UMi X2 which boasts some impressive possible specifications.<span id="more-1298"></span> Keep in mind the UMi X2 is in the very beginning stages and far from any sort of prototype, so take this image and specs with a big grain of salt. Well, it all looks entirely possible except for the projector bit in a 7.6mm smartphone. The borderless design is questionable as well as the leaked image clearly shows a border. In fact, the image looks very much like Samsung i9300 / Galaxy SIII. If the image is genuine and the planned look for the phone, I have to say I'd prefer the looks of the UMi X1 to the X2. The very rounded corners are not to GizBeat's tastes. Still, the specs are impressive and I think in line with what we'll see the next generation of popular, mid-range China phones coming out with. Let's wait and see just how in line these potential specs are.

Damian Parsons

https://plus.google.com/107879368390224447304

admin@gizbeat.com

Administrator

Hi, I'm Damian Parsons. I've been working with Android phones since the first Droid came out. I'm fascinated by computers and technology. My first BBS were ran on an old Apple IIc and Commodore 64. I work hard to bring the latest updates to you every day - without all the boring fluff. Please subscribe to keep up on the newest China tech. See our forum -> www.chinaphonearena.com

GizBeat
---
---