Neo N003 – MTK6588 / MTK6589 Phone In The Works!
---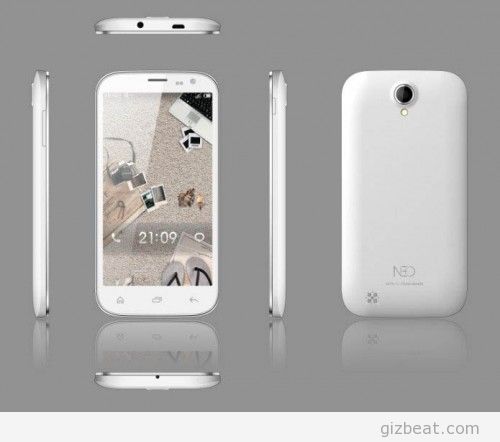 Let's take a look at the MTK6588 / MTK6589 smartphones currently in development.
First up, the Neo N003:
Making a huge splash with their recently released Neo N002, Neo proved they really know how to put out a phone in style. Not only did they buck the 512MB trend in inexpensive MTK6577 phones, they also put a 4.5″ 960*540 LCD in the Neo N002.
The amazing thing about this phone is that it's currently selling for only $15 more (shipped, which essentially makes it equally priced) than it is in China – unlike the JiaYu and UMi which are selling for 40% more to the international market than in China.
The Neo N002 has also been readily available cheaply in bulk numbers since it's release a month ago. A class act that UMi and JiaYu would be smart to follow.
The Neo N003 specs currently leaked are 5.3″ IPS 720p LCD, 1GB RAM / 8GB ROM, 3MP / 12MP camera and megaliathon 3000mA battery.
If they can get this phone to market at the same time or sooner than the competition, and it's released at a great price and in bulk like their Neo N002, the Neo N003 will easily be a huge hit.
Neo N003 – MTK6588 / MTK6589 Phone In The Works!

https://www.gizbeat.com/1514/neo-n003-mtk6588-mtk6589-phone-in-the-works/

https://www.gizbeat.com/wp-content/uploads/2012/12/neo-n003-mtk6588-mtk6589-450x397.jpg

https://www.gizbeat.com/wp-content/uploads/2012/12/neo-n003-mtk6588-mtk6589-150x150.jpg

Brands

Neo

Let's take a look at the MTK6588 / MTK6589 smartphones currently in development. First up, the Neo N003: Making a huge splash with their recently released Neo N002, Neo proved they really know how to put out a phone in style. Not only did they buck the 512MB trend in inexpensive...

<img class="aligncenter size-full wp-image-1516" title="" alt="" src="http://gizbeat.com/wp-content/uploads/2012/12/neo-n003-mtk6588-mtk6589.jpg" width="500" height="442" />Let's take a look at the MTK6588 / MTK6589 smartphones currently in development.<span id="more-1514"></span> First up, the Neo N003: Making a huge splash with their recently released Neo N002, Neo proved they really know how to put out a phone in style. Not only did they buck the 512MB trend in inexpensive MTK6577 phones, they also put a 4.5" 960*540 LCD in the Neo N002. The amazing thing about this phone is that it's currently selling for only $15 more (shipped, which essentially makes it equally priced) than it is in China - unlike the JiaYu and UMi which are selling for 40% more to the international market than in China. The Neo N002 has also been readily available cheaply in bulk numbers since it's release a month ago. A class act that UMi and JiaYu would be smart to follow. The Neo N003 specs currently leaked are 5.3" IPS 720p LCD, 1GB RAM / 8GB ROM, 3MP / 12MP camera and megaliathon 3000mA battery. If they can get this phone to market at the same time or sooner than the competition, and it's released at a great price and in bulk like their Neo N002, the Neo N003 will easily be a huge hit.

Damian Parsons

https://plus.google.com/107879368390224447304

admin@gizbeat.com

Administrator

Hi, I'm Damian Parsons. I've been working with Android phones since the first Droid came out. I'm fascinated by computers and technology. My first BBS were ran on an old Apple IIc and Commodore 64. I work hard to bring the latest updates to you every day - without all the boring fluff. Please subscribe to keep up on the newest China tech. See our forum -> www.chinaphonearena.com

GizBeat
---
---