TCL Alcatel – MTK6588 / MTK6589 Phone In The Works! (w/Leaked Antutu Screenshots)
---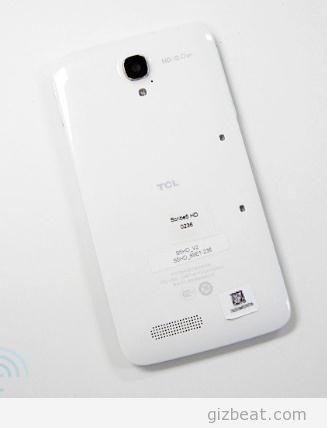 In previous posts, GizBeat reported TCL was to be the first one out the gate with a production model MTK6588 / MTK6589 phone. While it's by no means game over for that prize, they are well on their way towards it, as there subsidiary Alcatel-Lucent has already produced a prototype.
The rumors surrounding the TCL MTK6588 / MTK6589 smartphone have it with 2GB RAM, 4.5″ 720p LCD, Android 4.1 Jelly Bean and a price of 1599 yuan.
Here are some leaked Antutu scores for the new TCL Alcatel-Lucent MTK6588 / MTK6589 smartphone.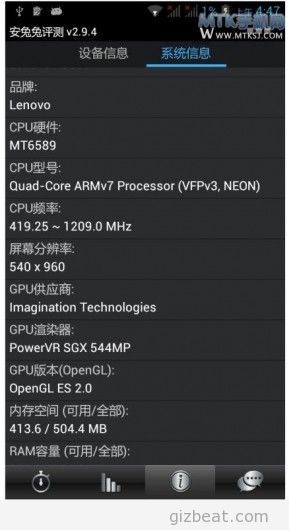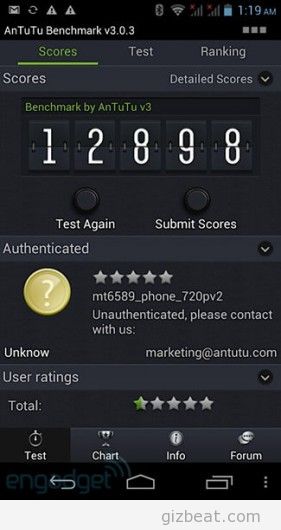 More info from the TCL news conference
Previous MTK6588 / MTK6589 Preview
TCL Alcatel – MTK6588 / MTK6589 Phone In The Works! (w/Leaked Antutu Screenshots)

https://www.gizbeat.com/1521/tcl-alcatel-mtk6588-mtk6599-phone-in-the-works/

https://www.gizbeat.com/wp-content/uploads/2012/12/tcl-mtk6588-mtk6589-antutu-3.jpg

https://www.gizbeat.com/wp-content/uploads/2012/12/tcl-mtk6588-mtk6589-antutu-3-150x150.jpg

In previous posts, GizBeat reported TCL was to be the first one out the gate with a production model MTK6588 / MTK6589 phone. While it's by no means game over for that prize, they are well on their way towards it, as there subsidiary Alcatel-Lucent has already produced a...

<img class="aligncenter size-full wp-image-1524" title="" alt="tcl-mtk6588-mtk6589-antutu-3" src="http://gizbeat.com/wp-content/uploads/2012/12/tcl-mtk6588-mtk6589-antutu-3.jpg" width="327" height="428" />In previous posts, <a title="Latest MTK MT6588 / MTK6589 News!" href="http://gizbeat.com/1024/latest-mtk-mt6588-mtk6588-news/">GizBeat reported TCL was to be the first one</a> out the gate with a production model MTK6588 / MTK6589 phone.<span id="more-1521"></span> While it's by no means game over for that prize, they are well on their way towards it, as there subsidiary Alcatel-Lucent has already produced a prototype. The rumors surrounding the TCL MTK6588 / MTK6589 smartphone have it with 2GB RAM, 4.5" 720p LCD, Android 4.1 Jelly Bean and a price of 1599 yuan. Here are some leaked Antutu scores for the new TCL Alcatel-Lucent MTK6588 / MTK6589 smartphone. <img class="aligncenter size-full wp-image-1522" alt="tcl-mtk6588-mtk6589-antutu-2" src="http://gizbeat.com/wp-content/uploads/2012/12/tcl-mtk6588-mtk6589-antutu-2.jpg" width="289" height="530" /> <img class="aligncenter size-full wp-image-1523" title="" alt="tcl-mtk6588-mtk6589-antutu" src="http://gizbeat.com/wp-content/uploads/2012/12/tcl-mtk6588-mtk6589-antutu.jpg" width="281" height="530" /> <a title="Neo N003 – MTK6588 / MTK6589 Phone In The Works!" href="http://gizbeat.com/1514/neo-n003-mtk6588-mtk6589-phone-in-the-works/"><em>More info from the TCL news conference</em></a> <em>Previous MTK6588 / MTK6589 Preview</em>

Damian Parsons

https://plus.google.com/107879368390224447304

admin@gizbeat.com

Administrator

Hi, I'm Damian Parsons. I've been working with Android phones since the first Droid came out. I'm fascinated by computers and technology. My first BBS were ran on an old Apple IIc and Commodore 64. I work hard to bring the latest updates to you every day - without all the boring fluff. Please subscribe to keep up on the newest China tech. See our forum -> www.chinaphonearena.com

GizBeat
---
---