Neo N02-M / 002 Upgrading To IPS!
---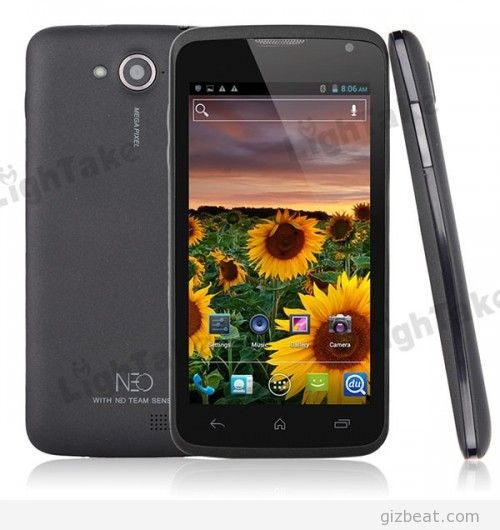 By far the cheapest 1GB smartphone on the market, the Neo N02-M will be upgrading to IPS. When exactly this change is to occur is unclear. From the sound of it, all new batches will sport an IPS LCD and based on reports it will retain it's current pricing.
Also, please be aware that the official stats of the Neo N02-M have it at 900 / 1800 GSM and so this phone will not work in the USA.
See Neo N02-M product page at Lightake ($158 shipped)
Neo N02-M / 002 Upgrading To IPS!

https://www.gizbeat.com/1559/neo-n02-m-002-upgrading-to-ips/

https://www.gizbeat.com/wp-content/uploads/2012/12/neo-n02-m-mtk6577-450x477.jpg

https://www.gizbeat.com/wp-content/uploads/2012/12/neo-n02-m-mtk6577-150x150.jpg

Neo

Noteworthy

By far the cheapest 1GB smartphone on the market, the Neo N02-M will be upgrading to IPS. When exactly this change is to occur is unclear. From the sound of it, all new batches will sport an IPS LCD and based on reports it will retain it's current pricing. Also,...

<img class="aligncenter size-full wp-image-1560" title="" alt="" src="http://gizbeat.com/wp-content/uploads/2012/12/neo-n02-m-mtk6577.jpg" width="500" height="530" />By far the cheapest 1GB smartphone on the market, the Neo N02-M will be upgrading to IPS.<span id="more-1559"></span> When exactly this change is to occur is unclear. From the sound of it, all new batches will sport an IPS LCD and based on reports it will retain it's current pricing. Also, please be aware that the official stats of the Neo N02-M have it at 900 / 1800 GSM and so this phone will not work in the USA. <a title="Neo N02-M! Top-Pick China Phone With Hot Specs!" href="http://gizbeat.com/1289/neo-n02-m-top-pick-budget-phone-with-hot-specs/"><em>More about Neo N02-M</em></a> <a href="http://www.lightake.com/detail.do/sku.59343~C.J/YI111762012HBJMBV">See Neo N02-M product page at Lightake ($158 shipped)</a>

Damian Parsons

https://plus.google.com/107879368390224447304

admin@gizbeat.com

Administrator

Hi, I'm Damian Parsons. I've been working with Android phones since the first Droid came out. I'm fascinated by computers and technology. My first BBS were ran on an old Apple IIc and Commodore 64. I work hard to bring the latest updates to you every day - without all the boring fluff. Please subscribe to keep up on the newest China tech. See our forum -> www.chinaphonearena.com

GizBeat
---
---