Lenovo Shows Off Their K900 At CES Vegas!
---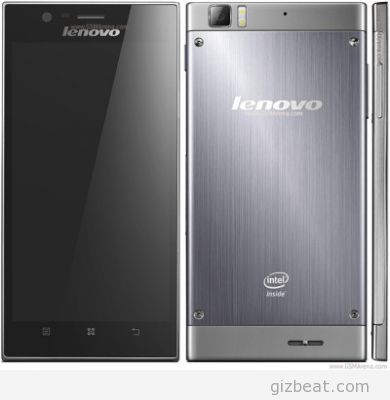 CES is running strong in Vegas, and Lenovo has introduced what will be their latest flagship smartphone – the Lenovo K900. Thanks much to Ari for bringing this to our attention.
The Lenovo K900 features a megantic 5.5″ 1080p IPS LCD in a very square, super slim 6.9mm profile. It will be sporting Intel's new Clover Trail+ 2GHz Atom CPU, 2GB RAM and Android 4.1.2 Jelly Bean. The rear camera boasts 13MP F1.8 optics, which should produce some comparably excellent low-light shots. The front camera will feature a "super-wide angle" lens.
Lenovo has stated they have no plans to release the phone in North America, but the phone will soon be released in Asia.
While this phone has some great specs and physically awesome looks, the Clover Trail chipset doesn't support dual-SIM – which in GizBeat's opinion is downright neanderthal.
Lenovo Shows Off Their K900 At CES Vegas!

https://www.gizbeat.com/1609/lenovo-shows-off-their-k900-at-ces-vegas/

https://www.gizbeat.com/wp-content/uploads/2013/01/lenovo-k900-clover-atom-450x449.jpg

https://www.gizbeat.com/wp-content/uploads/2013/01/lenovo-k900-clover-atom-150x150.jpg

Lenovo

Noteworthy

CES is running strong in Vegas, and Lenovo has introduced what will be their latest flagship smartphone - the Lenovo K900. Thanks much to Ari for bringing this to our attention. The Lenovo K900 features a megantic 5.5' 1080p IPS LCD in a very square, super slim 6.9mm profile. It...

<img class="aligncenter size-large wp-image-1610" title="" alt="" src="http://gizbeat.com/wp-content/uploads/2013/01/lenovo-k900-clover-atom-390x400.jpg" width="390" height="400" />CES is running strong in Vegas, and Lenovo has introduced what will be their latest flagship smartphone<span id="more-1609"></span> - the Lenovo K900. Thanks much to Ari for bringing this to our attention. The Lenovo K900 features a megantic 5.5" 1080p IPS LCD in a very square, super slim 6.9mm profile. It will be sporting Intel's new Clover Trail+ 2GHz Atom CPU, 2GB RAM and Android 4.1.2 Jelly Bean. The rear camera boasts 13MP F1.8 optics, which should produce some comparably excellent low-light shots. The front camera will feature a "super-wide angle" lens. Lenovo has stated they have no plans to release the phone in North America, but the phone will soon be released in Asia. While this phone has some great specs and physically awesome looks, the Clover Trail chipset doesn't support dual-SIM - which in GizBeat's opinion is downright neanderthal.

Damian Parsons

https://plus.google.com/107879368390224447304

admin@gizbeat.com

Administrator

Hi, I'm Damian Parsons. I've been working with Android phones since the first Droid came out. I'm fascinated by computers and technology. My first BBS were ran on an old Apple IIc and Commodore 64. I work hard to bring the latest updates to you every day - without all the boring fluff. Please subscribe to keep up on the newest China tech. See our forum -> www.chinaphonearena.com

GizBeat
---
---