UMi X1 mtk mt6577 dual-core China phone shows up in black! (photo gallery)
---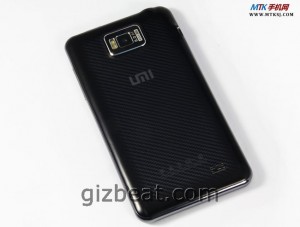 As the pre-sale numbers continue to rise, some new photos are released.  The UMi with mtk mt6577 / mtk6577 looks awesome in black, and it's been released that the UMi X1 will have Japanese "AGC" high-impact resistant, tempered glass front protecting the LCD as opposed to the g3's Gorilla Glass from Corning.
[portfolio_slideshow]
Now, beyond the coolness of the extra protection, I see this as a good sign that the camera and LCD quality will be very good as well.  I can't see UMi going to the effort of putting this great protection on it's phone without attending to the quality of the camera and LCD as well.  We will have to wait to be sure, but looks like this phone will be a winner.
UMi X1 mtk mt6577 dual-core China phone shows up in black! (photo gallery)

https://www.gizbeat.com/164/umi-x1-mtk-mt6577-dual-core-china-phone-shows-up-in-black-photo-gallery/

https://www.gizbeat.com/wp-content/uploads/2012/09/1-120Z51H025141-450x341.jpg

https://www.gizbeat.com/wp-content/uploads/2012/09/1-120Z51H025141-150x150.jpg

Brands

MT6577

MTK6577

UMi

As the pre-sale numbers continue to rise, some new photos are released.  The UMi with mtk mt6577 / mtk6577 looks awesome in black, and it's been released that the UMi X1 will have Japanese 'AGC' high-impact resistant, tempered glass front protecting the LCD as opposed to the g3's Gorilla Glass...

<a href="http://gizbeat.com/164/umi-x1-mtk-mt6577-dual-core-china-phone-shows-up-in-black-photo-gallery/1-120z51h025141/" rel="attachment wp-att-172"><img class="alignleft size-medium wp-image-172" title="1-120Z51H025141" src="http://gizbeat.com/wp-content/uploads/2012/09/1-120Z51H025141-300x227.jpg" alt="" width="300" height="227" /></a>As the pre-sale numbers continue to rise, some new photos are released.  The UMi with mtk mt6577 / mtk6577 looks awesome in black, and it's been released that the UMi X1 will have Japanese "AGC" high-impact resistant, tempered glass front protecting the LCD as opposed to the g3's Gorilla Glass from Corning.<span id="more-164"></span> [portfolio_slideshow] Now, beyond the coolness of the extra protection, I see this as a good sign that the camera and LCD quality will be very good as well.  I can't see UMi going to the effort of putting this great protection on it's phone without attending to the quality of the camera and LCD as well.  We will have to wait to be sure, but looks like this phone will be a winner.

Damian Parsons

https://plus.google.com/107879368390224447304

admin@gizbeat.com

Administrator

Hi, I'm Damian Parsons. I've been working with Android phones since the first Droid came out. I'm fascinated by computers and technology. My first BBS were ran on an old Apple IIc and Commodore 64. I work hard to bring the latest updates to you every day - without all the boring fluff. Please subscribe to keep up on the newest China tech. See our forum -> www.chinaphonearena.com

GizBeat
---
---