UMi X2 XII – Official Specifications Released!
---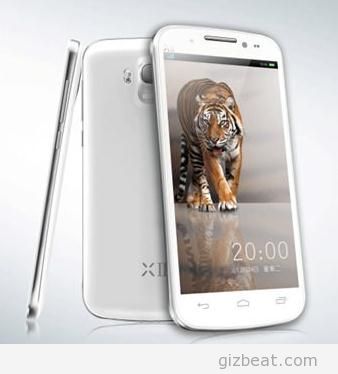 While most of us knew what the UMi X2 would look like, the official specs were left to question until now. The final specifications have been released and for the most part they look great – if you're not American that is.
The LCD will be 5.0″ IPS and full 1080 HD, MTK6589@1.2Ghz, Corning Gorilla Glass 2, 2GB RAM/32GB ROM, Android 4.1, 2500mA battery, 2.0MP front / 13MP rear cameras.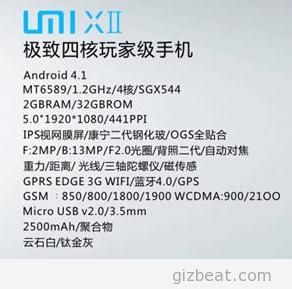 Unfortunately, as is the case with many China phones, WCDMA will be limited to 900/2100. So Americans who want 3G can cross this one off their list right from get go.
UMi X2 XII – Official Specifications Released!

https://www.gizbeat.com/1659/umi-x2-xii-official-specifications-released/

https://www.gizbeat.com/wp-content/uploads/2013/01/umi-x2-mtk6589-1.jpg

https://www.gizbeat.com/wp-content/uploads/2013/01/umi-x2-mtk6589-1-150x150.jpg

Brands

Noteworthy

UMi

While most of us knew what the UMi X2 would look like, the official specs were left to question until now. The final specifications have been released and for the most part they look great - if you're not American that is. The LCD will be 5.0' IPS and full...

<img class="aligncenter size-full wp-image-1661" title="" alt="" src="http://gizbeat.com/wp-content/uploads/2013/01/umi-x2-mtk6589-1.jpg" width="338" height="374" />While most of us knew what the UMi X2 would look like, the official specs were left to question until now. The final specifications have been released and for the most part they look great - if you're not American that is.<span id="more-1659"></span> The LCD will be 5.0" IPS and full 1080 HD, MTK6589@1.2Ghz, Corning Gorilla Glass 2, 2GB RAM/32GB ROM, Android 4.1, 2500mA battery, 2.0MP front / 13MP rear cameras. <img class="aligncenter size-full wp-image-1660" alt="" src="http://gizbeat.com/wp-content/uploads/2013/01/umi-x2-mtk6589-2.jpg" width="292" height="289" /> Unfortunately, as is the case with many China phones, WCDMA will be limited to 900/2100. So Americans who want 3G can cross this one off their list right from get go.

Damian Parsons

https://plus.google.com/107879368390224447304

admin@gizbeat.com

Administrator

Hi, I'm Damian Parsons. I've been working with Android phones since the first Droid came out. I'm fascinated by computers and technology. My first BBS were ran on an old Apple IIc and Commodore 64. I work hard to bring the latest updates to you every day - without all the boring fluff. Please subscribe to keep up on the newest China tech. See our forum -> www.chinaphonearena.com

GizBeat
---
---