Quad Core MTK6589 ZTE V987 To Be Released!
---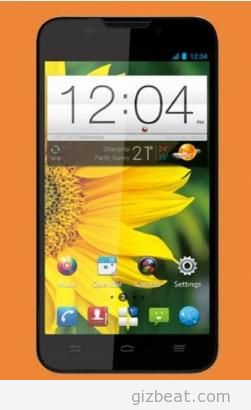 Great looking new phone from ZTE with MTK6589 is soon to be released. The model is V987. The ZTE Z987 will have a 720p HD 5″ OGS IPS LCD, 2500mA battery, Android 4.1, 1GB RAM / 4GB ROM, 1MP / 8MP cameras and a 9.2mm profile.
I'm really liking the looks of the ZTE V987. The side borders are quite thin for a 5″ LCD, OGS is a very nice inclusion and the 2500mA battery is a huge plus.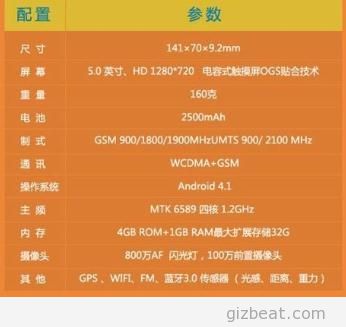 What's not to like is the lack of 850mhz, not only for WCDMA, but GSM as well. Americans and any other people who rely on 850 will want to stay well away from this phone. In 2013, it's almost shocking to see a phone not include 850 at least for GSM – especially for such a large player as ZTE, but there we have it.
The ZTE is expected to go on sale on Febuary 5 at a retail price of 1699 yuan.
Quad Core MTK6589 ZTE V987 To Be Released!

https://www.gizbeat.com/1727/quad-core-mtk6589-zte-v987-to-be-released/

https://www.gizbeat.com/wp-content/uploads/2013/02/zte-mtk6589-v987-2.jpg

https://www.gizbeat.com/wp-content/uploads/2013/02/zte-mtk6589-v987-2-150x150.jpg

Previews

Great looking new phone from ZTE with MTK6589 is soon to be released. The model is V987. The ZTE Z987 will have a 720p HD 5' OGS IPS LCD, 2500mA battery, Android 4.1, 1GB RAM / 4GB ROM, 1MP / 8MP cameras and a 9.2mm profile. I'm really liking the...

<img class="aligncenter size-full wp-image-1728" title="" alt="" src="http://gizbeat.com/wp-content/uploads/2013/02/zte-mtk6589-v987-2.jpg" width="251" height="410" />Great looking new phone from ZTE with MTK6589 is soon to be released. The model is V987. The ZTE Z987 will have a 720p HD 5" OGS IPS LCD, 2500mA battery,<span id="more-1727"></span> Android 4.1, 1GB RAM / 4GB ROM, 1MP / 8MP cameras and a 9.2mm profile. I'm really liking the looks of the ZTE V987. The side borders are quite thin for a 5" LCD, OGS is a very nice inclusion and the 2500mA battery is a huge plus. <img class="aligncenter size-full wp-image-1729" alt="" src="http://gizbeat.com/wp-content/uploads/2013/02/zte-mtk6589-v987.jpg" width="346" height="327" /> What's not to like is the lack of 850mhz, not only for WCDMA, but GSM as well. Americans and any other people who rely on 850 will want to stay well away from this phone. In 2013, it's almost shocking to see a phone not include 850 at least for GSM - especially for such a large player as ZTE, but there we have it. The ZTE is expected to go on sale on Febuary 5 at a retail price of 1699 yuan.

Damian Parsons

https://plus.google.com/107879368390224447304

admin@gizbeat.com

Administrator

Hi, I'm Damian Parsons. I've been working with Android phones since the first Droid came out. I'm fascinated by computers and technology. My first BBS were ran on an old Apple IIc and Commodore 64. I work hard to bring the latest updates to you every day - without all the boring fluff. Please subscribe to keep up on the newest China tech. See our forum -> www.chinaphonearena.com

GizBeat
---
---