Leaked Prototype Premium JiaYu S1 News!
---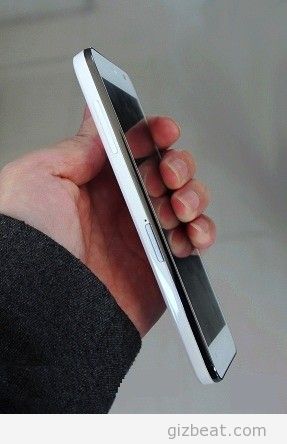 It seems that Jiayu may be entering the premium market to compete with the likes of Oppo, Meizu, Huawei, ZTE, etc.
Check this one out, 5″ Full HD 1080p with 441ppi IPS OGS screen, a Quad-core Krait Harvard Superscalar Qualcomm Snapdragon S4 APQ 8064 clocked at 1.5Ghz with 2GB of RAM! 32GB of ROM, a GPU Adreno 320 and 13MP camera.

Yikes! It really looks like Jiayu is set to raise their standards. We know that Jiayu is one of the best budget smartphone manufactures around. This leaked info has shown how Jiayu may be serious about trying to draw the attention of smartphone users all over the world. Like the Lenovo K900, by using Qualcomm S4 Krait SoC, it means the device will support one SIM card only. Tough news for those dual SIM fans who would love a new competitor for Samsung Galaxy Note II Duos!
We'll see what more intriguing moves by Jiayu over these few months ahead.
Ari
Leaked Prototype Premium JiaYu S1 News!

https://www.gizbeat.com/1757/leaked-prototype-premium-jiayu-s1-news/

https://www.gizbeat.com/wp-content/uploads/2013/02/jiayu-leaked-s11.jpg

https://www.gizbeat.com/wp-content/uploads/2013/02/jiayu-leaked-s11-150x150.jpg

JiaYu

Noteworthy

It seems that Jiayu may be entering the premium market to compete with the likes of Oppo, Meizu, Huawei, ZTE, etc. Check this one out, 5' Full HD 1080p with 441ppi IPS OGS screen, a Quad-core Krait Harvard Superscalar Qualcomm Snapdragon S4 APQ 8064 clocked at 1.5Ghz with 2GB of...

<img class="aligncenter size-full wp-image-1758" title=" " alt="" src="http://gizbeat.com/wp-content/uploads/2013/02/jiayu-leaked-s11.jpg" width="287" height="444" />It seems that Jiayu may be entering the premium market to compete with the likes of Oppo, Meizu, Huawei, ZTE, etc. Check this one out, 5" Full HD 1080p with 441ppi IPS OGS screen, a Quad-core Krait Harvard Superscalar Qualcomm Snapdragon S4 APQ 8064 clocked at 1.5Ghz with 2GB of RAM! 32GB of ROM, a GPU Adreno 320 and 13MP camera.<span id="more-1757"></span> <img class="aligncenter size-large wp-image-1759" alt="" src="http://gizbeat.com/wp-content/uploads/2013/02/jiayu-s1-highend1-400x149.png" width="400" height="149" /> Yikes! It really looks like Jiayu is set to raise their standards. We know that Jiayu is one of the best budget smartphone manufactures around. This leaked info has shown how Jiayu may be serious about trying to draw the attention of smartphone users all over the world. Like the Lenovo K900, by using Qualcomm S4 Krait SoC, it means the device will support one SIM card only. Tough news for those dual SIM fans who would love a new competitor for Samsung Galaxy Note II Duos! We'll see what more intriguing moves by Jiayu over these few months ahead. <h2>Ari</h2>

Damian Parsons

https://plus.google.com/107879368390224447304

admin@gizbeat.com

Administrator

Hi, I'm Damian Parsons. I've been working with Android phones since the first Droid came out. I'm fascinated by computers and technology. My first BBS were ran on an old Apple IIc and Commodore 64. I work hard to bring the latest updates to you every day - without all the boring fluff. Please subscribe to keep up on the newest China tech. See our forum -> www.chinaphonearena.com

GizBeat
---
---