UMI X1S: The Successor to UMI X1 To Release Q1!
---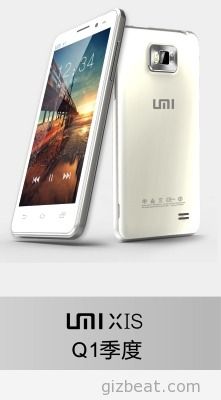 Those of you who have recently purchased the UMI X1 may be a bit dismayed to find out that UMI has confirmed the next successor to their ever popular UMI X1 – the UMI X1S. It's about to release sometime around this first quarter (Q1).
It seems the fuss surrounding the news on the upcoming UMI X2 has left some of us unaware about the UMI X1S.
So, what does the UMI X1S look like? According to recently leaked information, the UMI X1S will have the same dimensions as the UMI X1 – 129x 68 x 8.5mm. The screen will be the same size at 4.5″, and the same resolution at 1080 x 720 pixels. The cameras will be also the same 2.0MP front + 8.0MP back.
Although X1S has the same appearance as X1, the guts are not. Powered by Mediatek's newest quadcore chipset MT6589 at 1.2 GHz clockspeed and PowerVR SGX 544 as its graphic processor, it will easily run Android 4.1 without a problem. Battery capacity also will increase to 1850 mAh.
The rest is the same as X1, with 1GB RAM and 4GB ROM, GPS, Assisted GPS, Bluetooth 4.0 and last but not least – multiple SIM capabilty.
UMI is pretty clever by positioning this product below the X2. Because judging by its specs, the prediction on the X2 pricetag will be in the $300 ballpark. By releasing the upgraded X1, UMI will be attracting prospective customers who can't afford the X2.
Ari
UMI X1S: The Successor to UMI X1 To Release Q1!

https://www.gizbeat.com/1769/umi-x1s-the-successor-to-umi-x1-to-release-q1/

https://www.gizbeat.com/wp-content/uploads/2013/02/umi-x1s-mtk6589.jpg

https://www.gizbeat.com/wp-content/uploads/2013/02/umi-x1s-mtk6589-150x150.jpg

Noteworthy

UMi

Those of you who have recently purchased the UMI X1 may be a bit dismayed to find out that UMI has confirmed the next successor to their ever popular UMI X1 - the UMI X1S. It's about to release sometime around this first quarter (Q1). It seems the fuss surrounding...

<img class="aligncenter size-full wp-image-1770" title="" alt="umi-x1s-mtk6589" src="http://gizbeat.com/wp-content/uploads/2013/02/umi-x1s-mtk6589.jpg" width="221" height="400" />Those of you who have recently purchased the UMI X1 may be a bit dismayed to find out that UMI has confirmed the next successor to their ever popular UMI X1 - the UMI X1S. It's about to release sometime around this first quarter (Q1).<span id="more-1769"></span> It seems the fuss surrounding the news on the upcoming UMI X2 has left some of us unaware about the UMI X1S. So, what does the UMI X1S look like? According to recently leaked information, the UMI X1S will have the same dimensions as the UMI X1 - 129x 68 x 8.5mm. The screen will be the same size at 4.5", and the same resolution at 1080 x 720 pixels. The cameras will be also the same 2.0MP front + 8.0MP back. Although X1S has the same appearance as X1, the guts are not. Powered by Mediatek's newest quadcore chipset MT6589 at 1.2 GHz clockspeed and PowerVR SGX 544 as its graphic processor, it will easily run Android 4.1 without a problem. Battery capacity also will increase to 1850 mAh. The rest is the same as X1, with 1GB RAM and 4GB ROM, GPS, Assisted GPS, Bluetooth 4.0 and last but not least - multiple SIM capabilty. UMI is pretty clever by positioning this product below the X2. Because judging by its specs, the prediction on the X2 pricetag will be in the $300 ballpark. By releasing the upgraded X1, UMI will be attracting prospective customers who can't afford the X2. <h2>Ari</h2>

Damian Parsons

https://plus.google.com/107879368390224447304

admin@gizbeat.com

Administrator

Hi, I'm Damian Parsons. I've been working with Android phones since the first Droid came out. I'm fascinated by computers and technology. My first BBS were ran on an old Apple IIc and Commodore 64. I work hard to bring the latest updates to you every day - without all the boring fluff. Please subscribe to keep up on the newest China tech. See our forum -> www.chinaphonearena.com

GizBeat
---
---