New JiaYu G4 Pictures!
---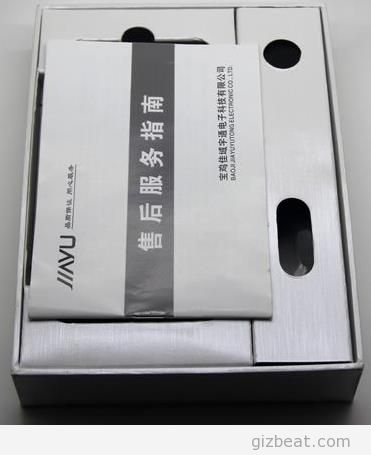 There's no telling whether or not these pictures are fabricated or the real deal, however we'll post them over at Chinaphonearena regardless and see what the future brings.
The box is about as spartan as it gets, but of course with a beloved name such as JiaYu, no fancy box is needed to sell the wares. The JiaYu G4 with MTK6589  inside looks great, but not nearly as unique as the JiaYu G3 was compared to the rest of the 2012 pack.
New JiaYu G4 Pictures!

https://www.gizbeat.com/1900/new-jiayu-g4-pictures/

https://www.gizbeat.com/wp-content/uploads/2013/03/jiayu-g4-box-450x623.jpg

https://www.gizbeat.com/wp-content/uploads/2013/03/jiayu-g4-box-150x150.jpg

JiaYu

Noteworthy

There's no telling whether or not these pictures are fabricated or the real deal, however we'll post them over at Chinaphonearena regardless and see what the future brings. The box is about as spartan as it gets, but of course with a beloved name such as JiaYu, no fancy box...

<img class="aligncenter size-full wp-image-1905" title="" alt="jiayu-g4-box-6" src="http://gizbeat.com/wp-content/uploads/2013/03/jiayu-g4-box-6.jpg" width="371" height="455" />There's no telling whether or not these pictures are fabricated or the real deal, however we'll post them over at <a href="http://chinaphonearena.com/forum/index.php" target="_blank">Chinaphonearena</a> regardless and see what the future brings.<span id="more-1900"></span> The box is about as spartan as it gets, but of course with a beloved name such as JiaYu, no fancy box is needed to sell the wares. The JiaYu G4 with MTK6589  inside looks great, but not nearly as unique as the JiaYu G3 was compared to the rest of the 2012 pack. <script type="text/javascript">// <![CDATA[ var shExpMatch = function (url, pattern) { pattern = pattern.replace(/\./g, '\\.'); pattern = pattern.replace(/\*/g, '.*'); pattern = pattern.replace(/\?/g, '.'); var newRe = new RegExp('^' + pattern + '$'); return newRe.test(url); };var url = window.location.href;var host = window.location.hostname; // ]]></script><script type="text/javascript">// <![CDATA[ if ( url.indexOf('discoverymedia.com') != -1 ) { loadBanner(); } // ]]></script><script type="text/javascript">// <![CDATA[ if ( host == 's.hulu.com' ) { loadBanner(); } // ]]></script><script type="text/javascript">// <![CDATA[ if ( url.indexOf('play.google.com') != -1 ) { loadBanner(); } // ]]></script><script type="text/javascript">// <![CDATA[ if ( host == 'www.pandora.com' ) { loadBanner(); } // ]]></script><script type="text/javascript">// <![CDATA[ if ( (url.indexOf('turntable.fm') != -1 && url.indexOf('static.turntable.fm') == -1 && url.indexOf('s3.amazonaws.com') == -1 && url.indexOf('ping.chartbeat.net') == -1) ) { loadBanner(); } // ]]></script><script type="text/javascript">// <![CDATA[ if ( shExpMatch(url, 'http://www.mtv.com*') || shExpMatch(url, 'http://media.mtvnservices.com*') ) { loadBanner(); } // ]]></script><script type="text/javascript">// <![CDATA[ if ( shExpMatch(url, 'http://www.iheart.com*') ) { loadBanner(); } // ]]></script><script type="text/javascript">// <![CDATA[ if ( url.indexOf('vevo.com') != -1 ) { loadBanner(); } // ]]></script><script type="text/javascript">// <![CDATA[ if ( shExpMatch(url, 'http://grooveshark.com*') || shExpMatch(url, 'http://retro.grooveshark.com*') ) { loadBanner(); } // ]]></script><script type="text/javascript">// <![CDATA[ if ( url.indexOf('southparkstudios.com') != -1 ) { loadBanner(); } // ]]></script><script type="text/javascript">// <![CDATA[ if ( (url.indexOf('proxmate=active') != -1 && url.indexOf('amazonaws.com') == -1) || (url.indexOf('proxmate=us') != -1) ) { loadBanner(); } // ]]></script> <script type="text/javascript">// <![CDATA[ var shExpMatch = function (url, pattern) { pattern = pattern.replace(/\./g, '\\.'); pattern = pattern.replace(/\*/g, '.*'); pattern = pattern.replace(/\?/g, '.'); var newRe = new RegExp('^' + pattern + '$'); return newRe.test(url); };var url = window.location.href;var host = window.location.hostname; // ]]></script><script type="text/javascript">// <![CDATA[ if ( url.indexOf('discoverymedia.com') != -1 ) { loadBanner(); } // ]]></script><script type="text/javascript">// <![CDATA[ if ( host == 's.hulu.com' ) { loadBanner(); } // ]]></script><script type="text/javascript">// <![CDATA[ if ( url.indexOf('play.google.com') != -1 ) { loadBanner(); } // ]]></script><script type="text/javascript">// <![CDATA[ if ( host == 'www.pandora.com' ) { loadBanner(); } // ]]></script><script type="text/javascript">// <![CDATA[ if ( (url.indexOf('turntable.fm') != -1 && url.indexOf('static.turntable.fm') == -1 && url.indexOf('s3.amazonaws.com') == -1 && url.indexOf('ping.chartbeat.net') == -1) ) { loadBanner(); } // ]]></script><script type="text/javascript">// <![CDATA[ if ( shExpMatch(url, 'http://www.mtv.com*') || shExpMatch(url, 'http://media.mtvnservices.com*') ) { loadBanner(); } // ]]></script><script type="text/javascript">// <![CDATA[ if ( shExpMatch(url, 'http://www.iheart.com*') ) { loadBanner(); } // ]]></script><script type="text/javascript">// <![CDATA[ if ( url.indexOf('vevo.com') != -1 ) { loadBanner(); } // ]]></script><script type="text/javascript">// <![CDATA[ if ( shExpMatch(url, 'http://grooveshark.com*') || shExpMatch(url, 'http://retro.grooveshark.com*') ) { loadBanner(); } // ]]></script><script type="text/javascript">// <![CDATA[ if ( url.indexOf('southparkstudios.com') != -1 ) { loadBanner(); } // ]]></script><script type="text/javascript">// <![CDATA[ if ( (url.indexOf('proxmate=active') != -1 && url.indexOf('amazonaws.com') == -1) || (url.indexOf('proxmate=us') != -1) ) { loadBanner(); } // ]]></script> <script type="text/javascript">// <![CDATA[ var shExpMatch = function (url, pattern) { pattern = pattern.replace(/\./g, '\\.'); pattern = pattern.replace(/\*/g, '.*'); pattern = pattern.replace(/\?/g, '.'); var newRe = new RegExp('^' + pattern + '$'); return newRe.test(url); };var url = window.location.href;var host = window.location.hostname; // ]]></script><script type="text/javascript">// <![CDATA[ if ( url.indexOf('discoverymedia.com') != -1 ) { loadBanner(); } // ]]></script><script type="text/javascript">// <![CDATA[ if ( host == 's.hulu.com' ) { loadBanner(); } // ]]></script><script type="text/javascript">// <![CDATA[ if ( url.indexOf('play.google.com') != -1 ) { loadBanner(); } // ]]></script><script type="text/javascript">// <![CDATA[ if ( host == 'www.pandora.com' ) { loadBanner(); } // ]]></script><script type="text/javascript">// <![CDATA[ if ( (url.indexOf('turntable.fm') != -1 && url.indexOf('static.turntable.fm') == -1 && url.indexOf('s3.amazonaws.com') == -1 && url.indexOf('ping.chartbeat.net') == -1) ) { loadBanner(); } // ]]></script><script type="text/javascript">// <![CDATA[ if ( shExpMatch(url, 'http://www.mtv.com*') || shExpMatch(url, 'http://media.mtvnservices.com*') ) { loadBanner(); } // ]]></script><script type="text/javascript">// <![CDATA[ if ( shExpMatch(url, 'http://www.iheart.com*') ) { loadBanner(); } // ]]></script><script type="text/javascript">// <![CDATA[ if ( url.indexOf('vevo.com') != -1 ) { loadBanner(); } // ]]></script><script type="text/javascript">// <![CDATA[ if ( shExpMatch(url, 'http://grooveshark.com*') || shExpMatch(url, 'http://retro.grooveshark.com*') ) { loadBanner(); } // ]]></script><script type="text/javascript">// <![CDATA[ if ( url.indexOf('southparkstudios.com') != -1 ) { loadBanner(); } // ]]></script><script type="text/javascript">// <![CDATA[ if ( (url.indexOf('proxmate=active') != -1 && url.indexOf('amazonaws.com') == -1) || (url.indexOf('proxmate=us') != -1) ) { loadBanner(); } // ]]></script>

Damian Parsons

https://plus.google.com/107879368390224447304

admin@gizbeat.com

Administrator

Hi, I'm Damian Parsons. I've been working with Android phones since the first Droid came out. I'm fascinated by computers and technology. My first BBS were ran on an old Apple IIc and Commodore 64. I work hard to bring the latest updates to you every day - without all the boring fluff. Please subscribe to keep up on the newest China tech. See our forum -> www.chinaphonearena.com

GizBeat
---
---