New MTK6589T vs MTK6589 vs MTK6589M!
---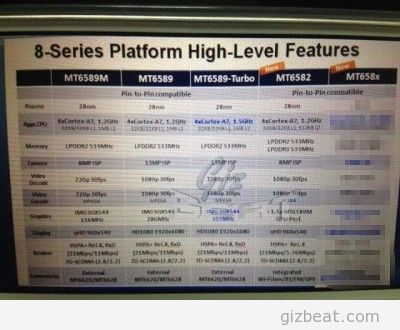 MTK hits us with another whammy as they introduce the MTK6589T. This new SoC will ramp the CPU from 1.2GHz to 1.5GHz and the GPU from 286 to 357.
While the CPU increase is nice, what's really interesting about the MTK6589T is the GPU increase of 30%. As it is, the GPU in the standard MTK6589 can handle all current 3D games.  The 30% will give a little extra oomph in 720p devices that include it and FPS some while most importantly helping the new 1080p LCD phones hold their own a bit better.
Several of the new MTK6589 phones coming out will reportedly sport the MTK6589T. The Mlais MX58, Umi X2 and THL W8+ will likely have it, and the Neo N003 is rumored to have it.
As 1080p is double the pixels compared to 720p, a 30% in the GPU with the MTK6589T might not bring gaming quite up to 720p MTK6589 FPS, it will at least help a bit and we can take this as excellent news for anyone considering one of the aforementioned China mobiles.
For the even more budget minded consumer, MediaTek will be releasing the MTK6589M as well. The MTK6589M contains a significantly reduced SGX544 GPU and reduced MP support for cameras from 13mp down to 8mp. The SGX544 MHz will be ramped down to 156Mhz from 286 in the standard MTK6589. Gizbeat recommends gamers stay away from this one in 720p devices, though units with 960*540 LCDs should be fine. This will be a great budget option for those not wanting an HD LCD.
Also keep in mind the MTK6589T isn't expected to be released in most phones until mid-June at the earliest.
New MTK6589T vs MTK6589 vs MTK6589M!

https://www.gizbeat.com/2137/new-mtk6589t-vs-mtk6589-vs-mtk6589m/

https://www.gizbeat.com/wp-content/uploads/2013/05/mtk6589t-vs-mtk6589-vs-mtk6589m-mediatek-450x358.jpg

https://www.gizbeat.com/wp-content/uploads/2013/05/mtk6589t-vs-mtk6589-vs-mtk6589m-mediatek-150x150.jpg

Noteworthy

Previews

MTK hits us with another whammy as they introduce the MTK6589T. This new SoC will ramp the CPU from 1.2GHz to 1.5GHz and the GPU from 286 to 357. While the CPU increase is nice, what's really interesting about the MTK6589T is the GPU increase of 30%. As it is,...

<img class="aligncenter size-large wp-image-2138" alt="mtk6589t-vs-mtk6589-vs-mtk6589m-mediatek" src="http://gizbeat.com/wp-content/uploads/2013/05/mtk6589t-vs-mtk6589-vs-mtk6589m-mediatek-400x330.jpg" width="400" height="330" />MTK hits us with another whammy as they introduce the MTK6589T. This new SoC will ramp the CPU from 1.2GHz to 1.5GHz and the GPU from 286 to 357.<span id="more-2137"></span> While the CPU increase is nice, what's really interesting about the MTK6589T is the GPU increase of 30%. As it is, the GPU in the standard MTK6589 can handle all current 3D games.  The 30% will give a little extra oomph in 720p devices that include it and FPS some while most importantly helping the new 1080p LCD phones hold their own a bit better. Several of the new MTK6589 phones coming out will reportedly sport the MTK6589T. The Mlais MX58, Umi X2 and THL W8+ will likely have it, and the Neo N003 is rumored to have it. As 1080p is double the pixels compared to 720p, a 30% in the GPU with the MTK6589T might not bring gaming quite up to 720p MTK6589 FPS, it will at least help a bit and we can take this as excellent news for anyone considering one of the aforementioned China mobiles. For the even more budget minded consumer, MediaTek will be releasing the MTK6589M as well. The MTK6589M contains a significantly reduced SGX544 GPU and reduced MP support for cameras from 13mp down to 8mp. The SGX544 MHz will be ramped down to 156Mhz from 286 in the standard MTK6589. Gizbeat recommends gamers stay away from this one in 720p devices, though units with 960*540 LCDs should be fine. This will be a great budget option for those not wanting an HD LCD. Also keep in mind the MTK6589T isn't expected to be released in most phones until mid-June at the earliest.

Damian Parsons

https://plus.google.com/107879368390224447304

admin@gizbeat.com

Administrator

Hi, I'm Damian Parsons. I've been working with Android phones since the first Droid came out. I'm fascinated by computers and technology. My first BBS were ran on an old Apple IIc and Commodore 64. I work hard to bring the latest updates to you every day - without all the boring fluff. Please subscribe to keep up on the newest China tech. See our forum -> www.chinaphonearena.com

GizBeat
---
---