First MTK6589T Phones Shipping – UMi X2 And Tianje X920+ Butterfly!
---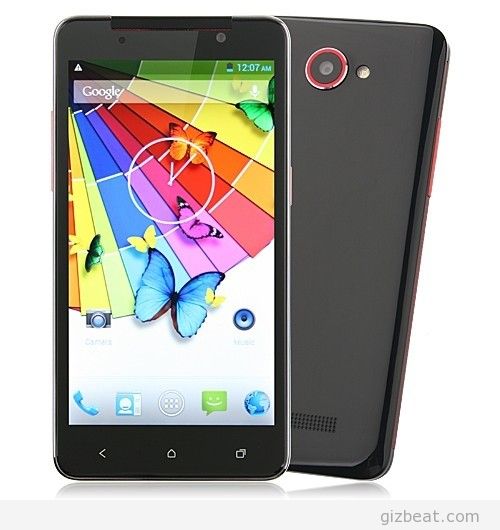 Gizbeat was a bit skeptical we'd see MTK6589T smart phones released before the end of the month, but already we've got at least two phones shipping with the MTK6589T. We recently posted a preview of the MTK6589T and some of the differences between it and the standard MTK6589.
MTK6589T is an exciting new chipset with a significant boost in GPU and CPU power. Though the majority of phones initially coming out with MTK6589T will be 1080p, within the next couple months we should see some 720p options as well which will be an excellent choice for demanding 3D games.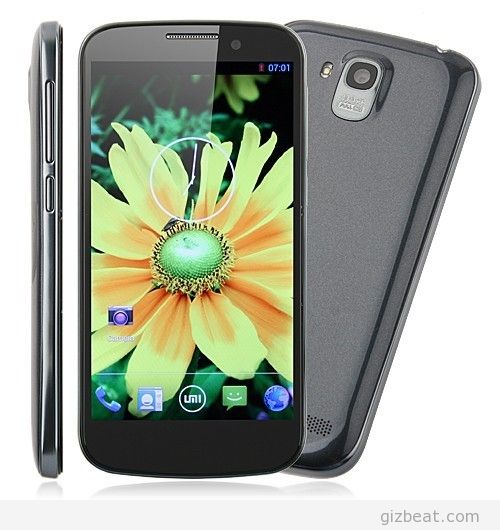 The first phones released are the Tianhe X920+ and the UMi X2. These are available now from several  online retailers. The Tianhe X920+ is a sub-$250 1GB/4GB phone, while the UMi X2 with 1GB/16GB is selling anywhere from $260-300. The UMi sports significantly higher storage and Gorilla Glass. While these prices are maybe fair, this is starting to get into a price realm which may have consumers considering phones and thinking twice before dropping this much on a China phone with virtually no customer support and long wait times/shipping costs involved with repairs. To be fair though, this is the initial offering and within the next couple months we should see prices drop as MTK6589T competition gets stiffer.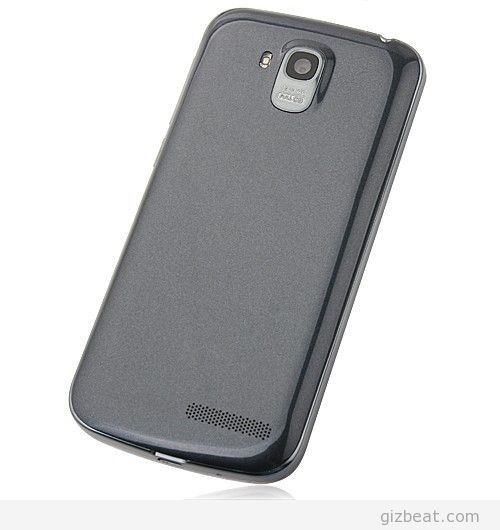 In Gizbeat's opinion, the less expensive Tianje x920+ actually looks better. The rounded corners on the UMi are excessively feminine. Part of the reason for UMi's design choice is to look more like the Samsung Galaxy.
Still waiting on the Neo N003 which has come up in price to just over $200 at Lightake. Customers who bought this at $180 got a great bargain, though at $200 shipped, it's still a phone to be considered.
First MTK6589T Phones Shipping – UMi X2 And Tianje X920+ Butterfly!

https://www.gizbeat.com/2169/first-mtk6589t-phones-shipping-umi-x2-and-tianje-x920-butterfly/

https://www.gizbeat.com/wp-content/uploads/2013/06/UMiX2-mtk6589t-2-450x477.jpg

https://www.gizbeat.com/wp-content/uploads/2013/06/UMiX2-mtk6589t-2-150x150.jpg

MTK6589T

Noteworthy

Previews

UMi

Gizbeat was a bit skeptical we'd see MTK6589T smart phones released before the end of the month, but already we've got at least two phones shipping with the MTK6589T. We recently posted a preview of the MTK6589T and some of the differences between it and the standard MTK6589. MTK6589T is...

<img class="aligncenter size-full wp-image-2170" alt="tianhe-x920+-mtk6589t" src="http://gizbeat.com/wp-content/uploads/2013/06/tianhe-x920+-mtk6589t.jpg" width="500" height="530" />Gizbeat was a bit skeptical we'd see MTK6589T smart phones released before the end of the month, but already we've got at least two phones shipping with the MTK6589T. We recently posted a <a title="New MTK6589T vs MTK6589 vs MTK6589M!" href="http://gizbeat.com/2137/new-mtk6589t-vs-mtk6589-vs-mtk6589m/">preview of the MTK6589T</a> and some of the differences between it and the standard MTK6589. MTK6589T is an exciting new chipset with a significant boost in GPU and CPU power. Though the majority of phones initially coming out with MTK6589T will be 1080p, within the next couple months we should see some 720p options as well which will be an excellent choice for demanding 3D games.<span id="more-2169"></span> <img class="aligncenter" alt="UMiX2-mtk6589t" src="http://gizbeat.com/wp-content/uploads/2013/06/UMiX2-mtk6589t.jpg" width="500" height="530" /> The first phones released are the Tianhe X920+ and the UMi X2. These are available now from several  online retailers. The Tianhe X920+ is a sub-$250 1GB/4GB phone, while the UMi X2 with 1GB/16GB is selling anywhere from $260-300. The UMi sports significantly higher storage and Gorilla Glass. While these prices are maybe fair, this is starting to get into a price realm which may have consumers considering phones and thinking twice before dropping this much on a China phone with virtually no customer support and long wait times/shipping costs involved with repairs. To be fair though, this is the initial offering and within the next couple months we should see prices drop as MTK6589T competition gets stiffer. <img class="aligncenter" alt="UMiX2-mtk6589t-2" src="http://gizbeat.com/wp-content/uploads/2013/06/UMiX2-mtk6589t-2.jpg" width="500" height="530" /> In Gizbeat's opinion, the less expensive Tianje x920+ actually looks better. The rounded corners on the UMi are excessively feminine. Part of the reason for UMi's design choice is to look more like the Samsung Galaxy. Still waiting on the <a href="http://www.lightake.com/detail.do/sku.64088~C.J/YI111762012HBJMBV" target="_blank">Neo N003 which has come up in price to just over $200 at Lightake</a>. Customers who bought this at $180 got a great bargain, though at $200 shipped, it's still a phone to be considered.

Damian Parsons

https://plus.google.com/107879368390224447304

admin@gizbeat.com

Administrator

Hi, I'm Damian Parsons. I've been working with Android phones since the first Droid came out. I'm fascinated by computers and technology. My first BBS were ran on an old Apple IIc and Commodore 64. I work hard to bring the latest updates to you every day - without all the boring fluff. Please subscribe to keep up on the newest China tech. See our forum -> www.chinaphonearena.com

GizBeat
---
---