Great MTK6589T Gaming Phone! Star S5+ Released With MTK6589T!
---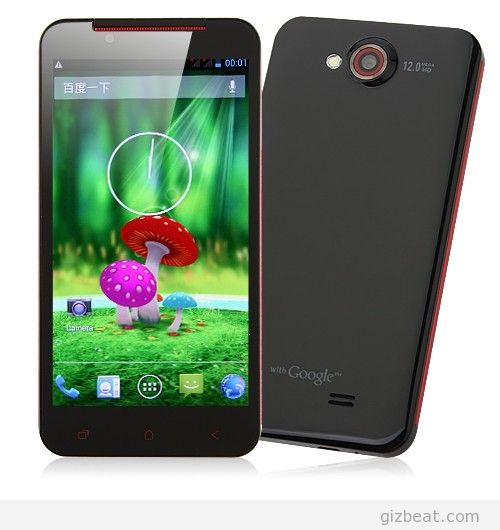 A popular cult hit, the Star S5 has been re-released as the Star S5+ and now includes the updated MTK6589T CPU. What's great is that they've retained the IPS 720p as opposed to going up to 1080p, which means this will make an excellent choice for gamers who play the higher end 3D games.
The Star S5 previously has received a lot of attention and was one of the first MTK6589 phones to be released. It's great to see them upgrade to the MTK6589T. We should see most phones follow suit with MTK6589 already becoming a yesterday SoC not even 4 months after it's release. Not to say MTK6589 is a sloucher by any means. In fact, except for high-tasking 3D games, most people won't even be able to tell the difference in real world use.
Great MTK6589T Gaming Phone! Star S5+ Released With MTK6589T!

https://www.gizbeat.com/2207/great-mtk6589t-gaming-phone-star-s5-released-with-mtk6589t/

https://www.gizbeat.com/wp-content/uploads/2013/07/star-s5+-mtk6589t-450x477.jpg

https://www.gizbeat.com/wp-content/uploads/2013/07/star-s5+-mtk6589t-150x150.jpg

MTK6589T

A popular cult hit, the Star S5 has been re-released as the Star S5+ and now includes the updated MTK6589T CPU. What's great is that they've retained the IPS 720p as opposed to going up to 1080p, which means this will make an excellent choice for gamers who play...

<img class="aligncenter size-full wp-image-2208" alt="star-s5+-mtk6589t" src="http://gizbeat.com/wp-content/uploads/2013/07/star-s5+-mtk6589t.jpg" width="500" height="530" />A popular cult hit, the Star S5 has been re-released as the Star S5+ and now includes the <a title="New MTK6589T vs MTK6589 vs MTK6589M!" href="http://gizbeat.com/2137/new-mtk6589t-vs-mtk6589-vs-mtk6589m/">updated MTK6589T CPU</a>. What's great is that they've retained the IPS 720p as opposed to going up to 1080p, which means this will make an excellent choice for gamers who play the higher end 3D games.<span id="more-2207"></span> The Star S5 previously has received a lot of attention and was one of the first MTK6589 phones to be released. It's great to see them upgrade to the MTK6589T. We should see most phones follow suit with MTK6589 already becoming a yesterday SoC not even 4 months after it's release. Not to say MTK6589 is a sloucher by any means. In fact, except for high-tasking 3D games, most people won't even be able to tell the difference in real world use.

Damian Parsons

https://plus.google.com/107879368390224447304

admin@gizbeat.com

Administrator

Hi, I'm Damian Parsons. I've been working with Android phones since the first Droid came out. I'm fascinated by computers and technology. My first BBS were ran on an old Apple IIc and Commodore 64. I work hard to bring the latest updates to you every day - without all the boring fluff. Please subscribe to keep up on the newest China tech. See our forum -> www.chinaphonearena.com

GizBeat
---
---