MediaTek MTK6592 8-Core (Octa-Core) Update!
---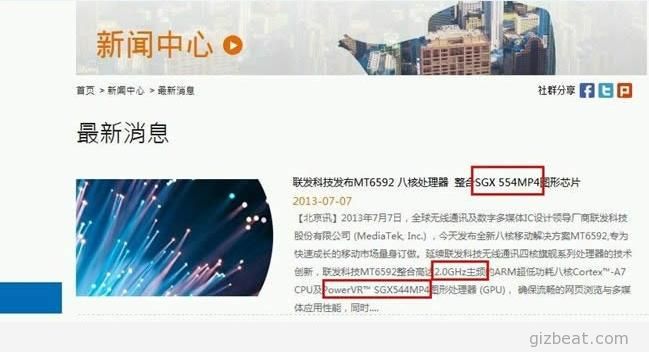 We recently published an article regarding MTK6592. It's still a rumor at this point, but the rumor just got stronger. There is an image of a news story on MTKs website referring to the MTK6592 and what GPU it may have. Though this does strengthen the rumors regarding MTK6592, there's still no confirmation from MediaTek and attempts to locate the story on the MediaTek website have proved fruitless.
The image shows MTK6592 as having SGX554MP4 in the title head, then SGX544MP4 in the body of the news announcement. The Samsung Galaxy S4 with 8-Core Exynos 5 has an SGX544MP3, so given the same clock speeds, MTKs new chip should best the Exynos 5. The Samsung Galaxy S4 scores a whopping 8000+ on Antutu in the 3D department at 1080p resolution. To give you an idea of how powerful that is, the MTK6589 standard scores about 2000+ at Antutu 3D, so if the MTK6592 will be using SGX544MP4, that's at least a 400% increase in GPU power!
If the title of the news announcement is correct, the increase should be even more substantial. To give you an idea powerwise, the SGX554MP4 is what pushes the 2048*1536 iPad 4. The SGX554 when compared to SGX544 is capable of a 30% increase in fill rate and double the gflops.
So even though this is still rumor, I would be very surprised to see an SoC coming out in half a year's time to be less than what's rumored. In other words, it would be a very bad move on MTKs part to go with anything less than SGX544MP4 and I don't take MediaTek as being a stupid organization.
Some people have alluded on the forum that they don't expect to see MTK phones released with 8 cores until March 2014. I would lean towards the end of 2013 or very beginning of 2014. It wouldn't be smart to wait much longer, as the Octa-Core Exynos 5 is reality now. If MediaTek plans on staying in this game, they'll need to keep pace. For those of you who have followed the site, Gizbeat's predictions more oft than not become true. As is the norm, we can only wait and see.
MediaTek MTK6592 8-Core (Octa-Core) Update!

https://www.gizbeat.com/2216/mediatek-mtk6592-8-core-octa-core-update/

https://www.gizbeat.com/wp-content/uploads/2013/07/mtk-6592-octa-8-core-450x244.jpg

https://www.gizbeat.com/wp-content/uploads/2013/07/mtk-6592-octa-8-core-150x150.jpg

MediaTek

MTK6592

Noteworthy

We recently published an article regarding MTK6592. It's still a rumor at this point, but the rumor just got stronger. There is an image of a news story on MTKs website referring to the MTK6592 and what GPU it may have. Though this does strengthen the rumors regarding MTK6592,...

<a title="30,000 On Antutu? Octa-Core (8-Core) MTK6592 Right Around The Corner!" href="http://gizbeat.com/2205/30000-on-antutu-8-core-mtk6592-right-around-the-corner/"><img class="aligncenter size-full wp-image-2217" alt="mtk-6592-octa-8-core" src="http://gizbeat.com/wp-content/uploads/2013/07/mtk-6592-octa-8-core.jpg" width="649" height="352" />We recently published an article regarding MTK6592.</a> It's still a rumor at this point, but the rumor just got stronger. There is an image of a news story on MTKs website referring to the MTK6592 and what GPU it may have. Though this does strengthen the rumors regarding MTK6592, there's still no confirmation from MediaTek and attempts to locate the story on the MediaTek website have proved fruitless.<span id="more-2216"></span> The image shows MTK6592 as having SGX554MP4 in the title head, then SGX544MP4 in the body of the news announcement. The Samsung Galaxy S4 with 8-Core Exynos 5 has an SGX544MP3, so given the same clock speeds, MTKs new chip should best the Exynos 5. The Samsung Galaxy S4 scores a whopping 8000+ on Antutu in the 3D department at 1080p resolution. To give you an idea of how powerful that is, the MTK6589 standard scores about 2000+ at Antutu 3D, so if the MTK6592 will be using SGX544MP4, that's at least a 400% increase in GPU power! If the title of the news announcement is correct, the increase should be even more substantial. To give you an idea powerwise, the SGX554MP4 is what pushes the 2048*1536 iPad 4. The SGX554 when compared to SGX544 is capable of a 30% increase in fill rate and double the gflops. So even though this is still rumor, I would be very surprised to see an SoC coming out in half a year's time to be less than what's rumored. In other words, it would be a very bad move on MTKs part to go with anything less than SGX544MP4 and I don't take MediaTek as being a stupid organization. Some people have alluded on the <a href="http://chinaphonearena.com" target="_blank">forum</a> that they don't expect to see MTK phones released with 8 cores until March 2014. I would lean towards the end of 2013 or very beginning of 2014. It wouldn't be smart to wait much longer, as the Octa-Core Exynos 5 is reality now. If MediaTek plans on staying in this game, they'll need to keep pace. For those of you who have followed the site, Gizbeat's predictions more oft than not become true. As is the norm, we can only wait and see.

Damian Parsons

https://plus.google.com/107879368390224447304

admin@gizbeat.com

Administrator

Hi, I'm Damian Parsons. I've been working with Android phones since the first Droid came out. I'm fascinated by computers and technology. My first BBS were ran on an old Apple IIc and Commodore 64. I work hard to bring the latest updates to you every day - without all the boring fluff. Please subscribe to keep up on the newest China tech. See our forum -> www.chinaphonearena.com

GizBeat
---
---