JiaYu S1 vs Galaxy S4. JiaYu Steps Up Their Game To Compete With The Big Boys!
---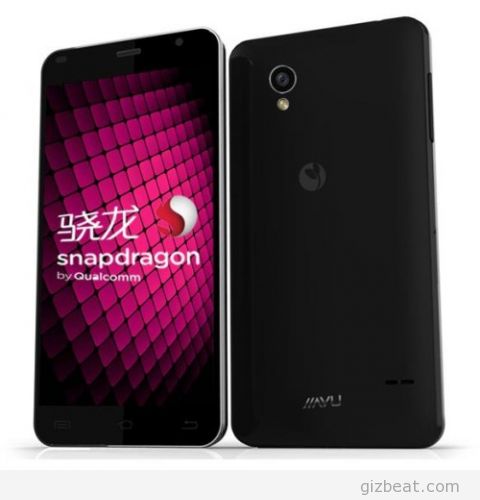 Huge step up for JiaYu, as they will soon release the JiaYu S1. The JiaYu S1 is clearly an attempt to compete with the big boys such as Xiaomi, Meizu, Samsung and HTC. At least feature wise, this is a very viable option for those looking for something a bit more high-end than what MTK6589T currently offers. The price tag at nearly double their JiaYu G3S ($190 vs $330), but offers 2GB of RAM, 32GB storage, NFC, OTG, barometer, gyroscope, wireless charging, a stainless steel frame, true 13mp Sony CMOS camera, and a Sharp brand OGS LCD.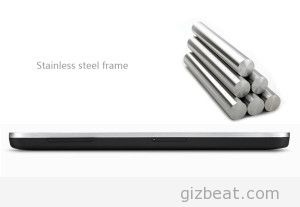 This also marks the first time JiaYu will be using something other than an MTK SoC solution, which really shows that MTK/MediaTek needs to step up their game BIG time with their MTK6592 to compete with the top phones – and sooner rather than later. The SoC in the JiaYu S1 will be the Qualcomm Snapdragon 600. This is a 1.7GHz quad-core CPU which includes the Adreno 320. Some pre-sale benchmarks show the S1 scoring 24,000 on Antutu. 3D 1080p scores at 6,000+, which is double current MTK6589T, and 2D scores at 1,600, which is triple current MTK6589T.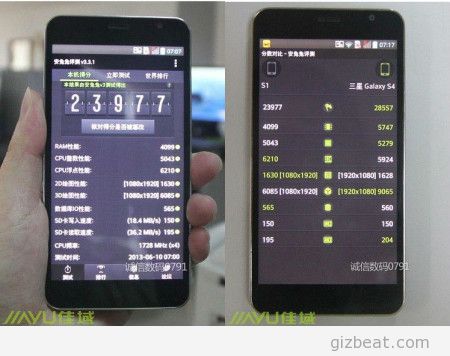 Given the features and power of the phone, the price is right. Currently there are only pre-sale prices, so actual price offered by retailers catering to Westerners may vary. In addition, there's no 900 or 850, so North Americans are screwed on the 3G front. This limits the attraction to some European countries as well. We'd really love to see the China phone manufacturer's look beyond their own country and start supplying 850/900/1900 as a standard, but for now, it's just not to be.
It will be interesting to see what happens to the pricing of the JiaYu G4 advanced, as the pre-sale prices of the JiaYu S1 are the same as what the G4 is currently at, but with double the horsepower and better all around features.
We'll keep you updated on the JiaYu S1 as more details become available.
JiaYu S1 vs Galaxy S4. JiaYu Steps Up Their Game To Compete With The Big Boys!

https://www.gizbeat.com/2262/jiayu-s1-vs-galaxy-s4-jiayu-steps-up-their-game-with-the-jiayu-s1-to-compete-with-the-big-boys/

https://www.gizbeat.com/wp-content/uploads/2013/09/jiayu-s1-antutu2-450x344.jpg

https://www.gizbeat.com/wp-content/uploads/2013/09/jiayu-s1-antutu2-150x150.jpg

JiaYu

MTK6589T

Previews

Qualcomm

Huge step up for JiaYu, as they will soon release the JiaYu S1. The JiaYu S1 is clearly an attempt to compete with the big boys such as Xiaomi, Meizu, Samsung and HTC. At least feature wise, this is a very viable option for those looking for something a...

<img class="aligncenter size-large wp-image-2266" alt="jiayu-s1-1" src="http://gizbeat.com/wp-content/uploads/2013/09/jiayu-s1-1-480x500.jpg" width="480" height="500" />Huge step up for JiaYu, as they will soon release the JiaYu S1. The JiaYu S1 is clearly an attempt to compete with the big boys such as Xiaomi, Meizu, Samsung and HTC. At least feature wise, this is a very viable option for those looking for something a bit more high-end than what MTK6589T currently offers.<span id="more-2262"></span> The price tag at nearly double their JiaYu G3S ($190 vs $330), but offers 2GB of RAM, 32GB storage, NFC, OTG, barometer, gyroscope, wireless charging, a stainless steel frame, true 13mp Sony CMOS camera, and a Sharp brand OGS LCD. <img class="aligncenter size-medium wp-image-2267" alt="jiayu-s1" src="http://gizbeat.com/wp-content/uploads/2013/09/jiayu-s1-300x207.jpg" width="300" height="207" /> This also marks the first time JiaYu will be using something other than an MTK SoC solution, which really shows that MTK/MediaTek needs to step up their game BIG time with their MTK6592 to compete with the top phones - and sooner rather than later. The SoC in the JiaYu S1 will be the Qualcomm Snapdragon 600. This is a 1.7GHz quad-core CPU which includes the Adreno 320. Some pre-sale benchmarks show the S1 scoring 24,000 on Antutu. 3D 1080p scores at 6,000+, which is double current MTK6589T, and 2D scores at 1,600, which is triple current MTK6589T. Given the features and power of the phone, the price is right. Currently there are only pre-sale prices, so actual price offered by retailers catering to Westerners may vary. In addition, there's no 900 or 850, so North Americans are screwed on the 3G front. This limits the attraction to some European countries as well. We'd really love to see the China phone manufacturer's look beyond their own country and start supplying 850/900/1900 as a standard, but for now, it's just not to be. It will be interesting to see what happens to the pricing of the JiaYu G4 advanced, as the pre-sale prices of the JiaYu S1 are the same as what the G4 is currently at, but with double the horsepower and better all around features. We'll keep you updated on the JiaYu S1 as more details become available.

Damian Parsons

https://plus.google.com/107879368390224447304

admin@gizbeat.com

Administrator

Hi, I'm Damian Parsons. I've been working with Android phones since the first Droid came out. I'm fascinated by computers and technology. My first BBS were ran on an old Apple IIc and Commodore 64. I work hard to bring the latest updates to you every day - without all the boring fluff. Please subscribe to keep up on the newest China tech. See our forum -> www.chinaphonearena.com

GizBeat
---
---