THL W8 Review S/Plus/Youth/Beyond!
---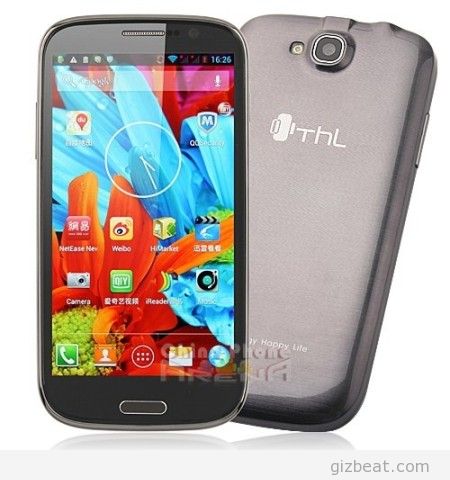 Excerpt: The THL W8 isn't the slickest looker on the block. In fact, you might go ahead and call it downright frumpy with it's rounded corners, rounded back and not so slim profile. Nevertheless, THL is one of the 'old' players in the China phone game, and you can be fairly sure you'll get a well built product.
To see the full preview and add or see user reviews, learn more about the THL W8 and see more pics, or compare the THL W8 to other China phone models side by side, please see these links from http://www.chinaphonecompare.com.
THL W8 Review S/Plus/Youth/Beyond!

https://www.gizbeat.com/2281/thl-w8-review-splusyouthbeyond/

https://www.gizbeat.com/wp-content/uploads/2013/09/thl-w8-1-450x477.jpg

https://www.gizbeat.com/wp-content/uploads/2013/09/thl-w8-1-150x150.jpg

China Phone Reviews

THL Review

Excerpt: The THL W8 isn't the slickest looker on the block. In fact, you might go ahead and call it downright frumpy with it's rounded corners, rounded back and not so slim profile. Nevertheless, THL is one of the 'old' players in the China phone game, and you can...

<img class="aligncenter size-large wp-image-2282" alt="thl-w8-1" src="http://gizbeat.com/wp-content/uploads/2013/09/thl-w8-1-450x480.jpg" width="450" height="480" />Excerpt: The THL W8 isn't the slickest looker on the block. In fact, you might go ahead and call it downright frumpy with it's rounded corners, rounded back and not so slim profile. Nevertheless, THL is one of the 'old' players in the China phone game, and you can be fairly sure you'll get a well built product. <span id="more-2281"></span> To see the full preview and add or see user reviews, learn more about the THL W8 and see more pics, or compare the THL W8 to other China phone models side by side, please see these links from http://www.chinaphonecompare.com. <a href="http://chinaphonecompare.com/index.php?id_product=5&controller=product" target="_blank">THL W8 Youth Review</a> <a href="http://chinaphonecompare.com/index.php?id_product=6&controller=product" target="_blank">THL W8 Plus Review</a> <a href="http://chinaphonecompare.com/index.php?id_product=7&controller=product" target="_blank">THL W8 Beyond Review</a> <a href="http://chinaphonecompare.com/index.php?id_product=7&controller=product" target="_blank">THL W8S Review</a>

Damian Parsons

https://plus.google.com/107879368390224447304

admin@gizbeat.com

Administrator

Hi, I'm Damian Parsons. I've been working with Android phones since the first Droid came out. I'm fascinated by computers and technology. My first BBS were ran on an old Apple IIc and Commodore 64. I work hard to bring the latest updates to you every day - without all the boring fluff. Please subscribe to keep up on the newest China tech. See our forum -> www.chinaphonearena.com

GizBeat
---
---