MTK6592 Antutu Review Benchmarks! MT6592 vs Qualcomm 800!
---
Today was a big day for MediaTek, as the MT6592 has officially been released. There were some interesting things of note, especially the different memory types and speeds that will be available for MTK6592. I'm speculating that the 2.0GHz version will carry the LPDDR3@666 and the 1.7GHz version will carry LPDDR2@533. We'll see if this turns out to be correct.
Regardless, we're here to take a quick look at the MT6592 Antutu benchmarks presented in Shenzhen at the big MTK6592 opening.
The image here shows MTK6592 1.7GHz hitting 29415 and MTK6592 2.0GHz hitting a whopping 32,606.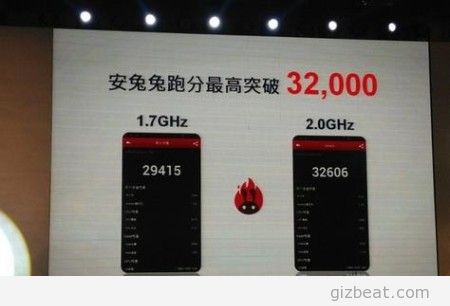 This is equivalent to what Qualcomm Snapdragon 800 currently scores. The Miezu Mi3 with Qualcomm Snapdragon 800 claims 36000 on Antutu, but they are currently scoring 32000. Some people are theorizing this is because of the tests being run on pre-production Snapdragon 800 SoC. Regardless, the score of 29415 and 32000 for MTK6592 is huge. This easily puts it right up there with Qualcomm.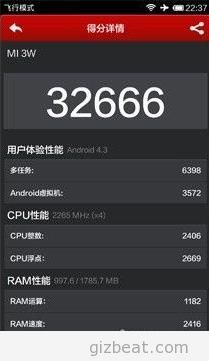 MTK6592 Antutu Review Benchmarks! MT6592 vs Qualcomm 800!

https://www.gizbeat.com/2479/mtk6592-antutu-review-benchmarks-mt6592-vs-qualcomm-800/

https://www.gizbeat.com/wp-content/uploads/2013/11/antutu-qualcomm-snapdragon-800.jpg

https://www.gizbeat.com/wp-content/uploads/2013/11/antutu-qualcomm-snapdragon-800-150x150.jpg

MTK6592

Noteworthy

Today was a big day for MediaTek, as the MT6592 has officially been released. There were some interesting things of note, especially the different memory types and speeds that will be available for MTK6592. I'm speculating that the 2.0GHz version will carry the LPDDR3@666 and the 1.7GHz version will...

Today was a big day for MediaTek, as the <a title="MTK6592 Officially Unleashed!" href="http://gizbeat.com/2472/mtk6592-officially-unleashed/">MT6592 has officially been released.</a> There were some interesting things of note, especially the different memory types and speeds that will be available for MTK6592.<span id="more-2479"></span> I'm speculating that the 2.0GHz version will carry the LPDDR3@666 and the 1.7GHz version will carry LPDDR2@533. We'll see if this turns out to be correct. Regardless, we're here to take a quick look at the MT6592 Antutu benchmarks presented in Shenzhen at the big MTK6592 opening. The image here shows MTK6592 1.7GHz hitting 29415 and MTK6592 2.0GHz hitting a whopping 32,606. <img class="aligncenter size-large wp-image-2480" alt="mtk6592-3" src="http://gizbeat.com/wp-content/uploads/2013/11/mtk6592-3-450x306.jpg" width="450" height="306" /> This is equivalent to what Qualcomm Snapdragon 800 currently scores. The Miezu Mi3 with Qualcomm Snapdragon 800 claims 36000 on Antutu, but they are currently scoring 32000. Some people are theorizing this is because of the tests being run on pre-production Snapdragon 800 SoC. Regardless, the score of 29415 and 32000 for MTK6592 is huge. This easily puts it right up there with Qualcomm.

Damian Parsons

https://plus.google.com/107879368390224447304

admin@gizbeat.com

Administrator

Hi, I'm Damian Parsons. I've been working with Android phones since the first Droid came out. I'm fascinated by computers and technology. My first BBS were ran on an old Apple IIc and Commodore 64. I work hard to bring the latest updates to you every day - without all the boring fluff. Please subscribe to keep up on the newest China tech. See our forum -> www.chinaphonearena.com

GizBeat
---
---