MTK6592 Review Quadrant Scores! MT6592 vs Snapdragon 800!
---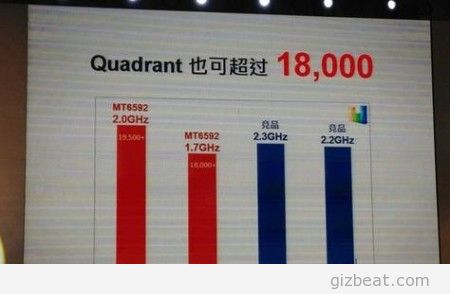 In my last post I showed the MT6592 Antutu vs Snapdragon 800 Antutu. MTK6592 fared very well, with the 2.0GHz version equaling the score of the current Meizu Mi3 on Antutu.
In this post we have the Quadrant scores. Quadrant is also a very significant test which stresses CPU, I/O, and the GPU. Here, the MT6592 also fared excellent with the 2.0GHz MT6592 surpassing both the 2.2GHz and 2.3GHz Qualcomm Snapdragon SoC. If you can't quite make out the image there, the MTK6592 with 2.0GHz scored 19500+, and the 1.7GHz version scored 18,000+.
Now we can only assume the tests were done in real time and that the results are legit. It wouldn't look so good if MediaTek were to release false benchmarks, so for now we'll take them at their word.
Regardless, the new phones with MediaTek's MTK6592 will be in our hands soon enough and we'll be able to verify the results ourselves. A day Gizbeat is looking forward to very much. Hope you're all as excited as we are.
MTK6592 Review Quadrant Scores! MT6592 vs Snapdragon 800!

https://www.gizbeat.com/2488/mtk6592-review-quadrant-scores-mt6592-vs-snapdragon-800/

https://www.gizbeat.com/wp-content/uploads/2013/11/mtk6592-5-450x293.jpg

https://www.gizbeat.com/wp-content/uploads/2013/11/mtk6592-5-150x150.jpg

MTK6592

Noteworthy

In my last post I showed the MT6592 Antutu vs Snapdragon 800 Antutu. MTK6592 fared very well, with the 2.0GHz version equaling the score of the current Meizu Mi3 on Antutu. In this post we have the Quadrant scores. Quadrant is also a very significant test which stresses CPU, I/O,...

<img class="aligncenter size-large wp-image-2489" alt="mtk6592-5" src="http://gizbeat.com/wp-content/uploads/2013/11/mtk6592-5-450x294.jpg" width="450" height="294" /> <a title="MTK6592 Antutu Review Benchmarks! MT6592 vs Qualcomm 800!" href="http://gizbeat.com/2479/mtk6592-antutu-review-benchmarks-mt6592-vs-qualcomm-800/">In my last post I showed the MT6592 Antutu vs Snapdragon 800 Antutu</a>. MTK6592 fared very well, with the 2.0GHz version equaling the score of the current Meizu Mi3 on Antutu.<span id="more-2488"></span> In this post we have the Quadrant scores. Quadrant is also a very significant test which stresses CPU, I/O, and the GPU. Here, the MT6592 also fared excellent with the 2.0GHz MT6592 surpassing both the 2.2GHz and 2.3GHz Qualcomm Snapdragon SoC. If you can't quite make out the image there, the MTK6592 with 2.0GHz scored 19500+, and the 1.7GHz version scored 18,000+. Now we can only assume the tests were done in real time and that the results are legit. It wouldn't look so good if MediaTek were to release false benchmarks, so for now we'll take them at their word. Regardless, the new phones with MediaTek's MTK6592 will be in our hands soon enough and we'll be able to verify the results ourselves. A day Gizbeat is looking forward to very much. Hope you're all as excited as we are.

Damian Parsons

https://plus.google.com/107879368390224447304

admin@gizbeat.com

Administrator

Hi, I'm Damian Parsons. I've been working with Android phones since the first Droid came out. I'm fascinated by computers and technology. My first BBS were ran on an old Apple IIc and Commodore 64. I work hard to bring the latest updates to you every day - without all the boring fluff. Please subscribe to keep up on the newest China tech. See our forum -> www.chinaphonearena.com

GizBeat
---
---