MTK6592 Jiake V8 Preview!
---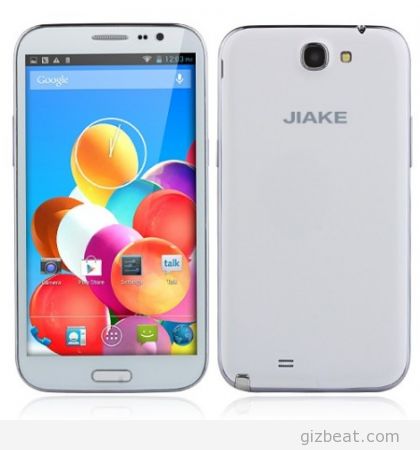 Well I'm not sure anyone expected Jiake to win the MT6592 race, but at this point it looks like they're the first MTK6592 phone to go on sale to international customers. Let's take a look at what it has to offer specification wise.
The Jiake V8 comes with a 6″ LCD at 1280×720. 720 I think is fine for 5″ phones, but at 6″, there will be a clear difference between 720p and 1080p. It should still be nice enough looking with a PPI of 244. I've got no problem with it, but some people may. In addition, gamers should see some excellent frame rates with MT6592's GPU – the Mali450-MP4 @ 720p, though it's unclear if the V8 includes OTG support or not.
The sellers are advertising the V8 as supporting NFC and gesture support. Gesture support in our opinion is nothing more than a gimmick, and the NFC has limited appeal but could come in handy for some people. A big plus is the inclusion of 850MHz WCDMA which will make it compatible with some American 3G networks.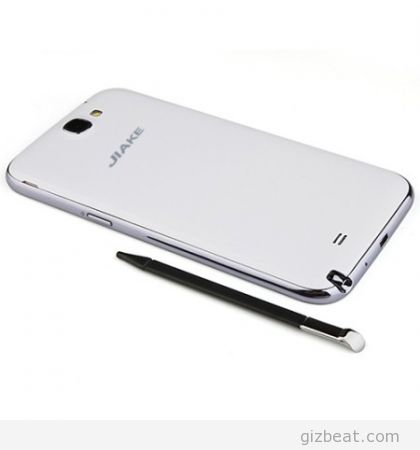 What's really nice is that the Jiake V8 has 2GB of RAM and a very healthy 16GB storage. This phone is SD storage expandable as well.
The battery is a bit small for a 6″ LCD. 2600mA. Going with a bigger battery would have made this phone a lot more attractive.
I can't call this one yet, as there are quite a few unknown factors. Build quality, LCD quality and overall bugginess of firmware could either make or break this phone. Going on specs alone, if you don't mind the 2600mA battery and 244ppi, this could be a phone to consider, but I'd recommend waiting until a couple of real reviews are in.
MTK6592 Jiake V8 Preview!

https://www.gizbeat.com/2547/mtk6592-jiake-v8-preview/

https://www.gizbeat.com/wp-content/uploads/2013/11/jiake-v8-mtk6592-7-450x477.jpg

https://www.gizbeat.com/wp-content/uploads/2013/11/jiake-v8-mtk6592-7-150x150.jpg

Jiake

MTK6592

Noteworthy

Well I'm not sure anyone expected Jiake to win the MT6592 race, but at this point it looks like they're the first MTK6592 phone to go on sale to international customers. Let's take a look at what it has to offer specification wise. The Jiake V8 comes with a 6'...

<img class="aligncenter size-large wp-image-2548" alt="jiake-v8-mtk6592-1" src="http://gizbeat.com/wp-content/uploads/2013/11/jiake-v8-mtk6592-1-420x450.jpg" width="420" height="450" />Well I'm not sure anyone expected Jiake to win the MT6592 race, but at this point it looks like they're the first MTK6592 phone to go on sale to international customers. Let's take a look at what it has to offer specification wise.<span id="more-2547"></span> The Jiake V8 comes with a 6" LCD at 1280x720. 720 I think is fine for 5" phones, but at 6", there will be a clear difference between 720p and 1080p. It should still be nice enough looking with a PPI of 244. I've got no problem with it, but some people may. In addition, gamers should see some excellent frame rates with MT6592's GPU - the Mali450-MP4 @ 720p, though it's unclear if the V8 includes OTG support or not. The sellers are advertising the V8 as supporting NFC and gesture support. Gesture support in our opinion is nothing more than a gimmick, and the NFC has limited appeal but could come in handy for some people. A big plus is the inclusion of 850MHz WCDMA which will make it compatible with some American 3G networks.<img class="aligncenter size-large wp-image-2549" alt="jiake-v8-mtk6592-7" src="http://gizbeat.com/wp-content/uploads/2013/11/jiake-v8-mtk6592-7-420x450.jpg" width="420" height="450" /> What's really nice is that the Jiake V8 has 2GB of RAM and a very healthy 16GB storage. This phone is SD storage expandable as well. The battery is a bit small for a 6" LCD. 2600mA. Going with a bigger battery would have made this phone a lot more attractive. I can't call this one yet, as there are quite a few unknown factors. Build quality, LCD quality and overall bugginess of firmware could either make or break this phone. Going on specs alone, if you don't mind the 2600mA battery and 244ppi, this could be a phone to consider, but I'd recommend waiting until a couple of real reviews are in.

Damian Parsons

https://plus.google.com/107879368390224447304

admin@gizbeat.com

Administrator

Hi, I'm Damian Parsons. I've been working with Android phones since the first Droid came out. I'm fascinated by computers and technology. My first BBS were ran on an old Apple IIc and Commodore 64. I work hard to bring the latest updates to you every day - without all the boring fluff. Please subscribe to keep up on the newest China tech. See our forum -> www.chinaphonearena.com

GizBeat
---
---