O2 Super K1, K2 and K3! New MTK6592 and MTK6589T China phone brand!
---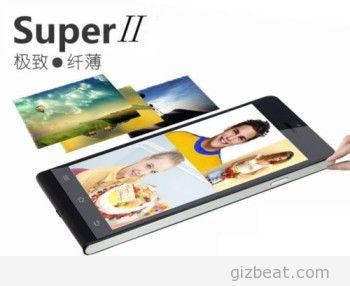 We've seen a few brands pop out of the blue over the last couple years. Some of them stick around and develop a following, others fade away.
I'm usually not a 'clone' type of guy. I prefer to have a phone that has it's own original design that can stand on its own two feet. If you're going to have a clone though, you should purchase a clone that has a brand attached to it so you can find firmwares, get support, and find other owners of the model to discuss issues and work out problems.
O2 is a brand new brand that even the Chinese techies haven't heard of. They're taking the looks of three popular models and applying them to their O2 Super K1, K2 and K3 (O2 Super KI, O2 Super KII, O2 Super KIII).
First phone's first – The K1 mimics the look of the Samsung NOTE 3. It's got a 5.7″ 1080p LCD, MT6592 1.7GHz SoC, 13mp camera, big 3200mA battery, fat 2GB RAM and very nice 32GB of storage. A big bonus is OTG support and dual mic noise reduction.
The K2 is very similar to the Huawei P6. Equipped with a very big 6″ 1080p LCD, fat 2GB RAM and huge 32GB of storage, 13mp camera, 2800mA battery. The O2 K2 is reported to come with MTK6589T as opposed to MTK6592.
The K3 is the monster of the bunch with a 6.5″ 1080p LCD. Same as the Super KII, the SoC is MTK6589T. Same as the K1 and K2, it will come with 2GB RAM and 32GB ROM. The battery is a very healthy 3800mA.
I like this lineup, and especially like the looks of the O2 Super K2. Interesting and unfortunate they decided to go with MTK6589T with the K2 and K3. But since MTK6589T and MTK6592 are pin compatible, don't rule out MT6592 versions eventually coming out for all three models.
Another interesting note is they've gone big, bigger, and huge with 5.7″ being the smallest phone. The trend of smartphones is towards bigger and bigger and O2 is no exception.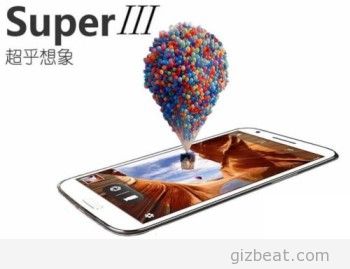 As I said earlier in the post, I don't necessarily gravitate towards clones, but if you're going to go that route, go with a branded one. Judging by the specs, these are phones to possibly take a look at if you're in the market for a clone, though these phones will reportedly be selling in China for 2100-2200 yuan ($360) – at that price you might want to be looking at THL T100 Monkey King 2 or Zopo ZP998.
O2 Super K1, K2 and K3! New MTK6592 and MTK6589T China phone brand!

https://www.gizbeat.com/2586/o2-super-k1-k2-and-k3-new-mtk6592-and-mtk6589t-china-phone-brand/

https://www.gizbeat.com/wp-content/uploads/2013/11/o2-k2-mtk6589t-450x357.jpg

https://www.gizbeat.com/wp-content/uploads/2013/11/o2-k2-mtk6589t-150x150.jpg

MTK6589T

MTK6592

O2

Opinion

We've seen a few brands pop out of the blue over the last couple years. Some of them stick around and develop a following, others fade away. I'm usually not a 'clone' type of guy. I prefer to have a phone that has it's own original design that can stand...

<img class="size-medium wp-image-2588 aligncenter" alt="o2-k2-mtk6589t" src="http://gizbeat.com/wp-content/uploads/2013/11/o2-k2-mtk6589t-350x286.jpg" width="350" height="286" />We've seen a few brands pop out of the blue over the last couple years. Some of them stick around and develop a following, others fade away. I'm usually not a 'clone' type of guy. I prefer to have a phone that has it's own original design that can stand on its own two feet. If you're going to have a clone though, you should purchase a clone that has a brand attached to it so you can find firmwares, get support, and find other owners of the model to discuss issues and work out problems.<span id="more-2586"></span> O2 is a brand new brand that even the Chinese techies haven't heard of. They're taking the looks of three popular models and applying them to their O2 Super K1, K2 and K3 (O2 Super KI, O2 Super KII, O2 Super KIII). First phone's first - The K1 mimics the look of the Samsung NOTE 3. It's got a 5.7" 1080p LCD, MT6592 1.7GHz SoC, 13mp camera, big 3200mA battery, fat 2GB RAM and very nice 32GB of storage. A big bonus is OTG support and dual mic noise reduction. The K2 is very similar to the Huawei P6. Equipped with a very big 6" 1080p LCD, fat 2GB RAM and huge 32GB of storage, 13mp camera, 2800mA battery. The O2 K2 is reported to come with MTK6589T as opposed to MTK6592. The K3 is the monster of the bunch with a 6.5" 1080p LCD. Same as the Super KII, the SoC is MTK6589T. Same as the K1 and K2, it will come with 2GB RAM and 32GB ROM. The battery is a very healthy 3800mA. I like this lineup, and especially like the looks of the O2 Super K2. Interesting and unfortunate they decided to go with MTK6589T with the K2 and K3. But since MTK6589T and MTK6592 are pin compatible, don't rule out MT6592 versions eventually coming out for all three models. Another interesting note is they've gone big, bigger, and huge with 5.7" being the smallest phone. The trend of smartphones is towards bigger and bigger and O2 is no exception.<img class="size-medium wp-image-2587 aligncenter" alt="o2-k3-mtk6589t" src="http://gizbeat.com/wp-content/uploads/2013/11/o2-k3-mtk6589t-350x269.jpg" width="350" height="269" /> As I said earlier in the post, I don't necessarily gravitate towards clones, but if you're going to go that route, go with a branded one. Judging by the specs, these are phones to possibly take a look at if you're in the market for a clone, though these phones will reportedly be selling in China for 2100-2200 yuan ($360) - at that price you might want to be looking at <a title="THL T100 MTK6592 Monkey King 2 Preview!" href="http://gizbeat.com/2553/thl-t100-mtk6592-monkey-king-2-preview/">THL T100 Monkey King 2</a> or <a title="Zopo ZP998 Officially Released Today! ZP998 Antutu Score!" href="http://gizbeat.com/2492/zopo-zp998-officially-released-today-zp998-antutu-score/">Zopo ZP998</a>.

Damian Parsons

https://plus.google.com/107879368390224447304

admin@gizbeat.com

Administrator

Hi, I'm Damian Parsons. I've been working with Android phones since the first Droid came out. I'm fascinated by computers and technology. My first BBS were ran on an old Apple IIc and Commodore 64. I work hard to bring the latest updates to you every day - without all the boring fluff. Please subscribe to keep up on the newest China tech. See our forum -> www.chinaphonearena.com

GizBeat
---
---