$130 Budget Umi X2 – The Voto V5 Youth!
---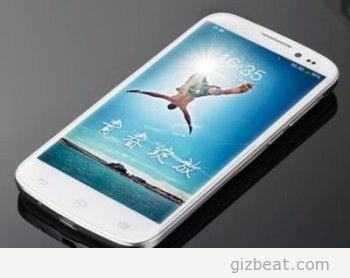 Voto is a fairly new player to the game. They gained notoriety by releasing the Voto X2. If the model number sounds familiar, it's because it's the exact same phone as the very popular Umi X2. Not just a clone, but the same exact phone with different branding – similar to how Hero h7500+ and Zopo ZP810 released the same phone under a different brand.
Now comes along the Voto V5 Youth. A budget version of the Voto / Umi X2. It's got the same design, but with some scaled down features. From 1080p down to 720p, storage down to 4GB, 13mp camera down to 8mp, MTK6589 down to MTK6582. What's great is the specifications show the Voto V5 Youth as maintaining the 2.5D Gorilla Glass 2. 2.5D glass is slightly curved which gives a bit of depth to the screen.
Voto V5 Youth will be released in China on December 3 at an amazing price of 799 yuan.
More thoughts coming up regarding this model later today.
UPDATE: Voto V5 appears to only have 900/1800GSM and 2100WCDMA. Will keep an eye on this and update if it changes. Preview up at chinaphonecompare
$130 Budget Umi X2 – The Voto V5 Youth!

https://www.gizbeat.com/2599/130-budget-umi-x2-the-voto-v5-youth/

https://www.gizbeat.com/wp-content/uploads/2013/12/voto-v5-youth-mt6582.jpg

https://www.gizbeat.com/wp-content/uploads/2013/12/voto-v5-youth-mt6582-150x150.jpg

MTK6582

UMi

Voto

Voto is a fairly new player to the game. They gained notoriety by releasing the Voto X2. If the model number sounds familiar, it's because it's the exact same phone as the very popular Umi X2. Not just a clone, but the same exact phone with different branding -...

<img class="aligncenter size-medium wp-image-2600" alt="voto-v5-youth-mt6582" src="http://gizbeat.com/wp-content/uploads/2013/12/voto-v5-youth-mt6582-350x278.jpg" width="350" height="278" />Voto is a fairly new player to the game. They gained notoriety by releasing the Voto X2. If the model number sounds familiar, it's because it's the exact same phone as the very popular <a href="http://gizbeat.com/2306/umi-x2-voto-x2-review-standard-turbo/">Umi X2</a>. Not just a clone, but the same exact phone with different branding - similar to how Hero h7500+ and Zopo ZP810 released the same phone under a different brand.<span id="more-2599"></span> Now comes along the Voto V5 Youth. A budget version of the Voto / Umi X2. It's got the same design, but with some scaled down features. From 1080p down to 720p, storage down to 4GB, 13mp camera down to 8mp, MTK6589 down to MTK6582. What's great is the specifications show the Voto V5 Youth as maintaining the 2.5D Gorilla Glass 2. 2.5D glass is slightly curved which gives a bit of depth to the screen. Voto V5 Youth will be released in China on December 3 at an amazing price of 799 yuan. More thoughts coming up regarding this model later today. UPDATE: Voto V5 appears to only have 900/1800GSM and 2100WCDMA. Will keep an eye on this and update if it changes. <a href="http://chinaphonecompare.com/search?controller=search&orderby=position&orderway=desc&search_query=voto&submit_search=Search" target="_blank">Preview up at chinaphonecompare</a>

Damian Parsons

https://plus.google.com/107879368390224447304

admin@gizbeat.com

Administrator

Hi, I'm Damian Parsons. I've been working with Android phones since the first Droid came out. I'm fascinated by computers and technology. My first BBS were ran on an old Apple IIc and Commodore 64. I work hard to bring the latest updates to you every day - without all the boring fluff. Please subscribe to keep up on the newest China tech. See our forum -> www.chinaphonearena.com

GizBeat
---
---