Sharp showcases new LCD technology which may replace "Retina"
---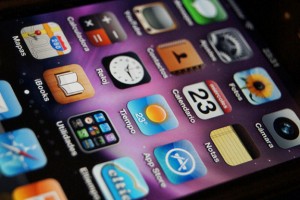 "Retina" displays could soon be considered out-dated technology thanks to Sharp's new IGZO tech.
The transistors in Sharp's new LCD's are made from indium, gallium and zinc oxide alloys which enables panels to be more transparent.  Thus, less energy will be required to come through the transistors and make it to our eyes.
How much less?  It's a good question, and the answer is 25-40% when compared to conventional LCD's.
Apple has become very interested and rumor is that future generations of iPods and iPhones will harness this tech for their displays.   How long will Apple hold the trump card with this tech is anyone's guess, but you can bet that at least for the near future it will be only on premium priced Apple products such as the iPod / iPad / iPhones.  Android lovers will have to gander from afar until the tech is released to OEM's and other name brand phone makers.
We believe the most interesting component to this tech is the battery saving possibilities.  Battery technology is coming along at a slow rate, and so far it's been up to the component manufacturer's to develop low power LCD's such as IGZO and small transistors in our CPU's and GPU's to bring longer life to our gizmos.
Sharp showcases new LCD technology which may replace "Retina"

https://www.gizbeat.com/26/sharp-showcases-new-lcd-technology-which-may-replace-retina/

https://www.gizbeat.com/wp-content/uploads/2012/09/IGZO-Display-iPHONE5-450x300.jpg

https://www.gizbeat.com/wp-content/uploads/2012/09/IGZO-Display-iPHONE5-150x150.jpg

Tech

'Retina' displays could soon be considered out-dated technology thanks to Sharp's new IGZO tech. The transistors in Sharp's new LCD's are made from indium, gallium and zinc oxide alloys which enables panels to be more transparent.  Thus, less energy will be required to come through the transistors and make it...

<a href="http://gizbeat.com/26/sharp-showcases-new-lcd-technology-which-may-replace-retina/igzo-display-iphone5/" rel="attachment wp-att-27"><img class="alignleft size-medium wp-image-27" title="IGZO-Display-iPHONE5" src="http://gizbeat.com/wp-content/uploads/2012/09/IGZO-Display-iPHONE5-300x200.jpg" alt="" width="300" height="200" /></a>"Retina" displays could soon be considered out-dated technology thanks to Sharp's new IGZO tech. The transistors in Sharp's new LCD's are made from indium, gallium and zinc oxide alloys which enables panels to be more transparent.  Thus, less energy will be required to come through the transistors and make it to our eyes. How much less?  It's a good question, and the answer is 25-40% when compared to conventional LCD's.<span id="more-26"></span> Apple has become very interested and rumor is that future generations of iPods and iPhones will harness this tech for their displays.   How long will Apple hold the trump card with this tech is anyone's guess, but you can bet that at least for the near future it will be only on premium priced Apple products such as the iPod / iPad / iPhones.  Android lovers will have to gander from afar until the tech is released to OEM's and other name brand phone makers. We believe the most interesting component to this tech is the battery saving possibilities.  Battery technology is coming along at a slow rate, and so far it's been up to the component manufacturer's to develop low power LCD's such as IGZO and small transistors in our CPU's and GPU's to bring longer life to our gizmos.

dircnirc@gizbeat.com

User

GizBeat
---
---