HiSense To Release Budget MT6582 Smartphone – U978!
---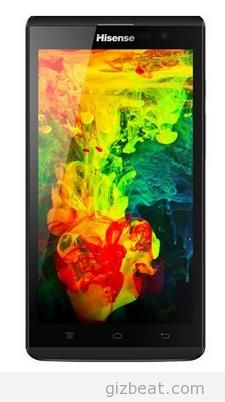 HiSense is jumping on the MT6582 budget train withe HiSense U978. The U978 has a 5.5″ LCD at a very unimpressive 540p resolution. Seems more and more phones are taking this route – trying to cut corners wherever they can to trim prices down to attract the budget crowd. It was disappointing to see it on the 5.0″ Hero H7500B / Zopo Z820, but 540p on a 5.5″ LCD is pushing it.
Still, this all depends on price. The phone doesn't actually look too bad, and at $100-$140 for a quad-core phone that can keep up with the average user with very few hiccups – I can see the appeal. The bigger than average LCD might also hold appeal for some despite the 540p resolution.
HiSense U978 comes with mostly standard budget specifications – 1GB RAM, 4GB of ROM. Camera .3mp front and 5.0mp rear. The battery is a healthy 2500mA.
HiSense To Release Budget MT6582 Smartphone – U978!

https://www.gizbeat.com/2614/hisense-to-release-budget-mt6582-smartphone-u978/

https://www.gizbeat.com/wp-content/uploads/2013/12/hi-sense-u978-mtk6582.jpg

https://www.gizbeat.com/wp-content/uploads/2013/12/hi-sense-u978-mtk6582-150x150.jpg

HiSense

MTK6582

HiSense is jumping on the MT6582 budget train withe HiSense U978. The U978 has a 5.5' LCD at a very unimpressive 540p resolution. Seems more and more phones are taking this route - trying to cut corners wherever they can to trim prices down to attract the budget crowd....

<img class="aligncenter size-full wp-image-2615" alt="hi-sense-u978-mtk6582" src="http://gizbeat.com/wp-content/uploads/2013/12/hi-sense-u978-mtk6582.jpg" width="225" height="402" />HiSense is jumping on the MT6582 budget train withe HiSense U978. The U978 has a 5.5" LCD at a very unimpressive 540p resolution. Seems more and more phones are taking this route - trying to cut corners wherever they can to trim prices down to attract the budget crowd. <span id="more-2614"></span>It was disappointing to see it on the <a title="Hero H7500B Zopo ZP820 Preview = Updated H7500+ Zopo ZP810!" href="http://gizbeat.com/2606/hero-h7500b-zopo-zp820-preview-updated-h7500-zopo-zp810/">5.0" Hero H7500B / Zopo Z820</a>, but 540p on a 5.5" LCD is pushing it. Still, this all depends on price. The phone doesn't actually look too bad, and at $100-$140 for a quad-core phone that can keep up with the average user with very few hiccups - I can see the appeal. The bigger than average LCD might also hold appeal for some despite the 540p resolution. HiSense U978 comes with mostly standard budget specifications - 1GB RAM, 4GB of ROM. Camera .3mp front and 5.0mp rear. The battery is a healthy 2500mA.

Damian Parsons

https://plus.google.com/107879368390224447304

admin@gizbeat.com

Administrator

Hi, I'm Damian Parsons. I've been working with Android phones since the first Droid came out. I'm fascinated by computers and technology. My first BBS were ran on an old Apple IIc and Commodore 64. I work hard to bring the latest updates to you every day - without all the boring fluff. Please subscribe to keep up on the newest China tech. See our forum -> www.chinaphonearena.com

GizBeat
---
---