MT6592 Mlais MX69 Pro Preview – Looking Excellent!
---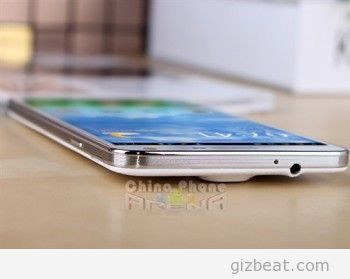 If you haven't heard of Mlais before, it's understandable. They haven't been pushed too much by the sellers catering to international customers. However, they make a great phone. The Mlais MX56 is the same phone as Hero H7500+ and Zopo ZP810. The MX86 is the same phone as the Zopo ZP950. Not clones, but the same phone released under Mlais branding.
One interesting thing about this phone is it's being advertised by Mlais as having quad-band WCDMA – 850/900/1900/2100 WCDMA. The verdict is still out if this is correct. It wouldn't be the first time a brand put false information directly on their official website in regards to WCDMA. Jiayu G3 actually at one point had penta-band listed on their official site, but turned out just to be 2100MHz WCDMA. We'll advise as the situation becomes clearer. If it turns out to be true, this could be THE China phone to buy for Americans if you can let go of this much dough.
Have a look at the full preview and see some more pics at chinaphonecompare.com
MT6592 Mlais MX69 Pro Preview – Looking Excellent!

https://www.gizbeat.com/2619/mt6592-mlais-mx69pro-preview-looking-excellent/

https://www.gizbeat.com/wp-content/uploads/2013/12/mlais-mx69-pro-mtk6592-023-450x348.jpg

https://www.gizbeat.com/wp-content/uploads/2013/12/mlais-mx69-pro-mtk6592-023-150x150.jpg

Mlais

Mlais Review

MTK6592

If you haven't heard of Mlais before, it's understandable. They haven't been pushed too much by the sellers catering to international customers. However, they make a great phone. The Mlais MX56 is the same phone as Hero H7500+ and Zopo ZP810. The MX86 is the same phone as the...

<img class="aligncenter size-medium wp-image-2621" alt="mlais-mx69-pro-mtk6592-023" src="http://gizbeat.com/wp-content/uploads/2013/12/mlais-mx69-pro-mtk6592-023-350x279.jpg" width="350" height="279" />If you haven't heard of Mlais before, it's understandable. They haven't been pushed too much by the sellers catering to international customers. However, they make a great phone. The Mlais MX56 is the same phone as Hero H7500+ and Zopo ZP810. The MX86 is the same phone as the Zopo ZP950. Not clones, but the same phone released under Mlais branding.<span id="more-2619"></span> One interesting thing about this phone is it's being advertised by Mlais as having quad-band WCDMA - 850/900/1900/2100 WCDMA. The verdict is still out if this is correct. It wouldn't be the first time a brand put false information directly on their official website in regards to WCDMA. Jiayu G3 actually at one point had penta-band listed on their official site, but turned out just to be 2100MHz WCDMA. We'll advise as the situation becomes clearer. If it turns out to be true, this could be THE China phone to buy for Americans if you can let go of this much dough. <a href="http://chinaphonecompare.com/search?controller=search&orderby=position&orderway=desc&search_query=mlais&submit_search=Search" target="_blank">Have a look at the full preview and see some more pics at chinaphonecompare.com</a>

Damian Parsons

https://plus.google.com/107879368390224447304

admin@gizbeat.com

Administrator

Hi, I'm Damian Parsons. I've been working with Android phones since the first Droid came out. I'm fascinated by computers and technology. My first BBS were ran on an old Apple IIc and Commodore 64. I work hard to bring the latest updates to you every day - without all the boring fluff. Please subscribe to keep up on the newest China tech. See our forum -> www.chinaphonearena.com

GizBeat
---
---