Contest time at Chinaphonearena!
---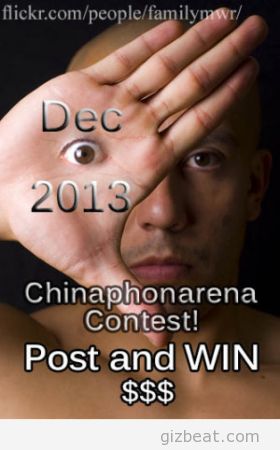 Contest time Gents and Honeys. The rules are simple. Start a 50 word or more on-topic thread here at chinaphonearena.com
Details
Enter as many times as you wish. Each 50+ word new thread counts as an entry.
Must be your own ORIGINAL writing. No copied posts from other forums or blogs.
Must have a PAYPAL account to receive the dough.
See the full contest details Become part of a great community and help Chinaphonearena.com grow Contest ends 17-DEC-2013. Good luck!
Start your thread now:
Contest time at Chinaphonearena!

https://www.gizbeat.com/2633/contest-time-at-chinaphonearena/

https://www.gizbeat.com/wp-content/uploads/2013/12/contestlarge.jpg

https://www.gizbeat.com/wp-content/uploads/2013/12/contestlarge-150x150.jpg

Uncategorized

Contest time Gents and Honeys. The rules are simple. Start a 50 word or more on-topic thread here at chinaphonearena.com Details Enter as many times as you wish. Each 50+ word new thread counts as an entry. Must be your own ORIGINAL writing. No copied posts from other forums or blogs. Must...

<span style="color: #267bae;"><strong><span style="text-decoration: underline;"><a href="http://goo.gl/HNCNQy"><img class="aligncenter size-large wp-image-2634" alt="contestlarge" src="http://gizbeat.com/wp-content/uploads/2013/12/contestlarge-280x450.jpg" width="280" height="450" /></a><a href="http://goo.gl/HNCNQy">Contest time Gents and Honeys. The rules are simple. Start a 50 word or more on-topic thread here at chinaphonearena.com</a></span> </strong></span> <b><span style="text-decoration: underline;">Details</span></b> <ul> <li>Enter as many times as you wish. Each 50+ word new thread counts as an entry.</li> <li>Must be your own ORIGINAL writing. No copied posts from other forums or blogs.</li> <li>Must have a PAYPAL account to receive the dough.</li> </ul> <a href="http://chinaphonearena.com/forum/Announcement-DEC-2013-CONTEST">See the full contest details<span id="more-2633"></span></a> Become part of a great community and help Chinaphonearena.com grow Contest ends 17-DEC-2013. Good luck! Start your thread now: <ul> <li><a href="http://chinaphonearena.com/forum/Forum-Which-China-Phone-Should-I-Buy">Which china phone should I buy?</a></li> <li><a href="http://chinaphonearena.com/forum/Forum-China-Phone-Tablet-Root-Hack-and-Develop">China Root and Develop</a></li> <li><a href="http://chinaphonearena.com/forum/Forum-General-China-Phone--11">General China Phone</a></li> <li><a href="http://chinaphonearena.com/forum/Forum-MTK6589-MTK6589T-MTK6592-Brand-Specific">Brand Specific Forums</a></li> <li><a href="http://chinaphonearena.com/forum/Forum-Off-Topic">Off Topic</a></li> <li><a href="http://chinaphonearena.com/forum/Forum-Italian">Italian</a></li> <li><a href="http://chinaphonearena.com/forum/Forum-Spanish">Spanish</a></li> <li><a href="http://chinaphonearena.com/forum/Forum-German">German</a></li> <li><a href="http://chinaphonearena.com">Or any of our other forums</a></li> </ul>

Damian Parsons

https://plus.google.com/107879368390224447304

admin@gizbeat.com

Administrator

Hi, I'm Damian Parsons. I've been working with Android phones since the first Droid came out. I'm fascinated by computers and technology. My first BBS were ran on an old Apple IIc and Commodore 64. I work hard to bring the latest updates to you every day - without all the boring fluff. Please subscribe to keep up on the newest China tech. See our forum -> www.chinaphonearena.com

GizBeat
---
---