MT6592 THL T100 Iron Man Monkey King 2 Official Frequency Specs
---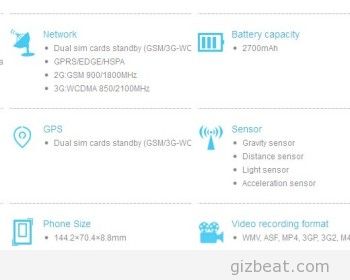 Just after finishing up my previous post, will China phones work in America and Europe, I came across the current official specs which show the MT6592 THL T100 Iron Man / Monkey King 2 as having 900/1800 GSM and 850/2100 WCDMA only. Many sellers are showing this phone as 850/900/1800/1900 GSM and 850/1900/2100 WCDMA, but it looks like this isn't the case. I strongly doubted it from first seeing the new info at merchants sites, but still held some hope.
It's likely a situation of miscommunication as opposed to deliberately trying to mislead by the merchants. Sorry for the seesaw here regarding THL T100. I will surely update as the situation becomes clearer.
If you're American and have followed China phones at all, you're right there with me. We still have hope for MTK6592 Mlais MX69 Pro having the advertised quad-band WCDMA and quad-band GSM. Let's see what the near future brings.
MT6592 THL T100 Iron Man Monkey King 2 Official Frequency Specs

https://www.gizbeat.com/2678/mt6592-thl-t100-iron-man-monkey-king-2-official-frequency-specs/

https://www.gizbeat.com/wp-content/uploads/2013/12/thl-t1001-450x347.jpg

https://www.gizbeat.com/wp-content/uploads/2013/12/thl-t1001-150x150.jpg

MTK6592

Just after finishing up my previous post, will China phones work in America and Europe, I came across the current official specs which show the MT6592 THL T100 Iron Man / Monkey King 2 as having 900/1800 GSM and 850/2100 WCDMA only. Many sellers are showing this phone as...

<img class="aligncenter size-medium wp-image-2680" alt="thl t100" src="http://gizbeat.com/wp-content/uploads/2013/12/thl-t1001-350x280.jpg" width="350" height="280" />Just after finishing up my previous post, <a title="Will MTK6592 China Phones Work In America and Europe?" href="http://gizbeat.com/2668/will-mtk6592-china-phones-work-in-america-and-europe/">will China phones work in America and Europe</a>, I came across the current official specs which show the MT6592 <a title="THL T100 MTK6592 Monkey King 2 Preview!" href="http://gizbeat.com/2553/thl-t100-mtk6592-monkey-king-2-preview/">THL T100 Iron Man / Monkey King 2</a> as having 900/1800 GSM and 850/2100 WCDMA only. Many sellers are showing this phone as 850/900/1800/1900 GSM and 850/1900/2100 WCDMA, but it looks like this isn't the case. I strongly doubted it from first seeing the new info at merchants sites, but still held some hope.<span id="more-2678"></span> It's likely a situation of miscommunication as opposed to deliberately trying to mislead by the merchants. Sorry for the seesaw here regarding THL T100. I will surely update as the situation becomes clearer. If you're American and have followed China phones at all, you're right there with me. We still have hope for MTK6592 <a title="MT6592 Mlais MX69 Pro Preview – Looking Excellent!" href="http://gizbeat.com/2619/mt6592-mlais-mx69pro-preview-looking-excellent/">Mlais MX69 Pro</a> having the advertised quad-band WCDMA and quad-band GSM. Let's see what the near future brings.

Damian Parsons

https://plus.google.com/107879368390224447304

admin@gizbeat.com

Administrator

Hi, I'm Damian Parsons. I've been working with Android phones since the first Droid came out. I'm fascinated by computers and technology. My first BBS were ran on an old Apple IIc and Commodore 64. I work hard to bring the latest updates to you every day - without all the boring fluff. Please subscribe to keep up on the newest China tech. See our forum -> www.chinaphonearena.com

GizBeat
---
---