YotaPhone Dual Screen Phone!
---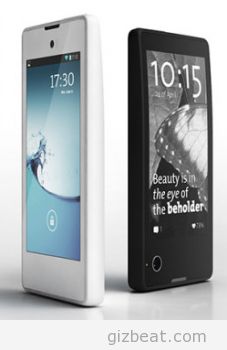 YotaPhone was talked about a few months ago, and has finally been launched. YotaPhone is made by a Russian company who mainly makes modems, but they're now taking a swing at the smartphone market with a quite unique product – dual screens. They've teamed up with Svyaznoy – a retail chain which sells mobiles and mobile service in Russia.
The main LCD is a 4.3″ IPS@720p. The back of the phone sports a 4.3″ 640×360 e-ink display which can be used to display info even when the phone is in sleep mode. Certain apps can show info on the rear e-ink display such as notifications from email, Twitter, SMS etc… It's always on and shows data as it comes through. You never have to hit the power button and then unlock to see the latest notifications and app info. Gesture support is included
E-ink displays are what are used in e-readers such as Kindle and Nook. These are real easy on the eyes. Excellent for reading books. The big bonus is they consume very minimal battery (the newer Kindles get about 15 hours of screen powered on reading time).
YotaPhone comes with 2GB of RAM and 32GB of storage, 13mp camera, 1800mA battery. They've chosen Qualcomm's 1.7GHz MSM8960 as the SoC.
I like the looks of the YotaPhone. It's quite square. What's amazing is they've managed to fit the whole thing together in under 10mm. The price however is $750 USD – serious dough for a smartphone. Not sure if we'll see this sold to international customers or not, but for Russians with the dough, this is a cool new gadget must have.
YotaPhone Dual Screen Phone!

https://www.gizbeat.com/2693/yotaphone-dual-lcd-phone/

https://www.gizbeat.com/wp-content/uploads/2013/12/yotaphone.jpg

https://www.gizbeat.com/wp-content/uploads/2013/12/yotaphone-150x150.jpg

Noteworthy

Tech

YotaPhone was talked about a few months ago, and has finally been launched. YotaPhone is made by a Russian company who mainly makes modems, but they're now taking a swing at the smartphone market with a quite unique product - dual screens. They've teamed up with Svyaznoy - a...

<img class="aligncenter size-medium wp-image-2694" alt="yotaphone" src="http://gizbeat.com/wp-content/uploads/2013/12/yotaphone-227x350.jpg" width="227" height="350" />YotaPhone was talked about a few months ago, and has finally been launched. YotaPhone is made by a Russian company who mainly makes modems, but they're now taking a swing at the smartphone market with a quite unique product - dual screens.<span id="more-2693"></span> They've teamed up with Svyaznoy - a retail chain which sells mobiles and mobile service in Russia. The main LCD is a 4.3" IPS@720p. The back of the phone sports a 4.3" 640x360 e-ink display which can be used to display info even when the phone is in sleep mode. Certain apps can show info on the rear e-ink display such as notifications from email, Twitter, SMS etc... It's always on and shows data as it comes through. You never have to hit the power button and then unlock to see the latest notifications and app info. Gesture support is included E-ink displays are what are used in e-readers such as Kindle and Nook. These are real easy on the eyes. Excellent for reading books. The big bonus is they consume very minimal battery (the newer Kindles get about 15 hours of screen powered on reading time). YotaPhone comes with 2GB of RAM and 32GB of storage, 13mp camera, 1800mA battery. They've chosen Qualcomm's 1.7GHz MSM8960 as the SoC. I like the looks of the YotaPhone. It's quite square. What's amazing is they've managed to fit the whole thing together in under 10mm. The price however is $750 USD - serious dough for a smartphone. Not sure if we'll see this sold to international customers or not, but for Russians with the dough, this is a cool new gadget must have.

Damian Parsons

https://plus.google.com/107879368390224447304

admin@gizbeat.com

Administrator

Hi, I'm Damian Parsons. I've been working with Android phones since the first Droid came out. I'm fascinated by computers and technology. My first BBS were ran on an old Apple IIc and Commodore 64. I work hard to bring the latest updates to you every day - without all the boring fluff. Please subscribe to keep up on the newest China tech. See our forum -> www.chinaphonearena.com

GizBeat
---
---