TCL Idol X+ S960T To Possibly Get 2.0GHz MT6592!
---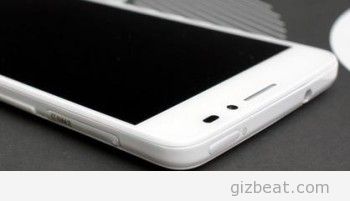 The Chinese are still going on about TCL Idol X+ S960T being the first MTK6592 to market, but it's still not out and meanwhile several other models have already been released. I'm not sure where their head's at, but they do love their TCL.
The big news now is that the TCL Idol X+ S960T may come with the higher frequency 2.0GHz version of MTK6592. Also, this hasn't been confirmed, but we believe the 2.0GHz version will have the higher clocked LPDDR2@666MHz, which makes sense as it will need to keep up with the CPU. The combination of higher CPU frequency and faster LPDDR2 in MT6592 should make for a very significant increase in power.
There's also some talk of TCL releasing wearable smart devices, though this is just conjecture currently.
To recap specs of the TCL Idol X+ S960T:
LCD – 5.0″
Resolution – 1080p
RAM – 2GB
ROM – 32GB
Front Camera – 13mp
Profile – 7.9mm (interestingly, this is 1mm thicker than TCL Idol X S950. It's speculated this is to make room for a larger battery)
The official press conference to be held by TCL will be on December 18th. We'll have the full scoop ready for you then.
TCL Idol X+ S960T To Possibly Get 2.0GHz MT6592!

https://www.gizbeat.com/2704/tcl-idol-x-s960t-to-possibly-get-2-0ghz-mt6592/

https://www.gizbeat.com/wp-content/uploads/2013/12/tcl-idol-x+.jpg

https://www.gizbeat.com/wp-content/uploads/2013/12/tcl-idol-x+-150x150.jpg

MTK6592

The Chinese are still going on about TCL Idol X+ S960T being the first MTK6592 to market, but it's still not out and meanwhile several other models have already been released. I'm not sure where their head's at, but they do love their TCL. The big news now is that...

<img class="aligncenter size-medium wp-image-2705" alt="tcl-idol-x+" src="http://gizbeat.com/wp-content/uploads/2013/12/tcl-idol-x+-350x201.jpg" width="350" height="201" />The Chinese are still going on about TCL Idol X+ S960T being the first MTK6592 to market, but it's still not out and meanwhile several other models have already been released. I'm not sure where their head's at, but they do love their TCL.<span id="more-2704"></span> The big news now is that the TCL Idol X+ S960T may come with the higher frequency 2.0GHz version of MTK6592. Also, this hasn't been confirmed, but <a title="MTK6592 Antutu Review Benchmarks! MT6592 vs Qualcomm 800!" href="http://gizbeat.com/2479/mtk6592-antutu-review-benchmarks-mt6592-vs-qualcomm-800/">we believe the 2.0GHz version will have the higher clocked LPDDR2@666MHz</a>, which makes sense as it will need to keep up with the CPU. The combination of higher CPU frequency and faster LPDDR2 in MT6592 should make for a very significant increase in power. There's also some talk of TCL releasing wearable smart devices, though this is just conjecture currently. <span style="text-decoration: underline;"><strong>To recap specs of the TCL Idol X+ S960T:</strong></span> <ul> <li>LCD - 5.0"</li> <li>Resolution - 1080p</li> <li>RAM - 2GB</li> <li>ROM - 32GB</li> <li>Front Camera - 13mp</li> <li>Profile - 7.9mm (interestingly, this is 1mm thicker than TCL Idol X S950. It's speculated this is to make room for a larger battery)</li> </ul> The official press conference to be held by TCL will be on December 18th. We'll have the full scoop ready for you then.

Damian Parsons

https://plus.google.com/107879368390224447304

admin@gizbeat.com

Administrator

Hi, I'm Damian Parsons. I've been working with Android phones since the first Droid came out. I'm fascinated by computers and technology. My first BBS were ran on an old Apple IIc and Commodore 64. I work hard to bring the latest updates to you every day - without all the boring fluff. Please subscribe to keep up on the newest China tech. See our forum -> www.chinaphonearena.com

GizBeat
---
---