MT6592 Green Orange NX!
---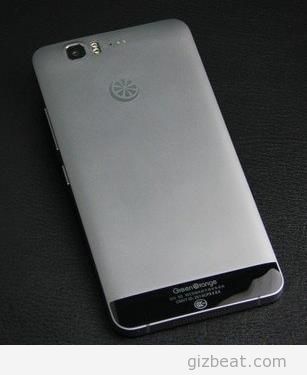 I always thought 'green orange' was just signifying two colors. But now I'm not sure. The graphic on the back of the phone shows an actual picture of an orange. So now it's got me wondering – when they say 'green orange', is it similar in meaning to 'green banana' – as in an unripe banana / unripe orange. Well, whatever the answer to this little China phone mystery, the Green Orange NX has been released in China.
The MTK6592 Green Orange NX hosts a 5.5″ 1080p LCD, 5mp front camera and 13mp rear camera. The chassis is aluminum. While I'm not sure this is the best material to go with, it definitely adds an element of style. Green Orange NX will be available in 4 different colors. Here is pictured the gray.
Beyond the aluminum chassis, nothing special here of note. Looks fairly standard fare. The Green Orange NX will be released in TD-SCDMA + GSM and WCDMA + GSM versions.
MT6592 Green Orange NX!

https://www.gizbeat.com/2737/mt6592-green-orange-nx/

https://www.gizbeat.com/wp-content/uploads/2013/12/gree-orange-mt6592.jpg

https://www.gizbeat.com/wp-content/uploads/2013/12/gree-orange-mt6592-150x150.jpg

MTK6592

I always thought 'green orange' was just signifying two colors. But now I'm not sure. The graphic on the back of the phone shows an actual picture of an orange. So now it's got me wondering - when they say 'green orange', is it similar in meaning to 'green...

<img class="aligncenter size-full wp-image-2738" alt="gree-orange-mt6592" src="http://gizbeat.com/wp-content/uploads/2013/12/gree-orange-mt6592.jpg" width="240" height="294" />I always thought 'green orange' was just signifying two colors. But now I'm not sure. The graphic on the back of the phone shows an actual picture of an orange. So now it's got me wondering - when they say 'green orange', is it similar in meaning to 'green banana' - as in an unripe banana / unripe orange.<span id="more-2737"></span> Well, whatever the answer to this little China phone mystery, the Green Orange NX has been released in China. The MTK6592 Green Orange NX hosts a 5.5" 1080p LCD, 5mp front camera and 13mp rear camera. The chassis is aluminum. While I'm not sure this is the best material to go with, it definitely adds an element of style. Green Orange NX will be available in 4 different colors. Here is pictured the gray. Beyond the aluminum chassis, nothing special here of note. Looks fairly standard fare. The Green Orange NX will be released in TD-SCDMA + GSM and WCDMA + GSM versions.

Damian Parsons

https://plus.google.com/107879368390224447304

admin@gizbeat.com

Administrator

Hi, I'm Damian Parsons. I've been working with Android phones since the first Droid came out. I'm fascinated by computers and technology. My first BBS were ran on an old Apple IIc and Commodore 64. I work hard to bring the latest updates to you every day - without all the boring fluff. Please subscribe to keep up on the newest China tech. See our forum -> www.chinaphonearena.com

GizBeat
---
---