Zopo zp500 Libero gets an upgrade to IPS LCD and MTK6577 (w/Quick specs)
---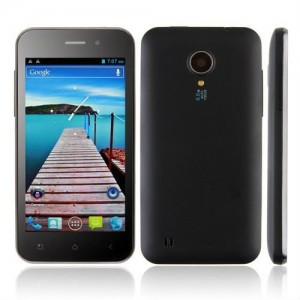 News just in is that Zopo zp500 Libero has been updated to Zopo zp500+ (plus) with mtk mt6577 / mtk6577 and IPS LCD.  This is excellent news, however I think they made a mistake by not upgrading the RAM to 1gb.  The IPS screen along with 6577 and Zopo's great camera would have put the zp500+ at the top of Gizbeat's shortlist…That is, if they'd included 1gb RAM instead of 512mb.
Don't get me wrong, this is still a great phone, and average users won't miss having 1gb.  But the average user also won't notice the difference between mtk6575 and mtk mt6577 / mtk6577.  Those who like to listen to music, surf the web with several tabs open and chat at the same time, or who people use apps that take up a lot of RAM will notice both the single-core/dual-core and 512mb/1gb difference.
Are we talking about significant differences?  Not so much, but as those who are on the go and used to super-quick response may find themselves getting irritated at even slight delays. Also, apps are getting bigger and more demanding. Having 1gb would of future-proofed the zp500+ a bit.  Ahhh…What could of been.
I still can recommend the zp500+.  It's a very good looking phone, Zopo makes a great product, has good customer service and very good cameras.  The IPS LCD will give excellent brightness and viewing angles, and the dual-core CPU is a welcome addition.
[table "" not found /]
Zopo zp500 Libero gets an upgrade to IPS LCD and MTK6577 (w/Quick specs)

https://www.gizbeat.com/355/zopo-zp500-libero-gets-an-upgrade-to-ips-lcd-and-mtk6577-wquick-specs/

https://www.gizbeat.com/wp-content/uploads/2012/09/498794677_385-450x450.jpg

https://www.gizbeat.com/wp-content/uploads/2012/09/498794677_385-150x150.jpg

Brands

News just in is that Zopo zp500 Libero has been updated to Zopo zp500+ (plus) with mtk mt6577 / mtk6577 and IPS LCD.  This is excellent news, however I think they made a mistake by not upgrading the RAM to 1gb.  The IPS screen along with 6577 and Zopo's...

<a href="http://gizbeat.com/355/zopo-zp500-libero-gets-an-upgrade-to-ips-lcd-and-mtk mt6577 / mtk6577-wquick-specs/498794677_385/" rel="attachment wp-att-374"><img class="alignleft size-medium wp-image-374" title="498794677_385" src="http://gizbeat.com/wp-content/uploads/2012/09/498794677_385-300x300.jpg" alt="" width="300" height="300" /></a>News just in is that Zopo zp500 Libero has been updated to Zopo zp500+ (plus) with mtk mt6577 / mtk6577 and IPS LCD.  This is excellent news, however I think they made a mistake by not upgrading the RAM to 1gb.  The IPS screen along with 6577 and Zopo's great camera would have put the zp500+ at the top of Gizbeat's shortlist...That is, if they'd included 1gb RAM instead of 512mb. <span id="more-355"></span> Don't get me wrong, this is still a great phone, and average users won't miss having 1gb.  But the average user also won't notice the difference between mtk6575 and mtk mt6577 / mtk6577.  Those who like to listen to music, surf the web with several tabs open and chat at the same time, or who people use apps that take up a lot of RAM will notice both the single-core/dual-core and 512mb/1gb difference. Are we talking about significant differences?  Not so much, but as those who are on the go and used to super-quick response may find themselves getting irritated at even slight delays. Also, apps are getting bigger and more demanding. Having 1gb would of future-proofed the zp500+ a bit.  Ahhh...What could of been. I still can recommend the zp500+.  It's a very good looking phone, Zopo makes a great product, has good customer service and very good cameras.  The IPS LCD will give excellent brightness and viewing angles, and the dual-core CPU is a welcome addition.

Damian Parsons

https://plus.google.com/107879368390224447304

admin@gizbeat.com

Administrator

Hi, I'm Damian Parsons. I've been working with Android phones since the first Droid came out. I'm fascinated by computers and technology. My first BBS were ran on an old Apple IIc and Commodore 64. I work hard to bring the latest updates to you every day - without all the boring fluff. Please subscribe to keep up on the newest China tech. See our forum -> www.chinaphonearena.com

GizBeat
---
---