Kai Excursion T1 mtk6577 Projection Phone Presale Starting End of This Month! (w/video and Quick Specs)
---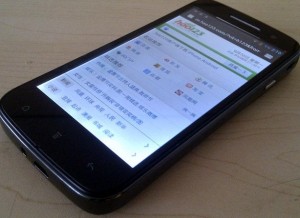 Just when you thought it was safe to buy a JiaYu / JaiYu. The Kai Excursion T1 presales are scheduled to start towards the end of September. All the goodies are here in the Kai Excursion T1. This smartphone will have mtk mt6577 / mtk6577 with 1gb RAM, 8mp, and the excellent Sharp ASV LCD. The ROM will come in 8gb, 16gb, and 32gb options.
The projector is 18 lumens with a resolution of 640*480. The size of the projection in the video looks to be about 20-25″. At 12.5mm thick because of the lense, it's a bit of a monster, but still a drool worthy feature for the Giz lover in all of us.
Price yet to be announced, but should be coming soon. Please subscribe to stay updated.
[table "" not found /]
Kai Excursion T1 mtk6577 Projection Phone Presale Starting End of This Month! (w/video and Quick Specs)

https://www.gizbeat.com/475/kai-excursion-t1-mtk6577-projection-phone-presale-starting-end-of-this-month-wvideo-and-quick-specs/

https://www.gizbeat.com/wp-content/uploads/2012/09/1-120912151934Z81-450x327.jpg

https://www.gizbeat.com/wp-content/uploads/2012/09/1-120912151934Z81-150x150.jpg

Brands

Just when you thought it was safe to buy a JiaYu / JaiYu. The Kai Excursion T1 presales are scheduled to start towards the end of September. All the goodies are here in the Kai Excursion T1. This smartphone will have mtk mt6577 / mtk6577 with 1gb RAM, 8mp,...

<a href="http://gizbeat.com/475/kai-excursion-t1-mtk mt6577 / mtk6577-projection-phone-presale-starting-end-of-this-month-wvideo-and-quick-specs/1-120912151934z8-2/" rel="attachment wp-att-479"><img class="alignleft size-medium wp-image-479" title="1-120912151934Z8" src="http://gizbeat.com/wp-content/uploads/2012/09/1-120912151934Z81-300x218.jpg" alt="" width="300" height="218" /></a>Just when you thought it was safe to buy a JiaYu / JaiYu. The Kai Excursion T1 presales are scheduled to start towards the end of September.<span id="more-475"></span> All the goodies are here in the Kai Excursion T1. This smartphone will have mtk mt6577 / mtk6577 with 1gb RAM, 8mp, and the excellent Sharp ASV LCD. The ROM will come in 8gb, 16gb, and 32gb options. http://www.youtube.com/watch?v=xiL1NWMboqw The projector is 18 lumens with a resolution of 640*480. The size of the projection in the video looks to be about 20-25". At 12.5mm thick because of the lense, it's a bit of a monster, but still a drool worthy feature for the Giz lover in all of us. Price yet to be announced, but should be coming soon. Please subscribe to stay updated.

Damian Parsons

https://plus.google.com/107879368390224447304

admin@gizbeat.com

Administrator

Hi, I'm Damian Parsons. I've been working with Android phones since the first Droid came out. I'm fascinated by computers and technology. My first BBS were ran on an old Apple IIc and Commodore 64. I work hard to bring the latest updates to you every day - without all the boring fluff. Please subscribe to keep up on the newest China tech. See our forum -> www.chinaphonearena.com

GizBeat
---
---