Zopo zp900 Dual-Core Dual-Sim China phone released with mtk6577!
---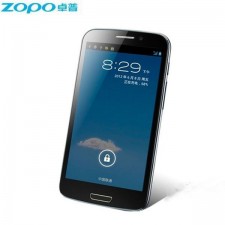 Looking for a large screen Android phone and don't want to shell out $600?  zp900 may be right up your alley.
Here are the specs:
CPU: MT6577 dual-core Cortex A9 1Ghz
GPU:POWER VR SGX531T
Operating system: Android 4.0 ICS, support update to Jelly Bean
Memory:1G RAM  4G ROM
Screen size: 5.3-inch IPS Screen
Screen resolution:960*540 pixels (QHD)
Camera: 8.0MP+2.0MP
Battery: 2300mah Lithium battery
There are a few important things I'd like to touch on here:
1) Pay careful note to the term IPS, which stands for in-plane switching… But what's more important than what it stands for is that it means to you, which is superb viewing angles and brightness.
2) The dual-core 1ghz CPU means multi-tasking and switching between apps will be generally quick and smooth.
3) The camera comes from Sony and has great quality.  The 2mp front camera is above what you'd normally get even with more expensive smartphones.
4) 1gb RAM!  Nice.   Means lots of room for apps to run, which in turn will let your dual-core soar to heights above and beyond a phone with 512mb.
5) Ice cream sandwich!  That's right, these are coming shipped with Android 4.0 ICS.  While many phones are still coming out with 2.3 Gingerbread, Zopo shows they mean business by releasing it with a modern O.S. and reportedly the zp900 will have an upgrade coming to it that will upgrade you to Jelly Bean.
6) The one slight ding is the GPU.  It will handle most all games you throw at it, but you may experience some slow down with the newest cutting edge FPS games, though they should still be playable.  It scores 5600+ on Antutu which is just a hair shy of the Galaxy S II, and about half of what the Galaxy S III scores.
All in all, with price considered, you simply can't beat this phone if you're looking for a large screened Android phone.
As always, we welcome your comments, criticisms and corrections.
Zopo zp900 Dual-Core Dual-Sim China phone released with mtk6577!

https://www.gizbeat.com/6/dual-core-dual-sim-china-zopo-zp900-released-with-mtk6577/

https://www.gizbeat.com/wp-content/uploads/2012/09/ZOPO-Leader2-450x450.jpg

https://www.gizbeat.com/wp-content/uploads/2012/09/ZOPO-Leader2-150x150.jpg

Brands

MT6577

MTK6577

Zopo

Looking for a large screen Android phone and don't want to shell out $600?  zp900 may be right up your alley. Here are the specs: CPU: MT6577 dual-core Cortex A9 1Ghz GPU:POWER VR SGX531T Operating system: Android 4.0 ICS, support update to Jelly Bean Memory:1G RAM  4G ROM Screen size: 5.3-inch IPS Screen Screen resolution:960*540 pixels...

<a href="http://gizbeat.com/6/dual-core-dual-sim-china-zopo-zp900-released-with-mtk mt6577 / mtk6577/zopo-leader-3/" rel="attachment wp-att-15"><img class="alignleft size-medium wp-image-15" title="ZOPO-Leader" src="http://gizbeat.com/wp-content/uploads/2012/09/ZOPO-Leader2-225x225.jpg" alt="" width="225" height="225" /></a>Looking for a large screen Android phone and don't want to shell out $600?  zp900 may be right up your alley. Here are the specs: <ul> <li>CPU: MT6577 dual-core Cortex A9 1Ghz</li> <li>GPU:POWER VR SGX531T</li> <li>Operating system: Android 4.0 ICS, support update to Jelly Bean</li> <li>Memory:1G RAM  4G ROM</li> <li>Screen size: 5.3-inch IPS Screen</li> <li>Screen resolution:960*540 pixels (QHD)</li> <li>Camera: 8.0MP+2.0MP</li> <li>Battery: 2300mah Lithium battery<span id="more-6"></span></li> </ul> There are a few important things I'd like to touch on here: 1) Pay careful note to the term IPS, which stands for in-plane switching... But what's more important than what it stands for is that it means to you, which is superb viewing angles and brightness. 2) The dual-core 1ghz CPU means multi-tasking and switching between apps will be generally quick and smooth. 3) The camera comes from Sony and has great quality.  The 2mp front camera is above what you'd normally get even with more expensive smartphones. 4) 1gb RAM!  Nice.   Means lots of room for apps to run, which in turn will let your dual-core soar to heights above and beyond a phone with 512mb. 5) Ice cream sandwich!  That's right, these are coming shipped with Android 4.0 ICS.  While many phones are still coming out with 2.3 Gingerbread, Zopo shows they mean business by releasing it with a modern O.S. and reportedly the zp900 will have an upgrade coming to it that will upgrade you to Jelly Bean. 6) The one slight ding is the GPU.  It will handle most all games you throw at it, but you may experience some slow down with the newest cutting edge FPS games, though they should still be playable.  It scores 5600+ on Antutu which is just a hair shy of the Galaxy S II, and about half of what the Galaxy S III scores. All in all, with price considered, you simply can't beat this phone if you're looking for a large screened Android phone. As always, we welcome your comments, criticisms and corrections.

dircnirc@gizbeat.com

User

GizBeat
---
---