JiaYu G3 mtk6577 Dual-core, Dual-sim 1gb RAM, ICS China phone almost released!
---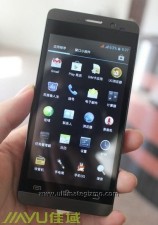 What's not to love?  Well, the wait time for the JiaYu G3 to actually be released is one thing not to love.  It seems like it's just one thing after another.  From the issues with getting the proper licensing in China, to problems with the camera and LCD quality.
Though perhaps we should be glad.  Much better for them to get things right than to release a shoddy product, wouldn't you say?  Well, let's get on with the specs:
CPU MT6577 Dual Core 1.0GHz
GPU: PowerVRTM SGX Series5 3D
OS Android 4.0 Ice Cream Sandwich (ICS)
Memory RAM: 1GB / ROM: 4GB
Micro SD Memory Card (TF-Card), MAX support 32GB
Size 135 x 65 x 10.8 mm
Weight 121 g
Screen 4.5 inch IPS 1280×720
Dual SIM G+G W+G
2G:GSM 850/900/1800/1900MHz
3G:WCDMA 850/900/1900/2100MHz
Built In GPS & A-GPS
Bluetooth with EDR & A2DP
Wi-Fi IEEE 802.11 b/g
micro USB 2.0
Back 8.0 megapixel
Front 2.0 megapixel
Radio FM
Video AVI , MP4 , FLV , 3GP , MOV , ASF , MPEG , RMVB , etc.
Audio MP3 , AAC , WAV , etc. / 3.5 mm Audio Jack
Special functions Gravity Sensor, Proximity Sensor, Light Sensor, FM Radio, Wifi, GPS, Multi-touch Capacitive Screen, Dual SIM, Schedule Power On/Off
Li-ion battery 2750 mAh
Looks awesome, right?  Most of us already know that many of the new China phones are including dual-sim and dual-core capabilities, and the JiaYu G3 is including those as well, but pay special attention to the excellent JiaYu G3 specs regarding:
1gb RAM:  This is great.  Many phones, including China phones are only coming with 512mb.  JaiYu G3 goes that extra mile and gives you 1gb!
8mp camera, 2mp front camera:  Awesome.  Nice little bump on the back camera to 8mp.  And the 2mp front-camera is  excellent news, as most China phones only come with .3mp for a front camera.
IPS 1280×720:  Phenomenal!  Superb HD resolution combined with an IPS screen for excellent viewing angles.  Many China phones only coming with 960×540 or 800×480.  You know JaiYu G3 is aiming to give you the best with this HD res and IPS screen.
2750mA battery:  Probably needed to power all those pixels.  Great to know JaiYu G3 has included a relatively high capacity battery.
This really looks like an awesome phone all around.   One thing I'm wondering about is stock.  Will they have enough stock to cover the demand?  Surely they must know there are tons of fans waiting and drooling to get their hands on one, so hopefully they've got the stock to cover it.  We should know soon enough as it looks like it's going to be released any day now!
The JiaYu G3 is at the top of my short list.  Will you be getting it?
JiaYu G3 mtk6577 Dual-core, Dual-sim 1gb RAM, ICS China phone almost released!

https://www.gizbeat.com/66/jiayu-g3-mtk6577-dual-core-dual-sim-1gb-ram-ics-china-phone-almost-released/

https://www.gizbeat.com/wp-content/uploads/2012/09/JaiYuG3-0025.jpg

https://www.gizbeat.com/wp-content/uploads/2012/09/JaiYuG3-0025-150x150.jpg

Brands

JiaYu

MT6577

MTK6577

What's not to love?  Well, the wait time for the JiaYu G3 to actually be released is one thing not to love.  It seems like it's just one thing after another.  From the issues with getting the proper licensing in China, to problems with the camera and LCD quality. Though...

<a href="http://gizbeat.com/66/jiayu-g3-mtk mt6577 / mtk6577-dual-core-dual-sim-1gb-ram-ics-china-phone-almost-released/jaiyug3-0025/" rel="attachment wp-att-67"><img class="alignleft size-medium wp-image-67" title="JaiYuG3-0025" src="http://gizbeat.com/wp-content/uploads/2012/09/JaiYuG3-0025-158x225.jpg" alt="" width="158" height="225" /></a>What's not to love?  Well, the wait time for the JiaYu G3 to actually be released is one thing not to love.  It seems like it's just one thing after another.  From the issues with getting the proper licensing in China, to problems with the camera and LCD quality. Though perhaps we should be glad.  Much better for them to get things right than to release a shoddy product, wouldn't you say?  Well, let's get on with the specs:<span id="more-66"></span> <ul> <li>CPU MT6577 Dual Core 1.0GHz</li> <li>GPU: PowerVRTM SGX Series5 3D</li> <li>OS Android 4.0 Ice Cream Sandwich (ICS)</li> <li>Memory RAM: 1GB / ROM: 4GB</li> <li>Micro SD Memory Card (TF-Card), MAX support 32GB</li> <li>Size 135 x 65 x 10.8 mm</li> <li>Weight 121 g</li> <li>Screen 4.5 inch IPS 1280x720</li> <li>Dual SIM G+G W+G</li> <li>2G:GSM 850/900/1800/1900MHz</li> <li>3G:WCDMA 850/900/1900/2100MHz</li> <li>Built In GPS & A-GPS</li> <li>Bluetooth with EDR & A2DP</li> <li>Wi-Fi IEEE 802.11 b/g</li> <li>micro USB 2.0</li> <li>Back 8.0 megapixel</li> <li>Front 2.0 megapixel</li> <li>Radio FM</li> <li>Video AVI , MP4 , FLV , 3GP , MOV , ASF , MPEG , RMVB , etc.</li> <li>Audio MP3 , AAC , WAV , etc. / 3.5 mm Audio Jack</li> <li>Special functions Gravity Sensor, Proximity Sensor, Light Sensor, FM Radio, Wifi, GPS, Multi-touch Capacitive Screen, Dual SIM, Schedule Power On/Off</li> <li>Li-ion battery 2750 mAh</li> </ul> Looks awesome, right?  Most of us already know that many of the new China phones are including dual-sim and dual-core capabilities, and the JiaYu G3 is including those as well, but pay special attention to the excellent JiaYu G3 specs regarding: <ul> <li>1gb RAM:  This is great.  Many phones, including China phones are only coming with 512mb.  JaiYu G3 goes that extra mile and gives you 1gb!</li> <li>8mp camera, 2mp front camera:  Awesome.  Nice little bump on the back camera to 8mp.  And the 2mp front-camera is  excellent news, as most China phones only come with .3mp for a front camera.</li> <li>IPS 1280x720:  Phenomenal!  Superb HD resolution combined with an IPS screen for excellent viewing angles.  Many China phones only coming with 960x540 or 800x480.  You know JaiYu G3 is aiming to give you the best with this HD res and IPS screen.</li> <li>2750mA battery:  Probably needed to power all those pixels.  Great to know JaiYu G3 has included a relatively high capacity battery.</li> </ul> This really looks like an awesome phone all around.   One thing I'm wondering about is stock.  Will they have enough stock to cover the demand?  Surely they must know there are tons of fans waiting and drooling to get their hands on one, so hopefully they've got the stock to cover it.  We should know soon enough as it looks like it's going to be released any day now! The JiaYu G3 is at the top of my short list.  Will you be getting it?

dircnirc@gizbeat.com

User

GizBeat
---
---