Freelander i10 – New mtk6577 Kid On The Block – Newman n1 On Hold (w/Quick Specs / Specifications)
---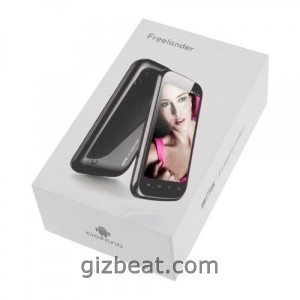 The Newman n1 has been very hard to come by, but now available from retailers is the Freelander i10. It's interesting that the retailers are putting this out as a "Newman n1 OEM", and possibly that's the truth.
What's been reported is that the Newman n1 had some driver issues and won't be released until end of September.
Both the Newman n1 and Freelander i10 could be coming from the same factory. Exact same units, marketed by different companies. The specs / specifications are the same.
[oqeygallery id=5]
Some people really are digging the looks of the Newman n1 / Freelander i10. While I like the specs, the looks don't quite do it for me. I prefer the lines and styling of the UMi X1 and JaiYu / JiaYu G3.
Still, the looks aren't so bad to dissuade me from buying it if I was in the market for a new smartphone. With the current slim pickings and 1GB RAM, this one's near the top of GizBeat's short list.
I will make one final note here – Some places have the WCDMA listed as single-band 2100MHz only, others have it listed as dual-band, and some as tri-band. So be 100% sure that the model you're getting will support the 3G frequency you need.
[table "" not found /]
Freelander i10 – New mtk6577 Kid On The Block – Newman n1 On Hold (w/Quick Specs / Specifications)

https://www.gizbeat.com/662/freelander-i10-new-mtk6577-kid-on-the-block-newman-n1-on-hold-wquick-specs-specifications/

https://www.gizbeat.com/wp-content/uploads/2012/09/Freelanderi10NewmanN14-450x450.jpg

https://www.gizbeat.com/wp-content/uploads/2012/09/Freelanderi10NewmanN14-150x150.jpg

Brands

The Newman n1 has been very hard to come by, but now available from retailers is the Freelander i10. It's interesting that the retailers are putting this out as a 'Newman n1 OEM', and possibly that's the truth. What's been reported is that the Newman n1 had some driver issues...

<a href="http://gizbeat.com/662/freelander-i10-new-mtk mt6577 / mtk6577-kid-on-the-block-newman-n1-on-hold-wquick-specs-specifications/freelanderi10newmann14/" rel="attachment wp-att-668"><img class="alignleft size-medium wp-image-668" title="Freelanderi10NewmanN14" src="http://gizbeat.com/wp-content/uploads/2012/09/Freelanderi10NewmanN14-300x300.jpg" alt="" width="300" height="300" /></a>The Newman n1 has been very hard to come by, but now available from retailers is the Freelander i10. It's interesting that the retailers are putting this out as a "Newman n1 OEM", and possibly that's the truth.<span id="more-662"></span> <em>What's been reported</em> is that the Newman n1 had some driver issues and won't be released until end of September. Both the Newman n1 and Freelander i10 could be coming from the same factory. Exact same units, marketed by different companies. The specs / specifications are the same. [oqeygallery id=5] Some people really are digging the looks of the Newman n1 / Freelander i10. While I like the specs, the looks don't quite do it for me. I prefer the lines and styling of the UMi X1 and JaiYu / JiaYu G3. Still, the looks aren't so bad to dissuade me from buying it if I was in the market for a new smartphone. With the current slim pickings and 1GB RAM, this one's near the top of GizBeat's short list. <strong>I will make one final note here - </strong>Some places have the WCDMA listed as single-band 2100MHz only, others have it listed as dual-band, and some as tri-band. So be 100% sure that the model you're getting will support the 3G frequency you need.

Damian Parsons

https://plus.google.com/107879368390224447304

admin@gizbeat.com

Administrator

Hi, I'm Damian Parsons. I've been working with Android phones since the first Droid came out. I'm fascinated by computers and technology. My first BBS were ran on an old Apple IIc and Commodore 64. I work hard to bring the latest updates to you every day - without all the boring fluff. Please subscribe to keep up on the newest China tech. See our forum -> www.chinaphonearena.com

GizBeat
---
---