Lenovo a660 Waterproof mtk6577 Smartphone – Looks to Kill (w/Quick Specs / Specifications and Photo Gallery)
---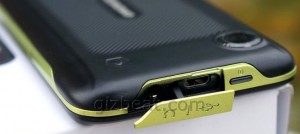 Lenovo has stepped up their game in the looks department. When they updated the a750 to a789, they made a phenomenal jump in looks by changing the bottom of the bezel, which slopes down and away.
It's a subtle change that adds a lot to the Lenovo a789.  Now they've stepped up the game further with the Lenovo a660. From the textured backside, to the down-sloping bezel, to the metallic-green (or orange) sides – it looks awesome. It's maybe not for the conservative, but if you like something with a little flash, there's nothing better looking out there IMO.
(Please Press Play)
[oqeygallery id=7]
It would be nice to see a black/grey version of this phone for those of us who like the looks and waterproof feature, but don't want quite so much pizzazz.
Of course, Lenovo right off the bat ruins it for serious multi-taskers as it only includes 512MB of RAM. It really is disappointing to see Lenovo once again put out a great looking mtk mt6577 / mtk6577 phone with only 512mb. At least offering a version with 1GB would be a very smart choice by Lenovo.
Another outstanding point is that the Lenovo a660 has Gorilla Glass from Corning. Waterproof, dustproof, Gorilla Glass, great-looking – besides the 512MB RAM, there's nothing not to love. For the average user who wants/needs the extra water and shock protection, this looks like a winner.
Retail: 1499Yuan ($240)
To stay updated / help the site out, please subscribe, comment, or spread the word to someone you think might like GizBeat, Cheers! :)
[table "" not found /]
Lenovo a660 Waterproof mtk6577 Smartphone – Looks to Kill (w/Quick Specs / Specifications and Photo Gallery)

https://www.gizbeat.com/699/lenova-a660-waterproof-mtk6577-smartphone-looks-to-kill-wquick-specs-specifications-and-photo-gallery/

https://www.gizbeat.com/wp-content/uploads/2012/09/LenovoA660-00003-450x202.jpg

https://www.gizbeat.com/wp-content/uploads/2012/09/LenovoA660-00003-150x150.jpg

Brands

Lenovo has stepped up their game in the looks department. When they updated the a750 to a789, they made a phenomenal jump in looks by changing the bottom of the bezel, which slopes down and away. It's a subtle change that adds a lot to the Lenovo a789.  Now they've...

<a href="http://gizbeat.com/699/lenova-a660-waterproof-mtk mt6577 / mtk6577-smartphone-looks-to-kill-wquick-specs-specifications-and-photo-gallery/lenovoa660-00003/" rel="attachment wp-att-700"><img class="alignleft size-medium wp-image-700" title="LenovoA660-00003" src="http://gizbeat.com/wp-content/uploads/2012/09/LenovoA660-00003-300x134.jpg" alt="" width="300" height="134" /></a> Lenovo has stepped up their game in the looks department. When they updated the a750 to a789, they made a phenomenal jump in looks by changing the bottom of the bezel, which slopes down and away.<span id="more-699"></span> It's a subtle change that adds a lot to the Lenovo a789.  Now they've stepped up the game further with the Lenovo a660. From the textured backside, to the down-sloping bezel, to the metallic-green (or orange) sides - it looks awesome. It's maybe not for the conservative, but if you like something with a little flash, there's nothing better looking out there IMO. (Please Press Play) [oqeygallery id=7] It would be nice to see a black/grey version of this phone for those of us who like the looks and waterproof feature, but don't want quite so much pizzazz. Of course, Lenovo right off the bat ruins it for serious multi-taskers as it only includes 512MB of RAM. It really is disappointing to see Lenovo once again put out a great looking mtk mt6577 / mtk6577 phone with only 512mb. At least offering a version with 1GB would be a very smart choice by Lenovo. Another outstanding point is that the Lenovo a660 has Gorilla Glass from Corning. Waterproof, dustproof, Gorilla Glass, great-looking - besides the 512MB RAM, there's nothing not to love. For the average user who wants/needs the extra water and shock protection, this looks like a winner. Retail: 1499Yuan ($240) To stay updated / help the site out, please subscribe, comment, or spread the word to someone you think might like GizBeat, Cheers! :) <span> </span>

Damian Parsons

https://plus.google.com/107879368390224447304

admin@gizbeat.com

Administrator

Hi, I'm Damian Parsons. I've been working with Android phones since the first Droid came out. I'm fascinated by computers and technology. My first BBS were ran on an old Apple IIc and Commodore 64. I work hard to bring the latest updates to you every day - without all the boring fluff. Please subscribe to keep up on the newest China tech. See our forum -> www.chinaphonearena.com

GizBeat
---
---