Hundreds of iPhone 5 stolen in Japan and UK
---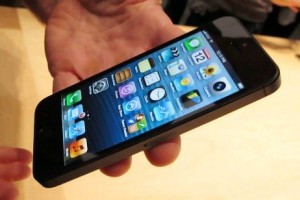 Very rarely will you see anything about Apple or iPhone on this site. However, I thought some readers might find this GizBeat worthy, if nothing more so that we Android fans can have a bit of a chuckle.
Just hours before the iPhone 5 was to go on sale, in Japan and UK, a total of nearly 450  iPhone 5 were stolen from retailers.
In Osaka, 191 iPhone 5 from three separate phone shops were snatched. One shop had it's entire stock of 116 snagged. The value at this shop alone was estimated at $96,000. Some customers are going to be mighty sore. I must admit, I do feel sorry for them, and my chuckles are dying as I think of their forlorn countenances at hearing the news.
In another part of Osaka, 42 of 44 iPhone 5 were stolen. Why they left 2 behind, is a mystery. Maybe they also had some conscience at the last minute and left a couple for the customers to fight over. A third raid in Osaka saw 33 stolen.
All 3 raids in Osaka took place within 2 hours of each other and it's possible the robberies are connected.
In the UK, an employee disappeared along with 252 iPhone 5 with a value of nearly $200,000.
In a separate incident, 42 of 44 new iPhones were taken from a phone store in another part of the city. A third store had 33 taken. The three raids occurred within two hours of each other, though investigators said they won't know if the crimes were carried out by the same culprits until they view camera footage from all three raids.
Meanwhile, police in the UK said they want to speak to an employee of a London phone store who hasn't been seen since 252 iPhone 5 handsets went missing from the premises. The handsets in the UK were reportedly taken at around 1.30am Friday.
If you like GizBeat – comment / subscribe / share… Cheers :)
Hundreds of iPhone 5 stolen in Japan and UK

https://www.gizbeat.com/724/hundreds-of-iphone-5-stolen-in-japan-and-uk/

https://www.gizbeat.com/wp-content/uploads/2012/09/iphone5stolen-450x300.jpg

https://www.gizbeat.com/wp-content/uploads/2012/09/iphone5stolen-150x150.jpg

Noteworthy

Very rarely will you see anything about Apple or iPhone on this site. However, I thought some readers might find this GizBeat worthy, if nothing more so that we Android fans can have a bit of a chuckle. Just hours before the iPhone 5 was to go on sale, in...

<a href="http://gizbeat.com/724/hundreds-of-iphone-5-stolen-in-japan-and-uk/iphone5stolen/" rel="attachment wp-att-730"><img class="alignleft size-medium wp-image-730" title="iphone5stolen" src="http://gizbeat.com/wp-content/uploads/2012/09/iphone5stolen-300x200.jpg" alt="" width="300" height="200" /></a>Very rarely will you see anything about Apple or iPhone on this site. However, I thought some readers might find this GizBeat worthy, if nothing more so that we Android fans can have a bit of a chuckle.<span id="more-724"></span> Just hours before the iPhone 5 was to go on sale, in Japan and UK, a total of nearly 450  iPhone 5 were stolen from retailers. In Osaka, 191 iPhone 5 from three separate phone shops were snatched. One shop had it's entire stock of 116 snagged. The value at this shop alone was estimated at $96,000. Some customers are going to be mighty sore. I must admit, I do feel sorry for them, and my chuckles are dying as I think of their forlorn countenances at hearing the news. In another part of Osaka, 42 of 44 iPhone 5 were stolen. Why they left 2 behind, is a mystery. Maybe they also had some conscience at the last minute and left a couple for the customers to fight over. A third raid in Osaka saw 33 stolen. All 3 raids in Osaka took place within 2 hours of each other and it's possible the robberies are connected. In the UK, an employee disappeared along with 252 iPhone 5 with a value of nearly $200,000. In a separate incident, 42 of 44 new iPhones were taken from a phone store in another part of the city. A third store had 33 taken. The three raids occurred within two hours of each other, though investigators said they won't know if the crimes were carried out by the same culprits until they view camera footage from all three raids. Meanwhile, police in the UK said they want to speak to an employee of a London phone store who hasn't been seen since 252 iPhone 5 handsets went missing from the premises. The handsets in the UK were reportedly taken at around 1.30am Friday. If you like GizBeat - comment / subscribe / share... Cheers :)

Damian Parsons

https://plus.google.com/107879368390224447304

admin@gizbeat.com

Administrator

Hi, I'm Damian Parsons. I've been working with Android phones since the first Droid came out. I'm fascinated by computers and technology. My first BBS were ran on an old Apple IIc and Commodore 64. I work hard to bring the latest updates to you every day - without all the boring fluff. Please subscribe to keep up on the newest China tech. See our forum -> www.chinaphonearena.com

GizBeat
---
---