Another MTK MT6588 / MTK6589 China Phone in Sight! HDC Galaxy S3 i9300! (w/ Specs – Specifications)
---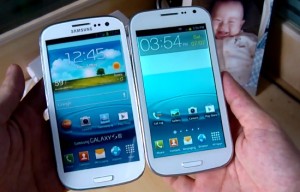 Another MTK MT6589 / MTK6589 appears to be right around the corner. I know, I know – there are but a handful mtk mt6577 / mtk6577 smartphone models available, and already there's talk of MTK MT6589 / MTK6589 smartphones being released a month from now? As I've already mentioned several times, this is a "blossoming" – one could say "exploding" market.
Though many people outside of China don't even know about these great alternative China phone options, in China it's huge and they are getting snatched up faster than they can come out. Frustrating indeed, but considering how fast this market is coming on, let's consider that before jumping all over MTK or the manufacturers making these phones.
So, on with it. There's no release date yet, but some retailers already have MTK MT6589 / MTK6589 HDC Galaxy S3 i9300 in their catalogs for pre-sale! Possibly that means this phone is right around the corner. Or as has been the case with mtk mt6577 / mtk6577, we may have to hurry up and wait a bit.
I do like that Lenovo is one of the rumored companies to be producing an MTK MT6589 / MTK6589 smartphone. Lenovo is one of the first companies to actually get this new generation of multi-core MTK smartphones out there, as opposed to the pre-sale extravaganza many manufacturers have been playing around at.
A couple things that stick out regarding specs is that the MTK6588 HDC i9300 is reportedly going to be 1.4Ghz and ICS, while Lenovo's rumored "Arkansas" is 1.2Ghz with Jelly Bean.
[table "" not found /]
Another MTK MT6588 / MTK6589 China Phone in Sight! HDC Galaxy S3 i9300! (w/ Specs – Specifications)

https://www.gizbeat.com/746/another-mtk-mt6588-mtk6588-china-phone-in-sight-hdc-galaxy-s3-i9300-w-specs-specifications/

https://www.gizbeat.com/wp-content/uploads/2012/09/hdc-galaxy-s3-fake2-450x288.jpg

https://www.gizbeat.com/wp-content/uploads/2012/09/hdc-galaxy-s3-fake2-150x150.jpg

Brands

Another MTK MT6589 / MTK6589 appears to be right around the corner. I know, I know - there are but a handful mtk mt6577 / mtk6577 smartphone models available, and already there's talk of MTK MT6589 / MTK6589 smartphones being released a month from now? As I've already mentioned several...

<a href="http://gizbeat.com/746/another-mtk-mt6588-mtk6588-china-phone-in-sight-hdc-galaxy-s3-i9300-w-specs-specifications/hdc-galaxy-s3-fake2/" rel="attachment wp-att-747"><img class="alignleft size-medium wp-image-747" title="hdc-galaxy-s3-fake2" src="http://gizbeat.com/wp-content/uploads/2012/09/hdc-galaxy-s3-fake2-300x192.jpg" alt="" width="300" height="192" /></a>Another MTK MT6589 / MTK6589 appears to be right around the corner. I know, I know - there are but a handful mtk mt6577 / mtk6577 smartphone models available,<span id="more-746"></span> and already there's talk of MTK MT6589 / MTK6589 smartphones being released a month from now? As I've already mentioned several times, this is a "blossoming" - one could say "exploding" market. Though many people outside of China don't even know about these great alternative China phone options, in China it's huge and they are getting snatched up faster than they can come out. Frustrating indeed, but considering how fast this market is coming on, let's consider that before jumping all over MTK or the manufacturers making these phones. So, on with it. There's no release date yet, but some retailers already have MTK MT6589 / MTK6589 HDC Galaxy S3 i9300 in their catalogs for pre-sale! Possibly that means this phone is right around the corner. Or as has been the case with mtk mt6577 / mtk6577, we may have to hurry up and wait a bit. I do like that Lenovo is one of the rumored companies to be producing an MTK MT6589 / MTK6589 smartphone. Lenovo is one of the first companies to actually get this new generation of multi-core MTK smartphones out there, as opposed to the pre-sale extravaganza many manufacturers have been playing around at. A couple things that stick out regarding specs is that the MTK6588 HDC i9300 is reportedly going to be 1.4Ghz and ICS, while Lenovo's rumored "Arkansas" is 1.2Ghz with Jelly Bean.

Damian Parsons

https://plus.google.com/107879368390224447304

admin@gizbeat.com

Administrator

Hi, I'm Damian Parsons. I've been working with Android phones since the first Droid came out. I'm fascinated by computers and technology. My first BBS were ran on an old Apple IIc and Commodore 64. I work hard to bring the latest updates to you every day - without all the boring fluff. Please subscribe to keep up on the newest China tech. See our forum -> www.chinaphonearena.com

GizBeat
---
---