Hyundai Releasing MTK MT6577 / MTK6577 Smartphone With Ningbo Bird Co., LTD. (w Quick Specs / Specifications)
---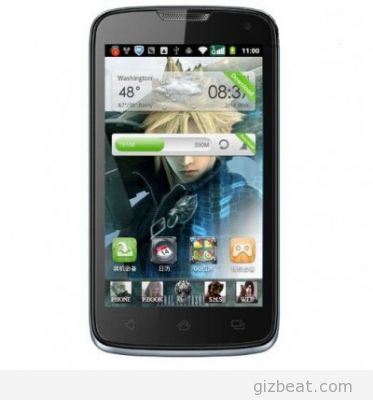 Some interesting bit of news here. Hyundai in partnership with Ningbo Bird Co., LTD. is releasing a set of 3 phones, two of which will be using MTK MT6577 / MTK6577 CPUs.
The model will be called Modern H12 and offer 3 different versions. A single core version with MTK MT6575 / MTK6575, and two dual-core versions with MTK MT6577 / MTK6577. Both dual-core versions are priced at 1299 yuan.
The "High" version is slimmer, has a 4.3″ LCD, 1GB RAM and 1500mA battery, compared to the Modern H12 Endurance having 4.0″, 512MB, and 3000mA battery.
Why they didn't include 1GB in the Modern H12 Endurance model is anyone's guess. A potential customer has to decide between an excellent battery with an inferior amount of RAM , or 1GB RAM with an inferior sized battery.
Modern H12 

| | | | |
| --- | --- | --- | --- |
| | Modern H12 | Modern H12 High | Modern H12 Endurance |
| Processor | MTK6575 1G | MTK6577 dual-core 1G | MTK6577 dual-core 1G |
| Memory | 512M RAM +4 G ROM | 1G RAM +4 G ROM | 512M RAM +4 G ROM |
| Screen Size | 4.3 IPS | 4.3 IPS | 4.0 IPS |
| Resolution | 480 * 800 pixels | 480 * 800 pixels | 480 * 800 pixels |
| Camera | 0.3MP / 5.0MP | 0.3MP / 5.0MP | 0.3MP / 5.0MP |
| Battery | 1500 mA | 1500 mA | 3000 mA |
| System | Android 4.0 | Android 4.0 | Android 4.0 |
| Body size | 127 × 69.3 × 10.9mm | 127 × 69.3 × 10.9mm | 122.9 × 64.8 × 11.5 mm |
| Function | WIFI, Bluetooth, gravity, distance, acceleration sensor | WIFI, Bluetooth, gravity, distance, acceleration sensor | WIFI, Bluetooth, gravity, distance, acceleration sensor |
| Selling price | 999 yuan | 1299 yuan | 1299 yuan |
Hyundai Releasing MTK MT6577 / MTK6577 Smartphone With Ningbo Bird Co., LTD. (w Quick Specs / Specifications)

https://www.gizbeat.com/919/hyundai-releasing-mtk-mt6577-mtk6577-smartphone-with-ningbo-bird-co-ltd-w-quick-specs-specifications/

https://www.gizbeat.com/wp-content/uploads/2012/10/mtk6589-mtk6588-mtk6577-mtk6599-hyundai-modern-450x472.jpg

https://www.gizbeat.com/wp-content/uploads/2012/10/mtk6589-mtk6588-mtk6577-mtk6599-hyundai-modern-150x150.jpg

Brands

MTK6577

Some interesting bit of news here. Hyundai in partnership with Ningbo Bird Co., LTD. is releasing a set of 3 phones, two of which will be using MTK MT6577 / MTK6577 CPUs. The model will be called Modern H12 and offer 3 different versions. A single core version with MTK...

<a href="http://gizbeat.com/919/hyundai-releasing-mtk-mt6577-mtk6577-smartphone-with-ningbo-bird-co-ltd-w-quick-specs-specifications/mtk6589-mtk6588-mtk6577-mtk6599-hyundai-modern/" rel="attachment wp-att-921"><img class="aligncenter size-large wp-image-921" title="mtk6589-mtk6588-mtk6577-mtk6599-hyundai-modern" src="http://gizbeat.com/wp-content/uploads/2012/10/mtk6589-mtk6588-mtk6577-mtk6599-hyundai-modern-373x400.jpg" alt="" width="373" height="400" /></a>Some interesting bit of news here. Hyundai in partnership with Ningbo Bird Co., LTD. is releasing a set of 3 phones, two of which will be using MTK MT6577 / MTK6577 CPUs.<span id="more-919"></span> The model will be called Modern H12 and offer 3 different versions. A single core version with MTK MT6575 / MTK6575, and two dual-core versions with MTK MT6577 / MTK6577. Both dual-core versions are priced at 1299 yuan. The "High" version is slimmer, has a 4.3" LCD, 1GB RAM and 1500mA battery, compared to the Modern H12 Endurance having 4.0", 512MB, and 3000mA battery. Why they didn't include 1GB in the Modern H12 Endurance model is anyone's guess. A potential customer has to decide between an excellent battery with an inferior amount of RAM , or 1GB RAM with an inferior sized battery. <table border="1" cellspacing="1" cellpadding="1"><caption>Modern H12 </caption> <tbody> <tr> <td></td> <td>Modern H12</td> <td>Modern H12 High</td> <td>Modern H12 Endurance</td> </tr> <tr> <td>Processor</td> <td>MTK6575 1G</td> <td>MTK6577 dual-core 1G</td> <td>MTK6577 dual-core 1G</td> </tr> <tr> <td>Memory</td> <td>512M RAM +4 G ROM</td> <td>1G RAM +4 G ROM</td> <td>512M RAM +4 G ROM</td> </tr> <tr> <td>Screen Size</td> <td>4.3 IPS</td> <td>4.3 IPS</td> <td>4.0 IPS</td> </tr> <tr> <td>Resolution</td> <td>480 * 800 pixels</td> <td>480 * 800 pixels</td> <td>480 * 800 pixels</td> </tr> <tr> <td>Camera</td> <td>0.3MP / 5.0MP</td> <td>0.3MP / 5.0MP</td> <td>0.3MP / 5.0MP</td> </tr> <tr> <td>Battery</td> <td>1500 mA</td> <td>1500 mA</td> <td>3000 mA</td> </tr> <tr> <td>System</td> <td>Android 4.0</td> <td>Android 4.0</td> <td>Android 4.0</td> </tr> <tr> <td>Body size</td> <td>127 × 69.3 × 10.9mm</td> <td>127 × 69.3 × 10.9mm</td> <td>122.9 × 64.8 × 11.5 mm</td> </tr> <tr> <td>Function</td> <td>WIFI, Bluetooth, gravity, distance, acceleration sensor</td> <td>WIFI, Bluetooth, gravity, distance, acceleration sensor</td> <td>WIFI, Bluetooth, gravity, distance, acceleration sensor</td> </tr> <tr> <td>Selling price</td> <td>999 yuan</td> <td>1299 yuan</td> <td>1299 yuan</td> </tr> </tbody> </table> <div></div>

Damian Parsons

https://plus.google.com/107879368390224447304

admin@gizbeat.com

Administrator

Hi, I'm Damian Parsons. I've been working with Android phones since the first Droid came out. I'm fascinated by computers and technology. My first BBS were ran on an old Apple IIc and Commodore 64. I work hard to bring the latest updates to you every day - without all the boring fluff. Please subscribe to keep up on the newest China tech. See our forum -> www.chinaphonearena.com

GizBeat
---
---