Newman To Release $95 MTK MT6577 / MTK6577!
---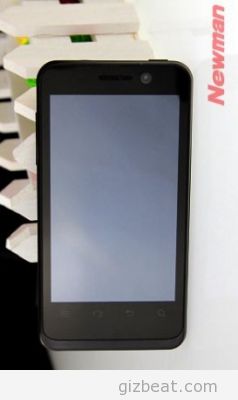 Before the end of this month we should see the Newman NX released. A $95 smartphone featuring MTK MT6577 / MTK6577, IPS LCD and dual-cameras. Unfortunately only 512MB, but at this price, you can't expect more. The inclusion of IPS is a nice bonus.
Interestingly, the Newman NX reportedly beat out Newman N1 by 100 points (1200 / 1300) in the 3D-antutu test.
On a side note, there were some supply issues with the formidable Newman N1, but from the looks of things, it's available and ready to ship from several vendors again. The Newman N1 is near the top of the GizBeat shortlist regarding bang for the buck specs.
[table "" not found /]
Newman To Release $95 MTK MT6577 / MTK6577!

https://www.gizbeat.com/949/newman-to-release-95-mtk-mt6577-mtk6577/

https://www.gizbeat.com/wp-content/uploads/2012/10/mtk6577-mtk6588-mtk6589-newman-mx.jpg

https://www.gizbeat.com/wp-content/uploads/2012/10/mtk6577-mtk6588-mtk6589-newman-mx-150x150.jpg

Brands

Newman

Before the end of this month we should see the Newman NX released. A $95 smartphone featuring MTK MT6577 / MTK6577, IPS LCD and dual-cameras. Unfortunately only 512MB, but at this price, you can't expect more. The inclusion of IPS is a nice bonus. Interestingly, the Newman NX reportedly beat...

<a href="http://gizbeat.com/949/newman-to-release-95-mtk-mt6577-mtk6577/mtk6577-mtk6588-mtk6589-newman-mx/" rel="attachment wp-att-950"><img class="aligncenter size-large wp-image-950" title="mtk6577-mtk6588-mtk6589-newman-mx" src="http://gizbeat.com/wp-content/uploads/2012/10/mtk6577-mtk6588-mtk6589-newman-mx-238x400.jpg" alt="" width="238" height="400" /></a>Before the end of this month we should see the Newman NX released. A $95 smartphone<span id="more-949"></span> featuring MTK MT6577 / MTK6577, IPS LCD and dual-cameras. Unfortunately only 512MB, but at this price, you can't expect more. The inclusion of IPS is a nice bonus. Interestingly, the Newman NX reportedly beat out Newman N1 by 100 points (1200 / 1300) in the 3D-antutu test. On a side note, there were some supply issues with the formidable Newman N1, but from the looks of things, it's available and ready to ship from several vendors again. The Newman N1 is near the top of the GizBeat shortlist regarding bang for the buck specs.

Damian Parsons

https://plus.google.com/107879368390224447304

admin@gizbeat.com

Administrator

Hi, I'm Damian Parsons. I've been working with Android phones since the first Droid came out. I'm fascinated by computers and technology. My first BBS were ran on an old Apple IIc and Commodore 64. I work hard to bring the latest updates to you every day - without all the boring fluff. Please subscribe to keep up on the newest China tech. See our forum -> www.chinaphonearena.com

GizBeat
---
---