Amoi N820 / Big V To Upgrade To IPS And Android 4.1 Jelly Bean!
---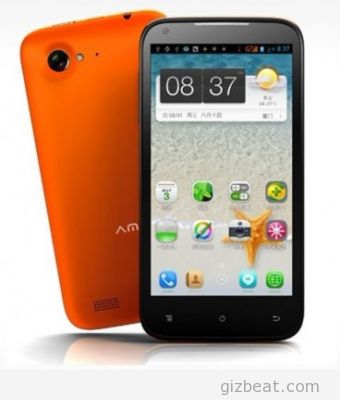 The Amoi N820 just recently became widely available, and already we're getting an update to IPS LCD with the next batch scheduled to release 20,000 units on October 20. The price will be unchanged.
Also in the works is an update to Android 4.1 Jelly Bean. Amoi is currently debugging the build, so we should see it released fairly shortly. Excellent news for current and future Amoi N820 / Big V owners.
Though I'll pass on the orange version (there is a black version available as well), this phone with 1GB RAM / IPS 960*540 / and $200 price tag is at the top of the GizBeat short list for MTK MT6577 / MTK6577 smartphones.
Amoi N820 / Big V To Upgrade To IPS And Android 4.1 Jelly Bean!

https://www.gizbeat.com/984/amoi-n820-big-v-to-upgrade-to-ips-and-android-4-1-jelly-bean/

https://www.gizbeat.com/wp-content/uploads/2012/10/amoi-n820-big-v-mtk6577-mtk6588-mtk6589-450x518.jpg

https://www.gizbeat.com/wp-content/uploads/2012/10/amoi-n820-big-v-mtk6577-mtk6588-mtk6589-150x150.jpg

Amoi

Brands

The Amoi N820 just recently became widely available, and already we're getting an update to IPS LCD with the next batch scheduled to release 20,000 units on October 20. The price will be unchanged. Also in the works is an update to Android 4.1 Jelly Bean. Amoi is currently debugging the...

<img class="aligncenter size-large wp-image-985" title="amoi-n820-big-v-mtk6577-mtk6588-mtk6589" src="http://gizbeat.com/wp-content/uploads/2012/10/amoi-n820-big-v-mtk6577-mtk6588-mtk6589-340x400.jpg" alt="" width="340" height="400" />The Amoi N820 just recently became widely available, and already we're getting an update to IPS LCD<span id="more-984"></span> with the next batch scheduled to release 20,000 units on October 20. The price will be unchanged. Also in the works is an update to Android 4.1 Jelly Bean. Amoi is currently debugging the build, so we should see it released fairly shortly. Excellent news for current and future Amoi N820 / Big V owners. Though I'll pass on the orange version (there is a black version available as well), this phone with 1GB RAM / IPS 960*540 / and $200 price tag is at the top of the GizBeat short list for MTK MT6577 / MTK6577 smartphones.

Damian Parsons

https://plus.google.com/107879368390224447304

admin@gizbeat.com

Administrator

Hi, I'm Damian Parsons. I've been working with Android phones since the first Droid came out. I'm fascinated by computers and technology. My first BBS were ran on an old Apple IIc and Commodore 64. I work hard to bring the latest updates to you every day - without all the boring fluff. Please subscribe to keep up on the newest China tech. See our forum -> www.chinaphonearena.com

GizBeat
---
---