New JiaYu g3 china phone competitor – the UMi X with mtk6577 dual-core dual sim (photo gallery)
---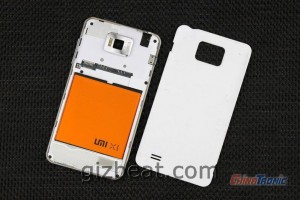 Just as the JiaYu is about to come out with their new g3, the UMi X comes along and steals some thunder.  Now, I'm not sure what the problem is with JiaYu getting their license is, but whatever it is, other companies are not waiting around and coming out with some excellent spec phones while JiaYu messes about.
So, on to the specs:
mtk mt6577 / mtk6577 CPU from MediTek
1GB RAM /4GB ROM
8mp rear / 2 mega-pixel front cam
Dual-sim
Body 8.5mm!
Battery 1750mA
LCD 1280×720
Looks great spec wise.  The cost is about $200 American.
We cannot display this gallery
Now, the big question here is LCD quality and camera quality.  How will it compare to the JiaYu g3, which we already know has an IPS screen and very good camera quality.  8mp and 1280×720 is all well and good, but JiaYu reportedly put up some delays because of LCD and camera quality issues.  Hopefully the UMi X is right up there with the JiaYu g3 in the quality department as well as the spec department.
The other issue is battery size.  Because of it's slick, trim size, it's impossible to fit a large battery in this girly.  So the one thing JiaYu has up on the UMi X is you'll certainly get longer use out of the JiaYu g3.
I also have to mention here, I have an iPod touch at 7.2mm, and without it's rubber case it's very difficult to handle.  There IS such a thing as too slim, so that is something to consider as well if you've got big hands.
New JiaYu g3 china phone competitor – the UMi X with mtk6577 dual-core dual sim (photo gallery)

https://www.gizbeat.com/99/new-jiayu-g3-china-phone-competitor-the-umi-x-with-mtk6577-dual-core-dual-sim/

https://www.gizbeat.com/wp-content/uploads/2012/09/UMIPHOE-06-450x300.jpg

https://www.gizbeat.com/wp-content/uploads/2012/09/UMIPHOE-06-150x150.jpg

Brands

JiaYu

MT6577

MTK6577

UMi

Just as the JiaYu is about to come out with their new g3, the UMi X comes along and steals some thunder.  Now, I'm not sure what the problem is with JiaYu getting their license is, but whatever it is, other companies are not waiting around and coming out...

<a href="http://gizbeat.com/99/new-jiayu-g3-china-phone-competitor-the-umi-x-with-mtk mt6577 / mtk6577-dual-core-dual-sim/umiphoe-06/" rel="attachment wp-att-140"><img class="alignleft size-medium wp-image-140" title="UMIPHOE-06" src="http://gizbeat.com/wp-content/uploads/2012/09/UMIPHOE-06-300x200.jpg" alt="" width="300" height="200" /></a> Just as the JiaYu is about to come out with their new g3, the UMi X comes along and steals some thunder.  Now, I'm not sure what the problem is with JiaYu getting their license is, but whatever it is, other companies are not waiting around and coming out with some excellent spec phones while JiaYu messes about.<span id="more-99"></span> So, on to the specs: <ul> <li>mtk mt6577 / mtk6577 CPU from MediTek</li> <li>1GB RAM /4GB ROM</li> <li>8mp rear / 2 mega-pixel front cam</li> <li>Dual-sim</li> <li>Body 8.5mm!</li> <li>Battery 1750mA</li> <li>LCD 1280x720</li> </ul> Looks great spec wise.  The cost is about $200 American. Now, the big question here is LCD quality and camera quality.  How will it compare to the JiaYu g3, which we already know has an IPS screen and very good camera quality.  8mp and 1280x720 is all well and good, but JiaYu reportedly put up some delays because of LCD and camera quality issues.  Hopefully the UMi X is right up there with the JiaYu g3 in the quality department as well as the spec department. The other issue is battery size.  Because of it's slick, trim size, it's impossible to fit a large battery in this girly.  So the one thing JiaYu has up on the UMi X is you'll certainly get longer use out of the JiaYu g3. I also have to mention here, I have an iPod touch at 7.2mm, and without it's rubber case it's very difficult to handle.  There IS such a thing as too slim, so that is something to consider as well if you've got big hands.

Damian Parsons

https://plus.google.com/107879368390224447304

admin@gizbeat.com

Administrator

Hi, I'm Damian Parsons. I've been working with Android phones since the first Droid came out. I'm fascinated by computers and technology. My first BBS were ran on an old Apple IIc and Commodore 64. I work hard to bring the latest updates to you every day - without all the boring fluff. Please subscribe to keep up on the newest China tech. See our forum -> www.chinaphonearena.com

GizBeat
---
---