JiaYu / JaiYu To Release G2S! Know The Difference!
---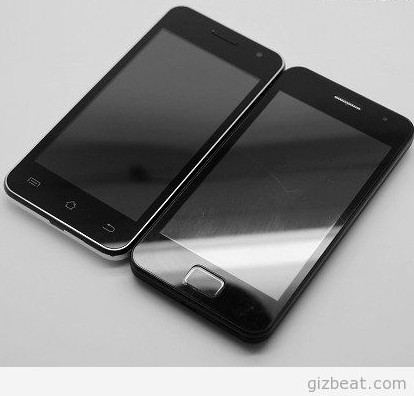 In the works from JiaYu / JaiYu is the G2S. Some sellers are currently advertising the G2 as the G2S, but don't be fooled.
There are currently two different G2 versions – the G2 with MTK MT6575 / MTK6575, and G2 with MTK MT6577 / MTK6577.
The G2s is yet released and will feature 1GB RAM, a 2050mA battery, 4″ 960*540 display, and titanium / "aviation grade metals".
I like the looks of the G2S more than the G2. The actual physical change is slight, but makes a big difference in appearance compared to the mono buttoned G2 / G2+.
Strange they are in hot pursuit of releasing another phone, yet JiaYu / JaiYu still haven't properly released the JaiYu / JiaYu G3. Here's to hoping it will have a mass release to public soon.
In our poll (see sidebar), people are still strongly supporting JiaYu, as JiaYu / JaiYu G3 is at the top of the voting list so far. Haven't voted yet? Place a vote so we can see where these gladiators stand.
JiaYu / JaiYu To Release G2S! Know The Difference!

https://www.gizbeat.com/1073/jiayu-jaiyu-to-release-g2s-know-the-difference/

https://www.gizbeat.com/wp-content/uploads/2012/10/jiayu-g2-g3-mtk6577-mtk6588-mtk6589.jpg

https://www.gizbeat.com/wp-content/uploads/2012/10/jiayu-g2-g3-mtk6577-mtk6588-mtk6589-150x150.jpg

Brands

JiaYu

In the works from JiaYu / JaiYu is the G2S. Some sellers are currently advertising the G2 as the G2S, but don't be fooled. There are currently two different G2 versions - the G2 with MTK MT6575 / MTK6575, and G2 with MTK MT6577 / MTK6577. The G2s is yet released...

<img class="aligncenter size-full wp-image-1074" title="jiayu-g2-g3-mtk6577-mtk6588-mtk6589" src="http://gizbeat.com/wp-content/uploads/2012/10/jiayu-g2-g3-mtk6577-mtk6588-mtk6589.jpg" alt="" width="414" height="396" />In the works from JiaYu / JaiYu is the G2S. Some sellers are currently advertising the G2 as the G2S, but don't be fooled.<span id="more-1073"></span> There are currently two different G2 versions - the G2 with MTK MT6575 / MTK6575, and G2 with MTK MT6577 / MTK6577. The G2s is yet released and will feature 1GB RAM, a 2050mA battery, 4" 960*540 display, and titanium / "aviation grade metals". I like the looks of the G2S more than the G2. The actual physical change is slight, but makes a big difference in appearance compared to the mono buttoned G2 / G2+. Strange they are in hot pursuit of releasing another phone, yet JiaYu / JaiYu still haven't properly released the JaiYu / JiaYu G3. Here's to hoping it will have a mass release to public soon. In our poll (see sidebar), people are still strongly supporting JiaYu, as JiaYu / JaiYu G3 is at the top of the voting list so far. Haven't voted yet? Place a vote so we can see where these gladiators stand.

Damian Parsons

https://plus.google.com/107879368390224447304

admin@gizbeat.com

Administrator

Hi, I'm Damian Parsons. I've been working with Android phones since the first Droid came out. I'm fascinated by computers and technology. My first BBS were ran on an old Apple IIc and Commodore 64. I work hard to bring the latest updates to you every day - without all the boring fluff. Please subscribe to keep up on the newest China tech. See our forum -> www.chinaphonearena.com

GizBeat
---
---