Newman N2 To Go On Sale Mid-November!
---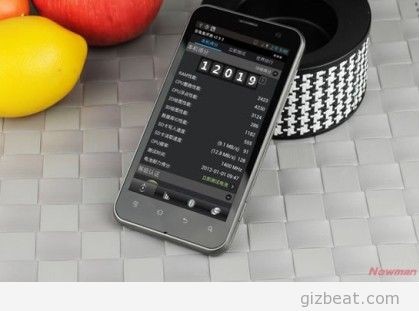 Here's a sweet little Happy Halloween update from GizBeat!
Just recently the Newman N2 was announced, and already within a couple weeks time we should see the Newman N2 on sale.
Engineering debugging has been completed, and Newman is now getting these puppies ready to release to the public. There is still no price announcement, but many optimistic fans are estimating a release at 1399-1499 yuan.
The highlights of the Newman N2 are quad-core Exynos 4412@1.4GHz, 8GB ROM, 4.7″ 1280*720 LCD, Gorilla Glass from Corning, a f/2.2 13MP camera with 3MP front-facing and a fat 2500mA battery.
Depending on price and availability, this one could be a top of the shortlist pick. Looking forward to this one!
More info and Newman N2 spec / specification table
Newman N2 To Go On Sale Mid-November!

https://www.gizbeat.com/1086/newman-n2-to-go-on-sale-mid-november/

https://www.gizbeat.com/wp-content/uploads/2012/10/newman-n2-mtk6577-mtk6588-mtk6589-mtk6599.jpg

https://www.gizbeat.com/wp-content/uploads/2012/10/newman-n2-mtk6577-mtk6588-mtk6589-mtk6599-150x150.jpg

Brands

Newman

Noteworthy

Here's a sweet little Happy Halloween update from GizBeat! Just recently the Newman N2 was announced, and already within a couple weeks time we should see the Newman N2 on sale. Engineering debugging has been completed, and Newman is now getting these puppies ready to release to the public. There is still...

<img class="aligncenter size-full wp-image-1087" title="newman-n2-mtk6577-mtk6588-mtk6589-mtk6599" src="http://gizbeat.com/wp-content/uploads/2012/10/newman-n2-mtk6577-mtk6588-mtk6589-mtk6599.jpg" alt="" width="419" height="311" />Here's a sweet little Happy Halloween update from GizBeat! <a title="Newman N2 Specs / Specifications and Announcement Date!" href="http://gizbeat.com/976/newman-n2-specs-specifications-and-announcement-date/">Just recently the Newman N2 was announced</a>, and already within a couple weeks time we should see the Newman N2 on sale.<span id="more-1086"></span> Engineering debugging has been completed, and Newman is now getting these puppies ready to release to the public. There is still no price announcement, but many optimistic fans are estimating a release at 1399-1499 yuan. The highlights of the Newman N2 are quad-core Exynos 4412@1.4GHz, 8GB ROM, 4.7" 1280*720 LCD, Gorilla Glass from Corning, a f/2.2 13MP camera with 3MP front-facing and a fat 2500mA battery. Depending on price and availability, this one could be a top of the shortlist pick. Looking forward to this one! <em><a title="Newman N2 Specs / Specifications and Announcement Date!" href="http://gizbeat.com/976/newman-n2-specs-specifications-and-announcement-date/">More info and Newman N2 spec / specification table</a></em>

Damian Parsons

https://plus.google.com/107879368390224447304

admin@gizbeat.com

Administrator

Hi, I'm Damian Parsons. I've been working with Android phones since the first Droid came out. I'm fascinated by computers and technology. My first BBS were ran on an old Apple IIc and Commodore 64. I work hard to bring the latest updates to you every day - without all the boring fluff. Please subscribe to keep up on the newest China tech. See our forum -> www.chinaphonearena.com

GizBeat
---
---