20,000 Newman NX To Go On Sale On November 11!
---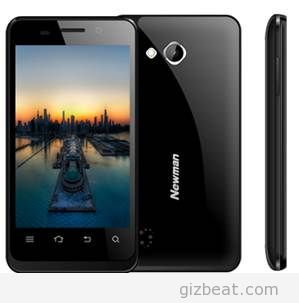 The 599 yuan Newman NX Android smartphone with MTK MT6577 / MTK6577 will go on sale on November 11 at the Newman official website. The Newman NX will ship 7 days after purchasing on the site.
The Newman NX is equipped with a 4.0″ 800*480 LCD, 512MB RAM / 4G eMMc "high-speed storage", .3MP front camera / 5MP rear, and a 1650mA battery.
Those outside of China won't be able to purchase on the site, but very likely many of these will make it to the retailers catering to foreign countries, so we should see some of these available quite soon.
These specs obviously aren't going to blow anyone away, but for 599 yuan, there's no room for complaining. Easy shortlister for those on a tight budget.
20,000 Newman NX To Go On Sale On November 11!

https://www.gizbeat.com/1173/20000-newman-nx-to-go-on-sale-on-november-11/

https://www.gizbeat.com/wp-content/uploads/2012/11/newman-nx-mtk6577-mtk6588-mtk6589-mtk6599.jpg

https://www.gizbeat.com/wp-content/uploads/2012/11/newman-nx-mtk6577-mtk6588-mtk6589-mtk6599-150x150.jpg

Brands

Newman

The 599 yuan Newman NX Android smartphone with MTK MT6577 / MTK6577 will go on sale on November 11 at the Newman official website. The Newman NX will ship 7 days after purchasing on the site. The Newman NX is equipped with a 4.0' 800*480 LCD, 512MB RAM / 4G...

<img class="aligncenter size-full wp-image-1174" title="newman-nx-mtk6577-mtk6588-mtk6589-mtk6599" src="http://gizbeat.com/wp-content/uploads/2012/11/newman-nx-mtk6577-mtk6588-mtk6589-mtk6599.jpg" alt="" width="299" height="303" />The 599 yuan Newman NX Android smartphone with MTK MT6577 / MTK6577 will go on sale on November 11 at the Newman official website. The Newman NX will ship 7 days after purchasing on the site.<span id="more-1173"></span> The Newman NX is equipped with a 4.0" 800*480 LCD, 512MB RAM / 4G eMMc "high-speed storage", .3MP front camera / 5MP rear, and a 1650mA battery. Those outside of China won't be able to purchase on the site, but very likely many of these will make it to the retailers catering to foreign countries, so we should see some of these available quite soon. These specs obviously aren't going to blow anyone away, but for 599 yuan, there's no room for complaining. Easy shortlister for those on a tight budget.

Damian Parsons

https://plus.google.com/107879368390224447304

admin@gizbeat.com

Administrator

Hi, I'm Damian Parsons. I've been working with Android phones since the first Droid came out. I'm fascinated by computers and technology. My first BBS were ran on an old Apple IIc and Commodore 64. I work hard to bring the latest updates to you every day - without all the boring fluff. Please subscribe to keep up on the newest China tech. See our forum -> www.chinaphonearena.com

GizBeat
---
---