ZP950 Zopo Leader Max Ready To Ship!
---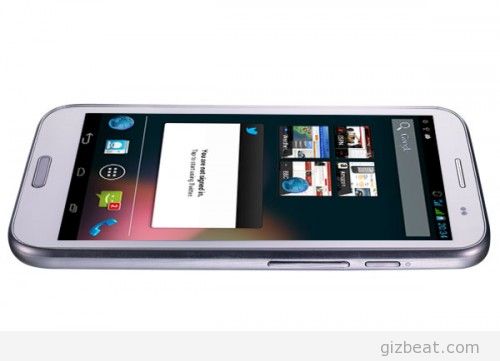 As was mentioned before, Zopo had a new Leader planned. Dubbed the Leader Max ZP950, it will be released on December 14. A massive 5.7″ smartphone that some might call a 'phablet'.
Unfortunately it won't be the quad-core MTK6588 / MTK6589, but dual-core MTK MT6577 / MTK6577. We can likely expect a quad-core update in the future. In the past, Zopo has been quick to update their phones to the newest technology and I can't see this being an exception.
I'm not a fan of these mammoth phones. Though great for playing games, watching movies and web, as well as using as a mini-netbook for typing out documents, it looks downright silly held to the ear as a phone and it's not exactly going to be discreet in your pocket. To each his own though, and I can definitely see the attraction.
Price will be in the $280 range. Besides it's giant screen, highlights of the Zopo Leader Max ZP950 include an IPS 720p LCD, Jelly Bean 4.1.2 and 2500mA battery.
ZP950 Zopo Leader Max Ready To Ship!

https://www.gizbeat.com/1460/zp950-zopo-leader-max-ready-to-ship/

https://www.gizbeat.com/wp-content/uploads/2012/12/zopo_zp950_mtk6577_jellybean_android_mobile-450x324.jpg

https://www.gizbeat.com/wp-content/uploads/2012/12/zopo_zp950_mtk6577_jellybean_android_mobile-150x150.jpg

Brands

Noteworthy

Zopo

As was mentioned before, Zopo had a new Leader planned. Dubbed the Leader Max ZP950, it will be released on December 14. A massive 5.7' smartphone that some might call a 'phablet'. Unfortunately it won't be the quad-core MTK6588 / MTK6589, but dual-core MTK MT6577 / MTK6577. We can likely...

<img class="aligncenter size-full wp-image-1461" title="zopo_zp950_mtk6577_jellybean_android_mobile" src="http://gizbeat.com/wp-content/uploads/2012/12/zopo_zp950_mtk6577_jellybean_android_mobile.jpg" alt="" width="500" height="361" /><a title="Quad-Core Zopo Leader Max To Be Released Middle Of December!" href="http://gizbeat.com/1385/quad-core-zopo-leader-max-to-be-released-middle-of-december/">As was mentioned before, Zopo had a new Leader planned</a>. Dubbed the Leader Max ZP950, it will be released on December 14. A massive 5.7" smartphone that some might call a 'phablet'.<span id="more-1460"></span> Unfortunately it won't be the quad-core MTK6588 / MTK6589, but dual-core MTK MT6577 / MTK6577. We can likely expect a quad-core update in the future. In the past, Zopo has been quick to update their phones to the newest technology and I can't see this being an exception. I'm not a fan of these mammoth phones. Though great for playing games, watching movies and web, as well as using as a mini-netbook for typing out documents, it looks downright silly held to the ear as a phone and it's not exactly going to be discreet in your pocket. To each his own though, and I can definitely see the attraction. <strong></strong>Price will be in the $280 range. Besides it's giant screen, highlights of the Zopo Leader Max ZP950 include an IPS 720p LCD, Jelly Bean 4.1.2 and 2500mA battery.

Damian Parsons

https://plus.google.com/107879368390224447304

admin@gizbeat.com

Administrator

Hi, I'm Damian Parsons. I've been working with Android phones since the first Droid came out. I'm fascinated by computers and technology. My first BBS were ran on an old Apple IIc and Commodore 64. I work hard to bring the latest updates to you every day - without all the boring fluff. Please subscribe to keep up on the newest China tech. See our forum -> www.chinaphonearena.com

GizBeat
---
---